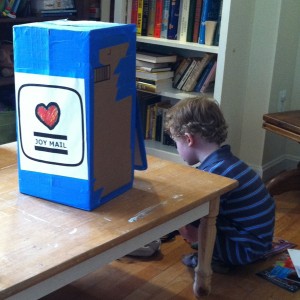 Hey, Mr. Postman! There is nothing like pretend play to fill up a LOOOONG afternoon of being indoors, and the mechanics of mail delivery are the perfect foil.
To create a play post office, you'll need a largish cardboard box (a jumbo size diaper box will work, or if you have an old mailbox, that's even better! You can also keep an eye out for a breadbox at the thrift store- the hinged lid will remind the kids of the chute you open to mail letters at the post office.), and some envelopes. (I pay my bills online, so I save the payment return envelopes for the kids to use.) Add paper and crayons or markers, and you are ready to go! I used painters' tape to assemble my boxes and to create details on the outside, but you could use any strong adhesive tape, and you can, if you prefer, decorate your mailbox with craft paint or even spray paint.
Print and assemble a Mail Carrier's Hat for each kid.
Add an old purse or satchel for a mailbag, and your favorite mail carrier will be in business!
My kid actually insisted that we make a second mailbox to receive the home delivery. Also, we had to put our house number on the house mailbox. And then we had to build a truck to carry the mail from place to place. He appropriated all the junk mail and catalogs in the house to use as mail.  (For the truck, we looped a bungee cord between two of the top corners on a large box and let him stand inside the harness to "drive" the truck.)
In other words, once we got the game started, his imagination just kept building on it. I'd love to see pictures of your play post office. (Just put a link down there, in the comments!)
(PS: I found a "US Mail Carrier Play Set" online for $130.)
(PPS: Measure your mail slot against the short side of a catalog to ensure maximum deliverability.)
Hey! Stay in touch. Subscribe to our weekly newsletter.  Also,would you please vote for us? Thanks! (Just click the image.)
Links to products in our posts are frequently affiliate links. These generate a small income that helps pay for our web hosting and things like prizes for giveaways. Thank you very much for supporting us by purchasing through these links.