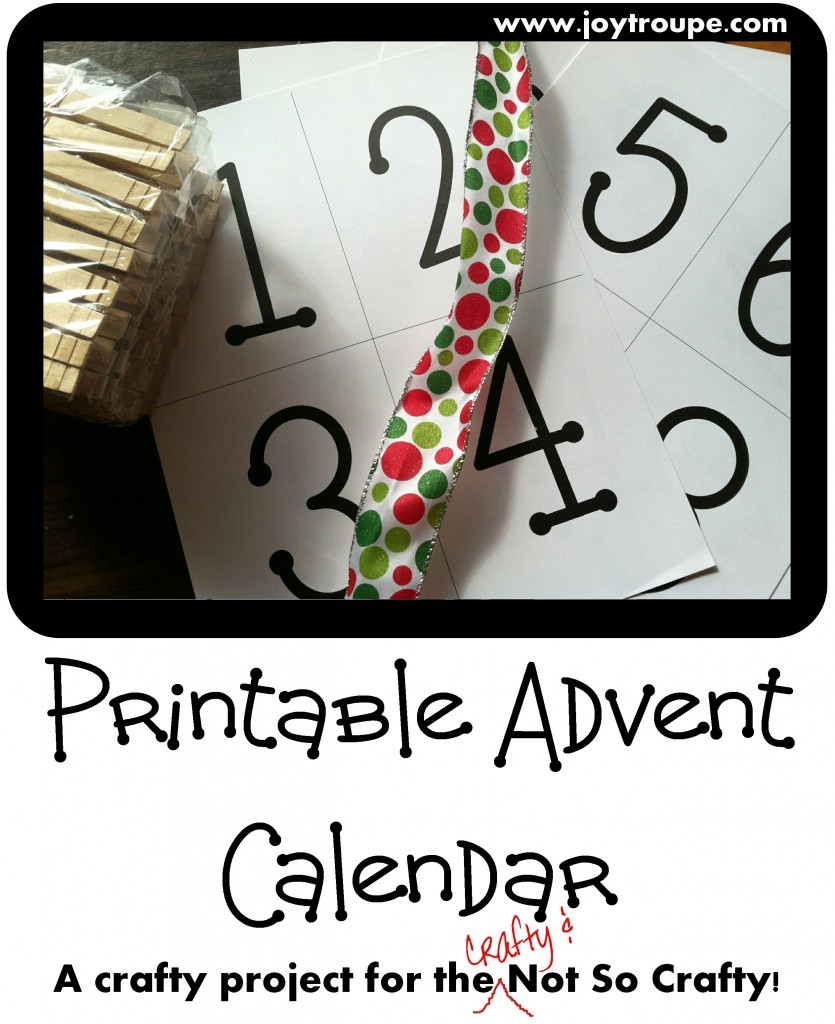 Here is a crafty Advent project that needs only four things: our free printable, six sheets of cardstock, clothespins or binder clips, some pretty ribbon, and someplace to hang it. Oh, and scissors. That's five things. If you want to get more creative, you can- but if you just want to start this tradition with your family, print pages 2-7 of Family Advent Calendar and then print pages 8-13 on the back. Cut along the printed lines, and hang. HO HO HO! You're in business.

Alternatively, I printed the numbers with blank back sides, let my guy paint the backs of the numbers and used some of the Santas from the back pages to separate them. (I cut mine into individual numbers first, because I knew my kid would accept me disassembling his masterpiece, but not me going after it with scissors. You can skip this step, if you prefer.)
Just print pages 2-9 for this version and hang one Santa every 4 numbers. Starting on December 1st, turn over one number each day and count down (or up, I suppose) to December 25th.

 My Kindergartener is practicing his backwards counting, so we'll be starting at 24 and working our way down to 1 and a HO HO HO, but since they are separate cards, you can hang them however it suits you. 4 days on this calendar is about 2 feet wide, so you'll need about 12 linear feet of wall space to hang them- either in one long row, or in several shorter rows one above the other. Or, put magnetic tape on your clothespins and hang them on the side of the fridge. Short on space? Punch holes in the top and hang them on a pair of cup hooks. One shows today's number and the other shows tomorrow's back side. Don't worry too much about losing one… you can print a new set every year!
Thank you
Graphics Fairy
for the Santa images I used in this project. My son produced the artwork in this post using the Young Artists Texture Painting set.
Hey! Stay in touch. Subscribe to our weekly newsletter.  Also,would you please vote for us? Thanks! (Just click the image.)
Links to products in our posts are frequently affiliate links. These generate a small income that helps pay for our web hosting and things like prizes for giveaways. Thank you very much for supporting us by purchasing through these links.