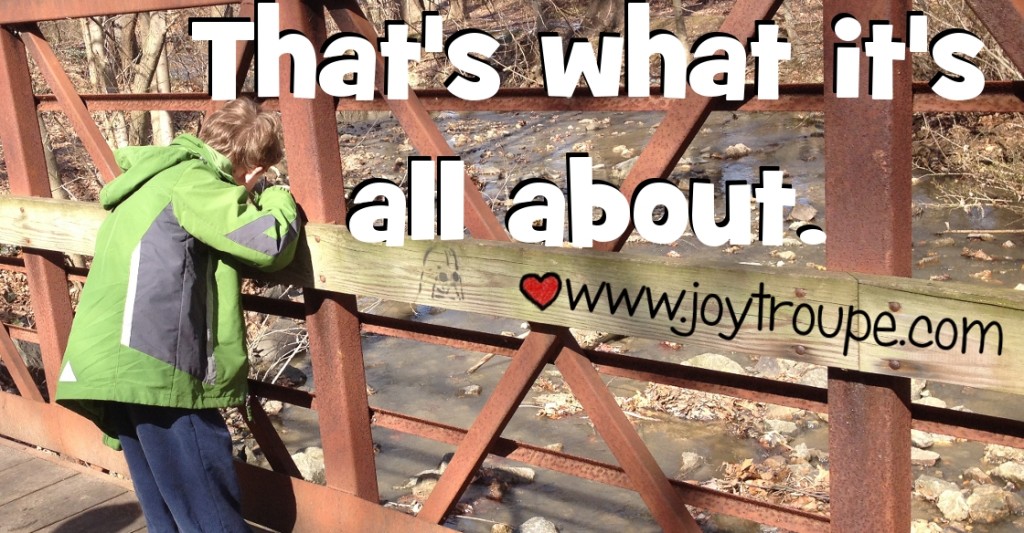 wrong. RIGHT. This is paradise according to my kid. The graffiti is star wars themed, he's halfway to being filthy, and he can throw things in the creek. Your kid might prefer a trip to Disney or the library or just to hang out quietly at home. We know, on a visceral level, that our children are all different. We KNOW it. We see it, we live it… but somehow we can't stop listening to the people who try to tell us we should parent them all the same.
It seems like weekly (daily?) some new parenting philosophy comes out to tell us that everything we are doing is horrible, wrong, and damaging our children's brains. I wish I could tell you that I am exaggerating for the sake of hyperbole, but I'm not. Parents are accused, regularly, of damaging their children, of abusing them, of POISONING them, by parenting them. Who is accusing them, you wonder? Sadly, it's other parents. Maybe you think formula, sleep training, or cloth diapers are wrong. And maybe they are wrong… for your kid. Fortunately, you only need to concern yourself with your kid. What a relief that you aren't tasked with protecting the world from parents who can and do give their babies formula. (Personally, I'm more concerned about the ones who need formula, but can't provide it for their babies. That's a real problem that's happening right now, in our real communities, and babies really are suffering actual, measurable brain damage and cognitive deficits from it, if you're wondering. Babies whose parents love them just as much as we love our kids, and who will go to the very same schools our kids do. If that sounds as unfair to you as it does to me, you can donate formula to your local food bank, and they'll thank you.)
I've been hanging out over here on the sidelines just kind of doing my own thing, and I like it here. I've been able to pick up a few tips from every camp that work pretty well. Some are utter rubbish for my kids, and some I really wish would work but don't. If they work for you, I'm so glad. But I've learned that a lot of parents are sick of advice from the factions. The zealots. The only hold your baby, never hold your baby, don't spoil your baby, you can't spoil your baby FANATICS who insist you accept the one truth right now or be condemned as an Awful Parent. I'm just going to start calling myself an Awful Parent right now. It saves time. You can join the club too. We'll have T-shirts made. We won't be any more or less accurate than any of the other people who have decided we need to put a modifier before the word "parents" to prove we are doing it right. I'll just go right ahead and be an Awful Parent- one who gets up every day, does her best, and hopes it all works out in the end.
Until tomorrow, Awful Parents.