Nothing makes a little sib feel grown up like big brother or big sister like going to school. My kiddo loves, loves, loves his preschool, but right now he only goes two days a week. Some families find that their kiddo who will start next fall is really ready for a little bit of preschool programming right now, and some families skip formal preschool altogether. Whatever the reason you are looking for educational content for your preschool child, there are a load of options. One of the newest is CHALK Preschool Online. Based on the curriculum they use in their classrooms, the CHALK online classroom has videos (daily lessons and entertainment you can browse) as well as hands on activities and printables that go along with the lessons.
FYI, CHALK has their very own YouTube channel where you can view sample videos like the one below. The video content is professional, upbeat, and free of annoying voices and the nerve wracking, rage inducing, practically tuneless songs that some kids' videos seem to think are required. (You all know the ones I'm talking about. The ones you want to kill with fire.)
The custom playlist tool allows you to organize videos for your child by topic or to make a playlist for each child based on their skill level within the curriculum. There were too many videos to pick from for me to preview them all. My only criticism here is I wish the playlist function was more user friendly for the child. Switching between playlists is accomplished using a pulldown to select from the names. They are also color coded, once you click the pull down, but I think this method of navigation is very challenging for a pre-reader. A screen with clickable icons would be better. (It's very intuitive for the parent, however.)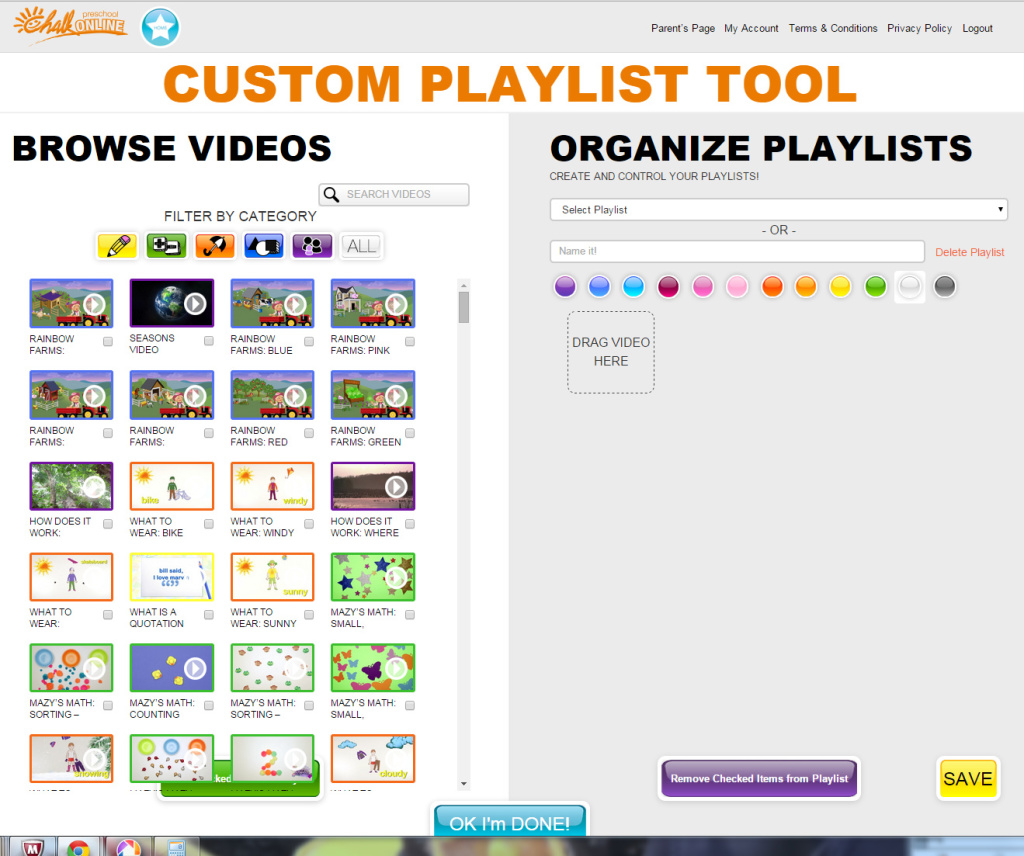 I test drove the CHALK Preschool Online site on my desktop computer (Windows), iPhone, and an Android tablet. My thoughts are:
In the Android web browser, you can use the site fine, but I hope they will release a standalone app soon. Kindle in particular seems to be positioning themselves to have massive market share in educational apps, and they are becoming pretty standard. My preschooler can work more independently in a stand alone app than he can through the web browser, which means less frustration for him, and by extension, for me.
The mobile version of the site is formatted a little better for the iPhone, so it's a little more user friendly there than it is on the tablet. I, like many people, am not fortunate enough to own an iPad, so I wasn't able to test it on that device. Basically, aside from a few minor things that make this not a 100% seamless experience in the hands of a preschool aged operator (the one pulldown menu, lack of any way to disable the web browser's controls to keep him from accidentally exiting the app to the web) this is an excellent tool with very nice educational content.
Some educational programs only offer the kids' content on mobile and you have to access the parent dashboard on a desktop. CHALK's parent dashboard is accessible both places. It's a little easier to use on the desktop, but not too much. My only wish is that the "daily lessons" button on the parent page didn't go to the same page as the one for the child- I wish it went to an overview page where it explained what the daily lesson is and which activities go alongside it, for instance, instead of just linking directly to the lesson.
Overall, I think this curriculum is a good value for the money, is engaging and attractive to the target age group, and has a deep bench of tie in activities. I would recommend it as a great starter curriculum for at home preschool, or as a supplement to traditional preschool outside the home.
Right now, you can get a two week free trial of CHALK and try it out for yourself. What could be better than that? Well, a chance to win a full year! Enter below. Good luck, I hope you win!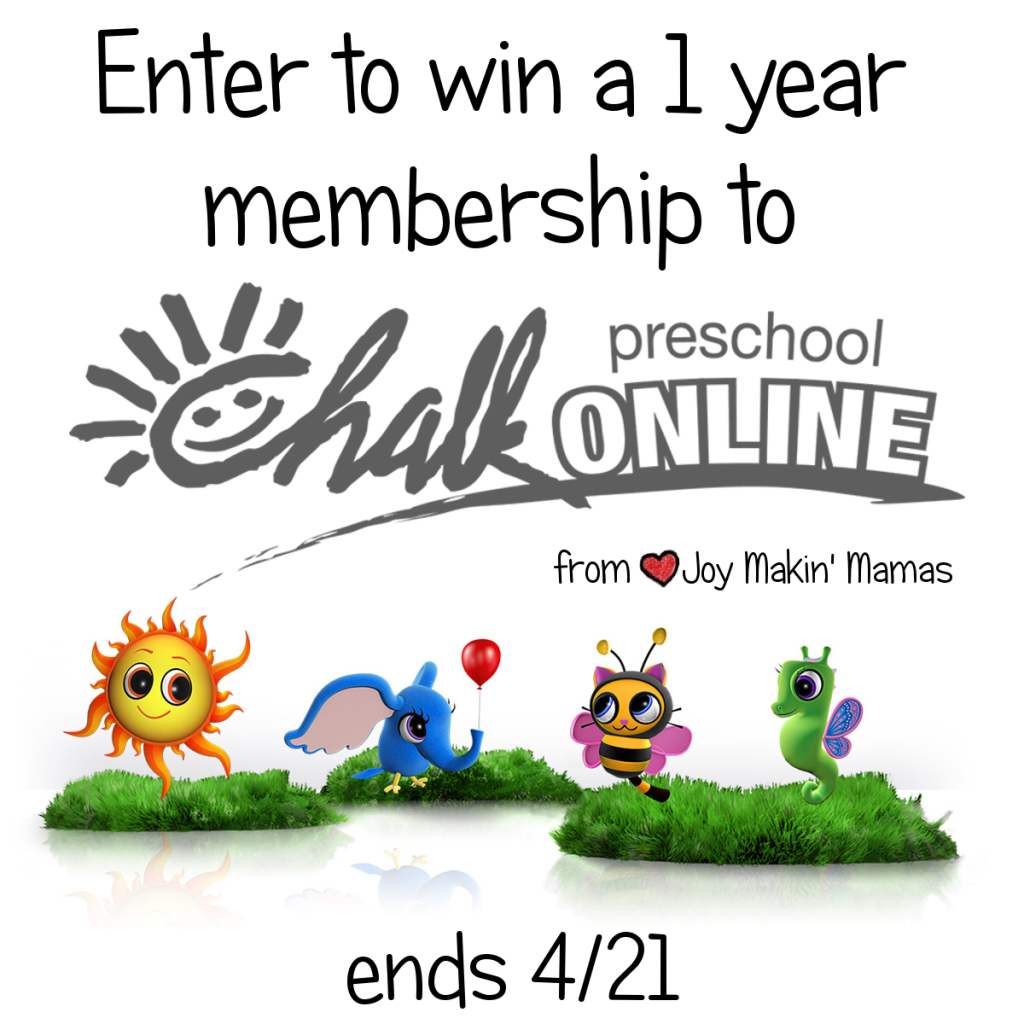 ***This giveaway is not in any way affiliated with any social media network, including Facebook, Twitter, and Pinterest. Joy Makin' Mamas received a copy of this gift set to facilitate the review. No other compensation has been offered or accepted for the running of this giveaway. Neither Joy Makin' Mamas nor any other promoting blog is responsible for prize fulfillment. Prize fulfillment is the sole responsibility of our sponsor. Be sure to subscribe to Joy Makin' Mamas and never miss any of our great giveaways!