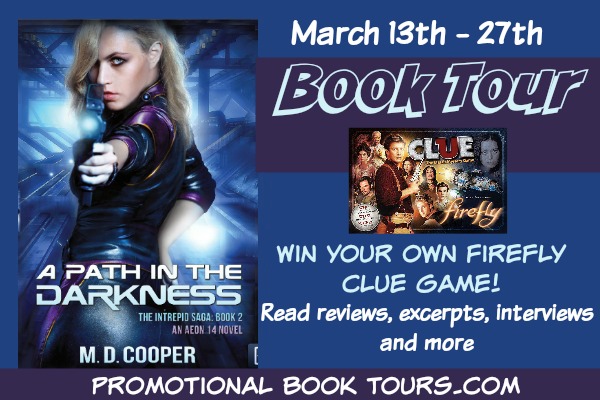 Back in the beginning of February I reviewed  a science fiction novel for you called 'Outsystem' that I loved, loved, loved. I told you then I was going to rush right out and get the sequel and do little happy dances as soon as the children were in bed.   Well it turns out that the people who send out these books actually read the reviews we write (who knew?) and actually sent me the next book in the series!   Sadly my children then had the nerve to get sick, and then I got sick, and then my son got really sick… and I had to wait a while before getting to do any reading.  It was all very tragic and unfair.
 'A Path in the Darkness' by M. D. Cooper picks up where Outsystem leaves off.  The colony ship Intrepid has finally left the Sol system for the planet of New Eden but when Tanis wakes up from stasis, they have not reached their destination.  Instead she wakes up alone in a disabled, dying ship heading towards a star.  She must quickly figure out what has happened and save everyone once again. Stylistically the book is a little different than the first.  Because they have left the system there is no outside action or interaction going on. This means in many ways it's not quite as action packed as the first book was.   This gives Cooper a chance to do a little more character building.  We learn more of the back story behind Tanis and begin to delve deeper into her relationship with her AI, Angela. With the action now confined to the single ship, there was naturally some forced introspection, which I enjoyed.
As Tanis and the colonists react to their new predicament, they are forced to rethink how things are being run and who is running them. Because not everyone is on the same side. Not all of their enemies have been left behind.
Cooper has set up an interesting situation and I can't wait to find out what he has in store for the crew of the Intrepid as the series continues.
I was given a free copy in exchange for an honest review but the opinions are mine in every way.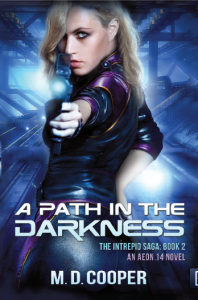 The colony ship Intrepid is falling into a star.
The ship's AI has lost control of the engines and core systems. Battling a saboteur who strives to isolate him, his last act is to wake Colonel Tanis Richards from stasis.
Tanis finds herself alone on a dying ship, unable to contact the AI. She must discover what has happened and save the Intrepid from burning up in the star's angry red light.
Even if she is successful, the journey to the colony world of New Eden is just beginning. With decades of travel ahead, she will have to find a path in the darkness.
About the author:
Michael Cooper has been writing since the day he closed Return of the King and wanted more. He's written a lot of fantasy that he never tried to get published, but one day decided to try his hand at science fiction, of which he has published one book (Outsystem) and is working on the sequel, A Path in the Darkness.
Michael is a software engineer at a company which builds sites and services around the open-source CMS named Drupal and enjoys the creativity involved in building web applications.
When not writing stories or code Michael is spending time with his wife and daughter, or doing carpentry–a hobby which he has been growing over the years.
His other interests include astronomy, cars and racing, blacksmithing, movies, and just about any creative work one can do.
Follow M.D. Cooper: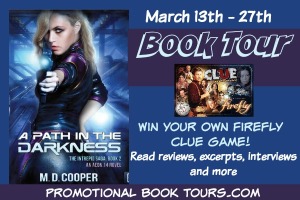 ***Joy Makin' Mamas received a copy of the ebook A Path In The Darkness at no cost to facilitate this review. No other compensation was offered and all opinions are 100% original and authentic. This post contains affiliate links, and if you make a purchase we may receive a small commission. Thank you for your support.