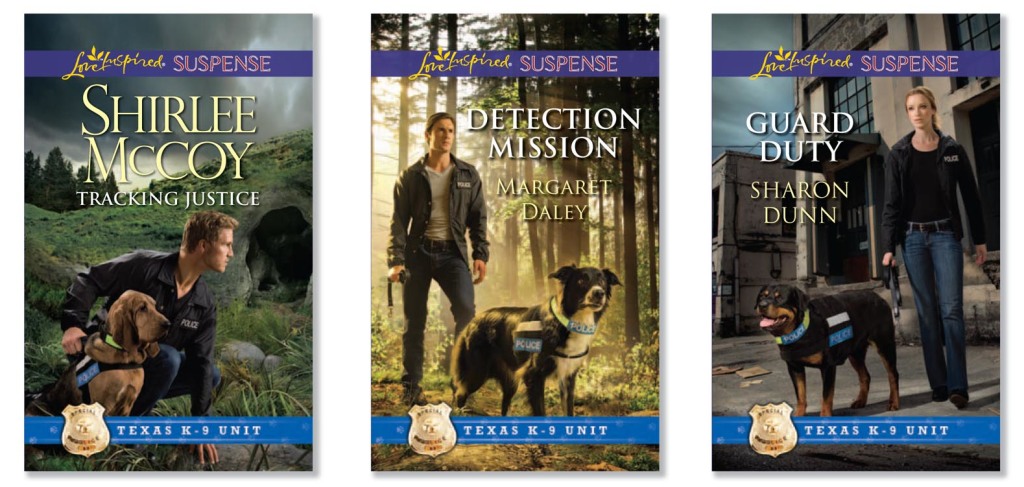 Harlequin's Love Inspired books are a nice alternative for those people who want a sweet romance without all of the graphic sex scenes.  A steamy love scene can be fun, but it also has been known to let an author or two take the easy way out.  I always find these books to be a nice change of pace because the format forces the authors to focus more on the plot and writing.  There are also times and places where the book we are reading needs to be G-rated. While all the characters in these books are people of faith they do not tend to be overly preachy and are subtle enough to work for a broad range of Christianity.
This month I took a look at their Texas K-9 Unit Suspense Series: a little bit of romance and a little bit of mystery all rolled up into one.  Although they are all set in the same police department in the same world, each book is written by a different author.  Each book revolves around a different detective in the department solving a smaller sub-plot that weaves into the larger plot-line .  The added element of a K-9 unit is a nice twist.  With each dog having a different specialty, the books stay fresh and offer a reasonable explanation why each book would have its officers working in different ways.  The series begins with the chief's father being attacked and his dog stolen.  Throughout the series, the detectives continue the search for their chief's K-9 companion while trying to discover the larger criminal activity involved.  Of course, each additional book reveals a little more of the overall puzzle.  The first book, "Tracking Justice" by Shirlee McCoy, starts with a small boy who is kidnapped after witnessing the crime and one detective's search and rescue of the child.  The second book, 'Detection Mission' by Margaret Daley, follows up on a mysterious woman with amnesia who was discovered with the kidnapped child, while the third novel, 'Guard Duty' by Sharon Dunn,  continues the story with one of the detectives and a FBI agent who try to track down the leaders of the criminal ring as threats are being brought to bear against their loved ones.  I read the first three books and I have to say I am absolutely intrigued! I will be following the rest of the series with interest.
I  received a free copy in exchange for my honest review.
Texas K-9 Unit Series Books 1-3: Tracking Justice\Detection Mission\Guard Duty (Available at Amazon)
Love Inspired Suspense authors Shirlee McCoy, Margaret Daley and Sharon Dunn will get your pulse racing with tales of Texas cops and their loyal K-9 dogs tracking down a crime ring. Enjoy three action-packed Texas K-9 Unit romantic suspense novels in one box set! When a boy goes missing from his bedroom, a police detective must assure a desperate single mother that he and his trusty bloodhound will find her son. A woman with amnesia has to rely on an officer and his border collie to stay alive when she can't remember who tried to kill her. An FBI agent is called in to protect a single mother when the rookie K-9 officer witnesses a murder and becomes the killer's target.
About the authors:
Shirlee McCoy
Shirlee McCoy has always loved making up stories. As a child she daydreamed elaborate tales in which she was the heroine — gutsy, strong and invincible. Though she soon grew out of her superhero fantasies, her love for storytelling never diminished. Shirlee knew early that she wanted to write inspirational fiction and began writing her first novel when she was a teenager. Still, it wasn't until her third son was born that she truly began pursuing her dream of being published. Three years later she sold her first book. Now a busy mother of four, Shirlee is a homeschool mom by day and an inspirational author by night. She and her husband and children live in Maryland and share their home with a dog and a guinea pig.
Margaret Daley
Margaret has been writing for over 35 years. She started writing in the late 1970s because she wanted to see if she could put a whole story down on paper. That book is still in the drawer and will never see the light of day. But she was able to finish a book, which was her goal. She loved teaching and working with students with special needs, and recently retired from teaching to write full-time. When she isn't working, she loves to read, travel, and go to lunch and a movie with a friend. She and her husband, Mike, to whom she has been married for over 40 years live in Tulsa. Besides teaching and writing, she is also a mother of one. Her son, Shaun, is married with four daughters.
Sharon Dunn
Sharon Dunn first fell in love with mystery and suspense about the time she read Nancy Drew mysteries in the fifth grade. Her first book in the Ruby Taylor mysteries Romance Rustlers and Thunderbird Thieves was a finalist for the Romantic Times Inspirational Book of the Year. The second book in that series Sassy Cinderella and the Valiant Vigilante was voted Book of the Year by American Christian Fiction Writers. Her hobbies include reading, working out, hiking, trying to find things around the house and making pets out of the dust bunnies under the furniture. Before she started writing, she used to sew. Now she just collects fabric and patterns and fantasizes about projects. After nearly twenty seven years of marriage, Sharon lost her beloved husband in 2014. She lives with her three nearly grown children, two cats and a nervous border collie named Bart.
Check out their Facebook Page!
Enter to win Protection Detail
One lucky winner will receive a hard copy of Protection Detail! All entries will be verified before a winner is chosen. Open to US and Canada only!
"Disclosure (in accordance with the FTC's 16 CFR, Part 255: "Guides Concerning the Use of Endorsements and Testimonials in Advertising"): Many thanks to Propeller Consulting, LLC for providing this prize for the giveaway. Choice of winners and opinions are 100% my own and NOT influenced by monetary compensation. I did receive a sample of the product in exchange for this review and post.
 Only one entrant per mailing address, per giveaway. If you have won the same prize on another blog, you are not eligible to win it again. Winner is subject to eligibility verification."