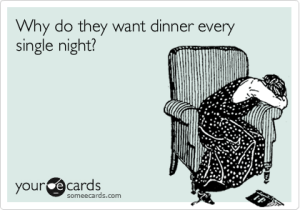 Even the best of us have had a day that got away from us and realized that everyone is hungry and there's nothing in the fridge but a few paltry leftovers that won't quite make a full dinner for the family and the last of the milk. Oops. Time for some PB&J, or to pull a rabbit out of the hat. If breakfast for dinner is getting old, you can throw together this (meatless!) Black Beans and Rice in less time than you'd wait for delivery, and entirely from pantry staples.
I realized that I had never actually made it before, and my recipe reflects what I had on hand. If you happen to keep canned or frozen stock (I mostly don't, as I usually make soup out of it as soon as I make it. I love soup!) go ahead and use some in place of the water. If not, the water is perfect. If you are luckier with cilantro in your herb garden than I am, chop some and stir it in right before you serve. The first words out of my mouth after I started eating this were, "this would be AMAZING with a little fresh cilantro," but in a "beggars can't be choosers" situation, you make do. I also can't wait to try it with some fresh avocado on top. If you're not vegan, a little cheddar cheese is also a great topping option. I steamed a bag of baby spinach and warmed up all the leftovers, and everyone left the table happy.
You'll notice I specify that you drain AND RINSE the beans. If you happen to be one of those people who object to the rinsing instructions, then carry on without rinsing. I do know some people feel this robs the beans of flavor, although I can't personally taste a difference. Just know that most of what makes beans a "musical fruit" rinses down the drain along with the goo from inside the can, and make your own choices.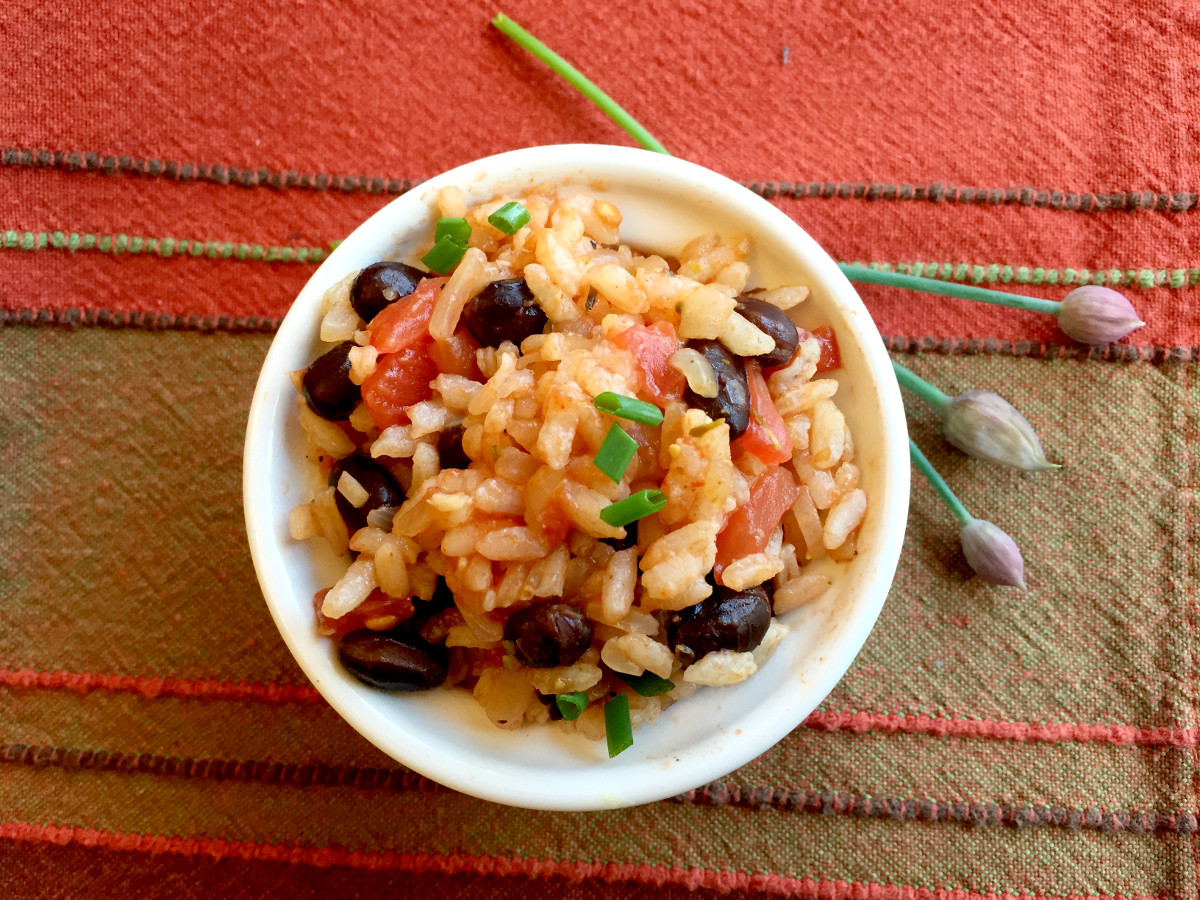 Black Beans & Rice
Prep time:
Cook time:
Total time:
Ingredients
1 14 ox can diced tomatoes, with liquid
1 15 oz can black beans, drained and rinsed
¼ cup dehydrated onion
½ teaspoon ancho chili powder
¼ teaspoon cumin
½ teaspoon paprika
½ Tablespoon oregano
salt and black pepper, to taste
1 Tablespoon Olive Oil
4 cloves garlic, pressed
¾ cup white rice
1¾ cups water
Instructions
Combine tomatoes, beans, and spices (except garlic) in a non-reactive bowl and set aside to allow flavors to mingle.
Heat olive oil in a large skillet over medium high heat until shimmering.
Add garlic to hot oil and sautee about one minute or until just browned. Add rice and sautee about two minutes or until rice just begins to lose translucency but has not begun to brown.
Add water. Bring to a boil, then reduce heat to low and cover. Simmer without lifting the lid until all liquid is absorbed- about 15-20 minutes.
Stir in tomato and bean mixture and warm through.
Garnish with fresh chives, if desired, and serve.
Notes
If you prefer spicier food, substitute cayenne pepper for the ancho chili powder. If you want to use fresh onion instead of dried, use about one small onion chopped finely and add it with the garlic. Sautee until translucent and then proceed as written.