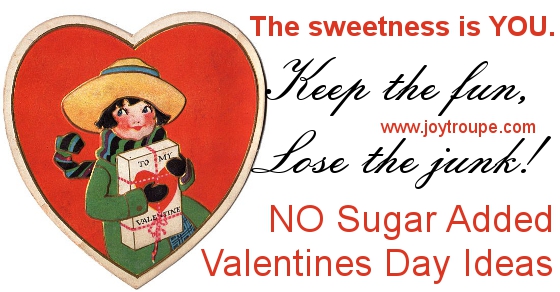 Does your kid react to sugar like a werewolf who's just seen the full moon? Then Valentine's Day is sure to make you cringe almost as much as Halloween and birthday parties. Why not host an alternative, low sugar celebration for your child and her friends? If you don't make a big deal out of it, I promise the kids will neither notice the lack of sugar, nor miss it for a minute. They'll be too busy having fun.
Cranberries are red, cherries are too.
Who needs added sugar when I've got YOU?
 Activity Stations
My favorite way to organize party fun for kids is to create self-directed activity stations. The younger they are, the harder it is to get them all doing the same thing at the same time, and this allows them to make their own decisions about what to do. In the long run, this will prove much more fun for everyone.
"Steal My Heart"
Fill a large bowl with home-made heart crackers. The objective is to retrieve them with chop-sticks. You'll need a parent helper at this station to teach the kids how to use chopsticks. If you have kids younger than four, consider poviding some salad tongs, as the chopsticks are probably beyond them.
"Be My Valentine"
Create a card making station with colored paper, doilies, rubber stamps, stickers, hole punches, glue, and crayons. A parent helper can demonstrate the old stand-bys of valentine making like cutting out a heart from folded paper and making dimensional cards with accordion pleated paper strips.
"Cupid's Arrow"
Create a heart shaped target and plenty of paper for paper airplanes. Create a handful of "starter" planes and let the kids go nuts trying to hit the center of the target with paper airplanes. A parent helper here can help the kids try new airplane designs. If you want to go whole hog, let them stop by the card station and try decorating their planes.
Snacks
Think about all the red things in the produce department. You and some heart shaped cookie cutters can turn a lot of them into yummy, valentines day treats that are easy on the sweet. Here are a few of the things on the menu at my party:
Whole grain heart shaped crackers: Take whole grain tortillas, cut them into heart shapes, and toast them on a cookie sheet under the broiler. This goes fast, so watch them! They may curl a bit. YUM.
Print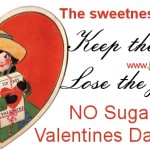 Cranberry Applesauce
this recipe is also found on page 33 of our 2008 cookbook, Joy Troupe Family Favorites.
Ingredients
10

medium apples

1

bag

12 oz Cranberries

1/4

cup

sugar

Optional, and you can substitute other sweeteners. Adjust to taste.
Instructions
Wash the fruit in cold water. To wash the cranberries, float in a bowl and slosh them around. Remove any mushy ones and discard.

Peel, core and slice the apples. We use the peeler/corer/slicer, but you can also just cut them into even pieces about 1" across.

Fill a medium saucepan 2" high with water. (You can substitute 100% fruit juice if you prefer.) and bring to a boil.

Add cranberries to boiling liquid and cook for about 10 minutes, stirring once or twice.

Once the berries have started to pop, add the apples. Reduce heat to medium and stir frequently. Cook until apples are tender when poked with a fork- about 15 minutes.

Turn off the heat and stir in sugar, if desired. Cool slightly before serving.
Cream Cheese & Jelly Sandwiches: Whole grain bread, reduced fat cream cheese, and the red all-fruit jelly of your choice (avoid seeds, kids don't like them) create a healthy treat you can cut into heart shapes using cookie, bento, or sandwich cutters.
Pink Pinwheels: Strawberry cream cheese (or more cream cheese plus all-fruit jelly) spread on a few of those whole-grain tortillas, rolled up, and sliced diagonally. Pretty, delicious, and just the right size for little hands. If your child has a dairy allergy, you can find vegan "cream cheese" at the health food store.
Heart-shaped Mini Pizzas: Get a BIG heart shaped cookie cutter or freehand this one. You can use rolled out pizza dough or cut pre-made Boboli crusts into heart shapes. Let the kids assemble their own pizzas with sauce, cheese, and your choice of toppings. Bake 10 minutes or until the cheese is bubbling and golden brown. Pizza is always a hit!
Fruit and Yogurt Parfaits: What could be easier? Get frozen red fruit (cherries, raspberries, strawberries) and a tub of vanilla or plain yogurt. Blend half your yogurt with fruit in your blender or food processor, and layer them (pink and white) with some more fruit in clear cups. You can find 4 ounce drinking cups in clear plastic in the party aisle at the store, or try these in Popsicle molds.
Looking for a fun, no sugar valentine card for your child to give his friends? Check out this cute printable, or these cute cards on a name-badge size template to use as a label or print on cardstock and cut out.
Want to dress up your everyday tableware or plain paper cups? 2″ round stickers can be printed here.