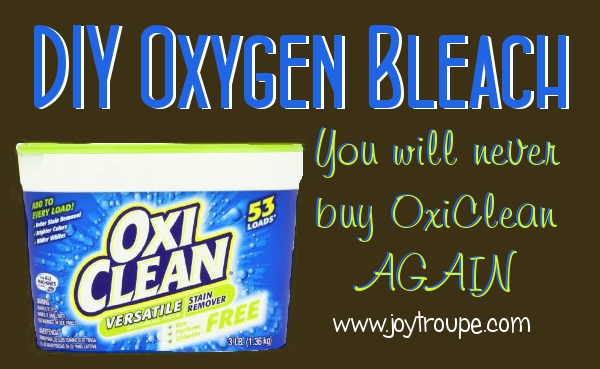 I was surprised to discover that OxiClean does not contain magical, stain-removing fairy dust. What it does contain is a powdered version of hydrogen peroxide and good, old-fashioned washing soda. This combination is also known and referred to as Oxygen Bleach. (To differentiate it from chlorine bleach.)
Have you met washing soda? Your grandma probably had a box in her cupboard. Those of us who can't tolerate the additives in "new and improved" cleaning supplies are still fans. You should be able to find at least one chain store in your area that carries it, and it's normally found in the laundry aisle, right next to the 20 Mule Team Borax. (Grab some of that, too, although you won't need it today. It's good for a number of general purpose cleaning uses.)
Some recipes you'll find by googling this call for baking soda. Although Baking Soda and Washing Soda are chemically related, they are not the same. To match the chemical composition of the expensive stuff, you want washing soda. While you may have to try harder to find Washing Soda, it is cheaper than baking soda. It can also be used, alone, as a laundry booster.
My custom blend, used for cleaning pet stains out of carpet, is:
DIY Oxygen Bleach (You will never buy Oxi-Clean again.)
Ingredients
1 quart hydrogen peroxide
1 cup washing soda
3 quarts hot water
¼ cup CLEAR liquid laundry detergent- optional
Instructions
Mix well. Apply liberally to stain and let set for up to 1 hour before removing with carpet steamer.
Notes
If you are adding this to your laundry, I'd skip the detergent and the water, and add a ½ cup or so of the solution to your laundry load. For soaking, I'd dilute it a bit more than this. It's cheap, especially if you wait for hydrogen peroxide to go on sale, and it's easy. But you should still keep it out of the reach of kids.
Hey, want some more awesome DIY ideas? Join us on our Pinterest DIY board!
Follow Meghan Gray's board DIYs on Pinterest.