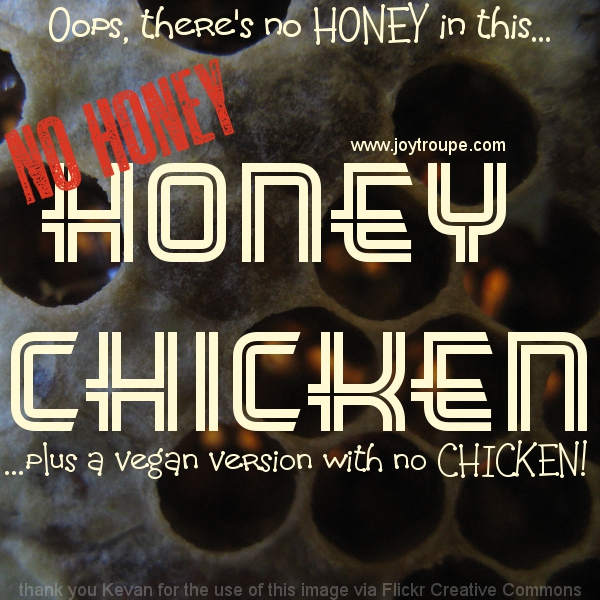 When I went away to college and got the rudest dietary shock of my entire life, I used to dream about this chicken at night. It is so, so, SO good and you never get tired of it. I even developed a vegan version of it during my vegetarian/dairy intolerant years, because I couldn't live without it. The vegan version isn't QUITE the same, but it's very very good, and I served it to many a tofu hater who was pleasantly surprised to find they liked it.
The chicken recipe is also included in our Joy Troupe Family Favorites cookbook, but this is the official internet debut of the vegan version. (Odd since I'm once again an omnivore, but I'm still a veg*an sympathizer!) Want to pin this recipe? Click here.
Print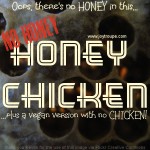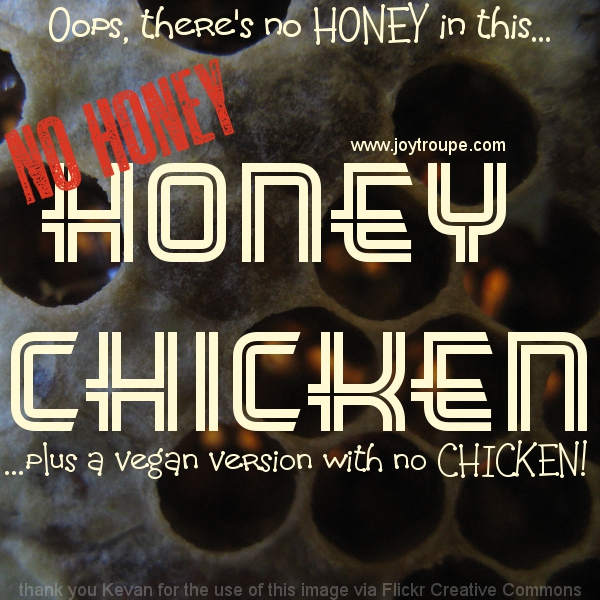 Mary-Alice's No Honey Honey chicken
this delicious chicken recipe is great immediately, perfect for buffet service, holds well, reheats well, freezes well, basically does everything well. It is the perfect food.
Cook Time
1
hour
30
minutes
Total Time
1
hour
40
minutes
Ingredients
2-3

lbs

chicken parts

3

Tablespoons

maple syrup

5

oz

soy sauce

1

stick butter
Instructions
Combine all ingredients except chicken in sauce pan and melt over medium heat. Pour over clean chicken parts in baking dish and bake uncovered at 350 degrees for 90 minutes.
Recipe Notes
TIPS: I use reduced sodium soy sauce and cheap maple syrup. The meat comes out very tender and has a nice, dark color to it. It makes great party wings. The only caveat is to make sure the pan you use isn't too big, or the tops of the chicken pieces will dry out and will not have the nice flavor of the rest. This is excellent served with egg noodles and salad. CROCK POT LOVERS: Rejoice- you can do this in the slow cooker if you substitute boneless, skinless thighs for the chicken pieces.
If you have ever had this, you will never, ever forget it, and you will always want more! Now, for the vegan version. If you are NOT vegan and you are making this for someone who is, be aware that "cheap" maple syrups may not be vegan, so get the real stuff.
Meghan's No Honey Honey Tofu
Author:
Prep time:
Cook time:
Total time:
This is my vegan version of my favorite chicken dish of all time.
Ingredients
2 blocks of extra firm tofu
1 block silken tofu
5 oz soy sauce
3 Tablespoons maple syrup
1/4 cup vegetable oil (peanut or canola are my preference, but sesame is nice too.)
1/8 teaspoon salt
pinch of nutritional yeast (optional)
Instructions
Slice the extra firm tofu approximately 3/4″ thick, and drain on towels for about 1/2 hour.
Combine soy sauce, maple syrup, vegetable oil, salt, and nutritional yeast.
Lay extra firm tofu slices in a single layer in a baking dish. Crumble the silken tofu and spread evenly over top.
Pour sauce over tofu and bake at 350 degrees for approximately 1 hour, until the tofu has darkened and the sauce has started to caramelize on top. (Sort of looks like the skin on pudding.)
Notes
I've also done this in the crock pot, but I don't remember how long it took. Four hours is a reasonable starting point if you want to experiment with it.
Both versions of this recipe are perfect served with rice or noodles and a green vegetable. I personally think green beans with almonds set the whole thing off just right, and the sauce from the pan over some noodles is almost better than the main event! Enjoy!
Visit our Cookin' Hot Mamas page for more awesome recipes, indexed by ingredient.