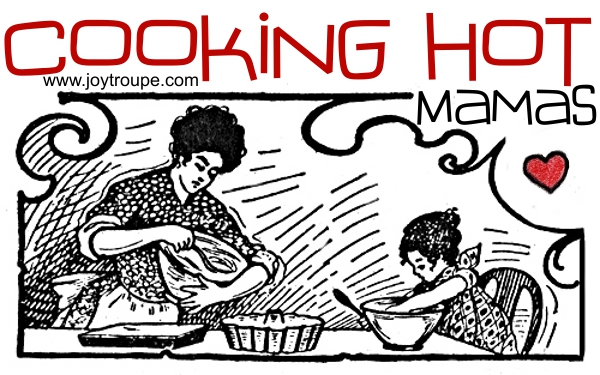 Cookin' Hot Mamas are always looking for a way to do something more quickly, easier, and, very importantly, healthier! We are busy moms feeding our kids real food- just like you!
Please send us your recipes! We would love to include them in our collection. Submit Your recipe here!
Our most recent Recipes:
30 minute "Faux" Mein Recipe This easy lo mein recipe is quicker than takeout, can be made with beef, chicken, or tofu, has vegetarian and vegan variations, and my husband said it was better than the restaurant version. The sauce only has four ingredients- five if you count water. Everybody has got time for that! read full post --->
No Bake Sea Salt Brownie Protein Bars No bake. Fudgy. Full of good stuff. And… sea salt brownie. These easy protein bars are a perfect on-the-go breakfast or post workout snack! read full post --->
Chocolate Gingersnap Muffins Relax, you aren't serving cookies for breakfast… it just tastes like you are. The tops of these muffins look and taste just like giant, chocolate gingersnap cookies, but there's good stuff inside- including whole grains! read full post --->
Grilled Beets Recipe plus July 4th Food & Craft Roundup #Foodelicious Add a little variety to your grilled side dishes and add a little red color to your patriotic Fourth of July table! Plus a recipe roundup for the 4th! read full post --->
Berry Brownie Smoothie This nutritious smoothie recipe tastes like a decadent dessert and is perfect for moms on the go. read full post --->
Apricot Baked Brie Recipe This sunny and delicious baked brie recipe combines apricot and cranberry flavors. It will brighten your brunch or appetizer offerings any day! read full post --->
Browse by tag:

Hey! Thanks for being here.
Join Us
and get recipes, play ideas, product reviews, books, and more in your inbox once a week.
Links to products in our posts are frequently affiliate links. These generate a small income that helps pay for our web hosting and things like prizes for giveaways. Thank you very much for supporting us by purchasing through these links.