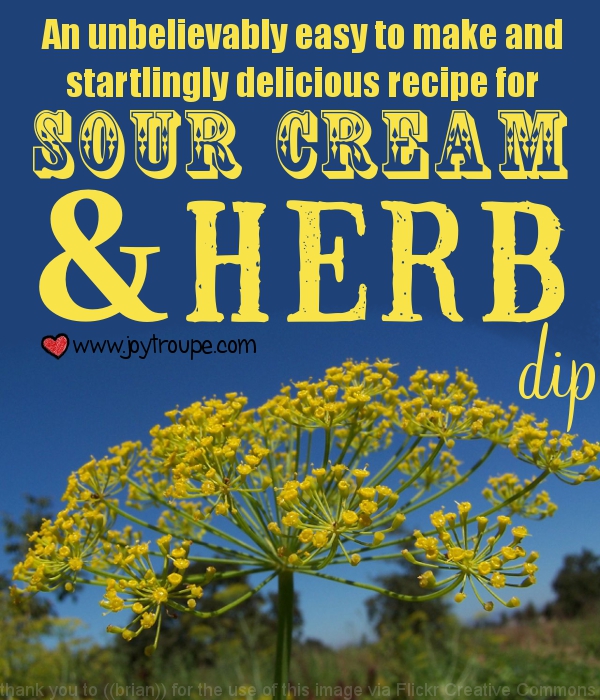 Entertaining is a great opportunity to pull together delicious foods, and nothing is better than fresh, home made party food. But, every party needs a few items that come together unbelievably quickly to free up the hostess for other, more time consuming foods. That doesn't mean you don't want side dishes that delight your guests, but you need them to be simple to prepare, and preferably be things you can prep ahead of time. The more you prep ahead, the more time you spend actually enjoying your guests at party time! (Want to pin this so you can find it later? click here.)
You can satisfy all those requirements with a baked potato bar. Once you've baked your potatoes, set up a serving buffet with:
fresh Sour Cream & Herb Dip (recipe follows!)
Crumbled bacon or chopped ham
ground meat browned with taco seasonings
chopped chives
shredded cheddar cheese
crumbled feta cheese
Salt & pepper grinders
Mini pepperonis
red pepper flakes
guacamole
tobasco sauce
got suggestions? put them down there in the comment box!
As you can see, it's easy to put together a large enough variety of toppings to satisfy any taste preference, and you can prep all your toppings the night before, so they can be set up and ready to go when you bring a pan of hot potatoes to the buffet table.
You'll also find this Sour Cream & Herb recipe on page 27 of our More Please, Mommy cookbook– over 100 pages of recipes from real moms like you. Would you like to submit a recipe? Accepted submissions are published in our newsletter and will be considered for future cookbooks in addition to being posted here on the site!

Sour Cream & Herb Dip
This dip goes together in a snap and is the perfect thing to round out your party table.
Ingredients
⅔ cup Mayonnaise
1 Tbsp onion, minced
1 Tbsp parsley flakes
⅔ cup sour cream
1 tsp dried dill weed
Instructions
Combine all ingredients.
Chill overnight.
Notes
Serve with fresh veggies or chips. It also makes a phenomenal baked potato topping!
Don't forget to visit
our recipe page
for more great recipes. They're indexed by ingredient and type of recipe!