Persistent Wine Myth #1: I can't be a wine enthusiast unless I know a lot about wine.
Frankly, lots of people want you to think you have to know a lot about wine in order to enjoy wine. This is an enormous lie. The truth is that in order to enjoy wine you need to… try wines. That's it. You don't need to know anything except whether it tastes good to you.
Shopping for wine, on the other hand, can be a little confusing if you don't know a lot about wine. The great news is that there are lots of ways to try a variety of wines to help you choose. Look for opportunities to do a tasting flight at any winery or tap room, and you'll soon have a handful of go-to favorites. Wine festivals are also a great way to try a variety of wines in a short period of time.
Last, but not least, there are wine clubs that will take the guesswork out of the process and just send you some bottles based on your tastes on a recurring basis. Winc Wine Club is a new option for those who want the opportunity to try wines without the confusion.
Super Huge Wine Lie #2: Good wines are expensive wines
I also used to think that "good" wine was "expensive" wine. It turns out that the truth is that we THINK expensive wines are better because… we know they are expensive.  It's true that I've had the opportunity to try some pricey wines that were quite amazing. But it's equally true that some of the very best wines I've ever tasted were a bargain.
You don't need to worry that you are missing out on the best wine has to offer because you prefer reasonably priced wines. High prices in wine, like so many things, reflect excellent marketing and "buzz" more than they do the quality of the wine.
Also false: Pairing food and wine is REALLY hard.
The last wine myth I want to bust is "it is very difficult to pair wines with food." NOPE. Food pairing sounds mysterious and difficult, but it is not difficult to pair wines with food at all. You just need to know what flavor notes are present in the wine, and select foods that complement them. You can find that out either by tasting the wine or by consulting someone familiar with the wine. In the case of Winc Wine Club,  Winc provides tasting notes for the wines on your wine order. This means you can successfully pair a wine you have never tried, even if you are not a wine expert!
There are many, many resources out there to help you understand what foods go with your wine, but I like Tastebuds and Molecules.  I highly recommend this book for anyone who wants to know more about food and wine pairing. It is full of beautiful photographs, and not only covers what makes wine pairing magical, but delves into pairing other beverages and flavors as well. It makes wine pairing so easy to understand that you'll feel up to creative exploration in no time.
For instance, did you know that strawberries, peaches, and pineapple share flavor compounds? That means a wine with strawberry flavor notes will set off a dish with pineapple beautifully.
The Winc Wine Club Experience
I love finding ways to try and enjoy new wines, so when I heard about Winc wine club, I was intrigued. Winc has a fun little quiz for you to take, and then they'll suggest some wines they think you'll love based on your answers.
Personally, I do not know a lot about wine, but I have tried enough to know my most dependable tastes. I usually like buttery chardonnay that has been at least partially aged in oak. I almost always like cab franc, and I rarely ever like rose.
So I took the Winc quiz, and here are the wines they suggested for me:
Chop Shop Cabernet Sauvignon
Rosa Obscura Red Blend
Funk Zone White Blend
Forma de Vida Verdelho
Given what I know about my preferences, this seemed very promising.
My order
Since you can also customize your shipments, after checking my collection for gaps, this is what I decided to order: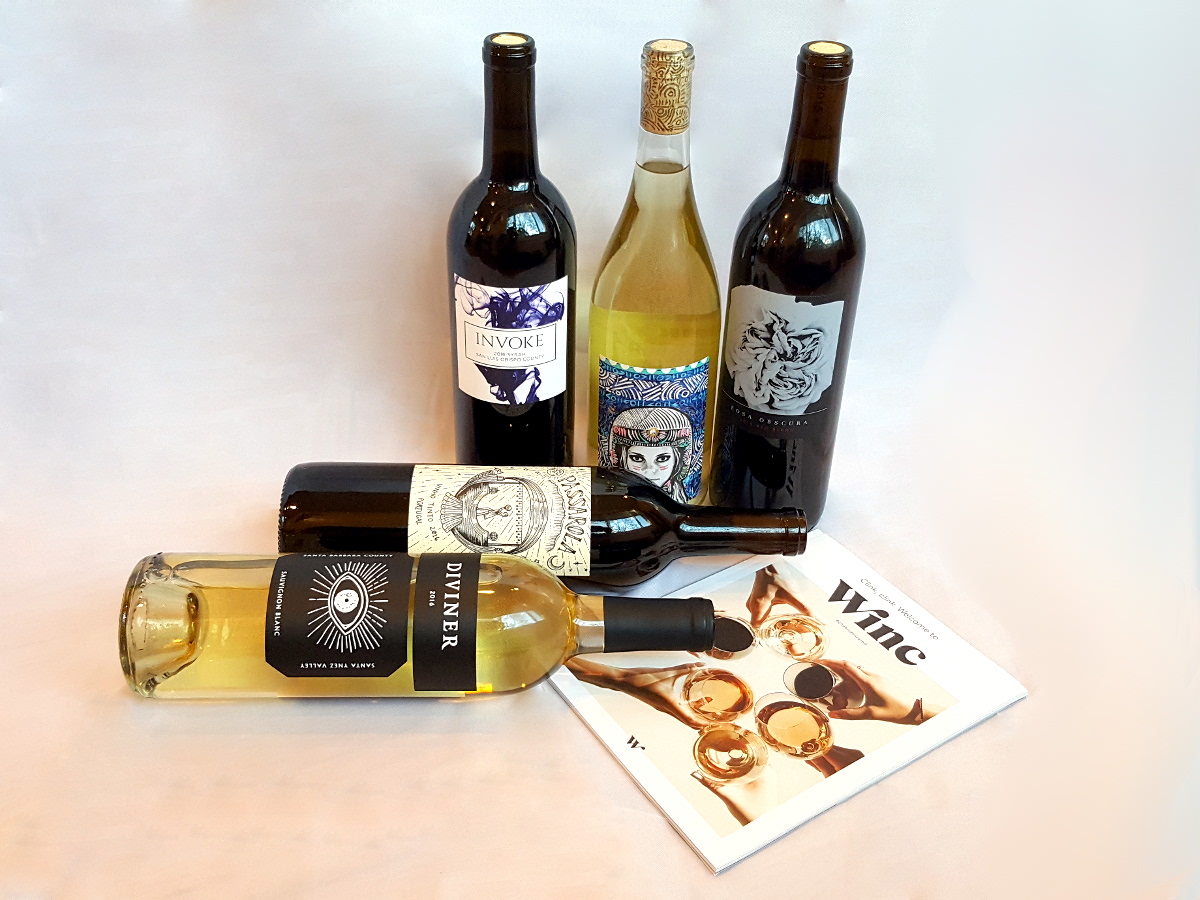 Rosa Obscura Red Blend (2015)
Passarola Red Blend (2016)
Funk Zone White Blend (2016)
Diviner Sauvignon Blanc (2016)
Invoke Syrah (2016)
Winc's wine prices ranged from $13 to $40 per bottle. Which means you can definitely curate a shipment to fit your budget. (You can also save $22 Off Your First Month of Winc if you use this link: www.trywinc.com/usfamilyguide – they offer gift certificates, too!)
My Wine Pairing Tasting Menu
My tasting notes were available as soon as I chose my wines. (They even include a short list of suggested food pairings, if you want to skip the book and get right to the enjoyment.) All I had to do was refer to my copy of Taste Buds and Molecules and plan a tasting menu to pair with my wines, send out some invitations, and make sure the wine glasses were clean. Add some crackers, fruit, and a cheese board, and you have a complete party spread. My selections, to make the most of strawberry, chocolate, pink pepper, cocoa, peach, coffee, and lime zest flavors, are:
**Please note that as with any wine club, some of the vintages may not be ready to pour when they ship to you. Look for reviews from other people who have recently opened a bottle of your vintage to figure out whether you should serve immediately or wait.
How about you? Are you ready to learn more about your taste in wine? Want to host a tasting night worthy of any "top chef" without breaking your back or the bank? Don't forget to snag your discount for your first shipment by shopping with this link: www.trywinc.com/usfamilyguide. (I don't get anything if you do… and if you don't like saving money you can always google them and shop that way. Do you, it's cool.)
Want to pair your wine with a creative Moms' Night activity? Check out our DIY Paint Nite ideas.
Want to pin this tasting menu for future reference? Click the image below.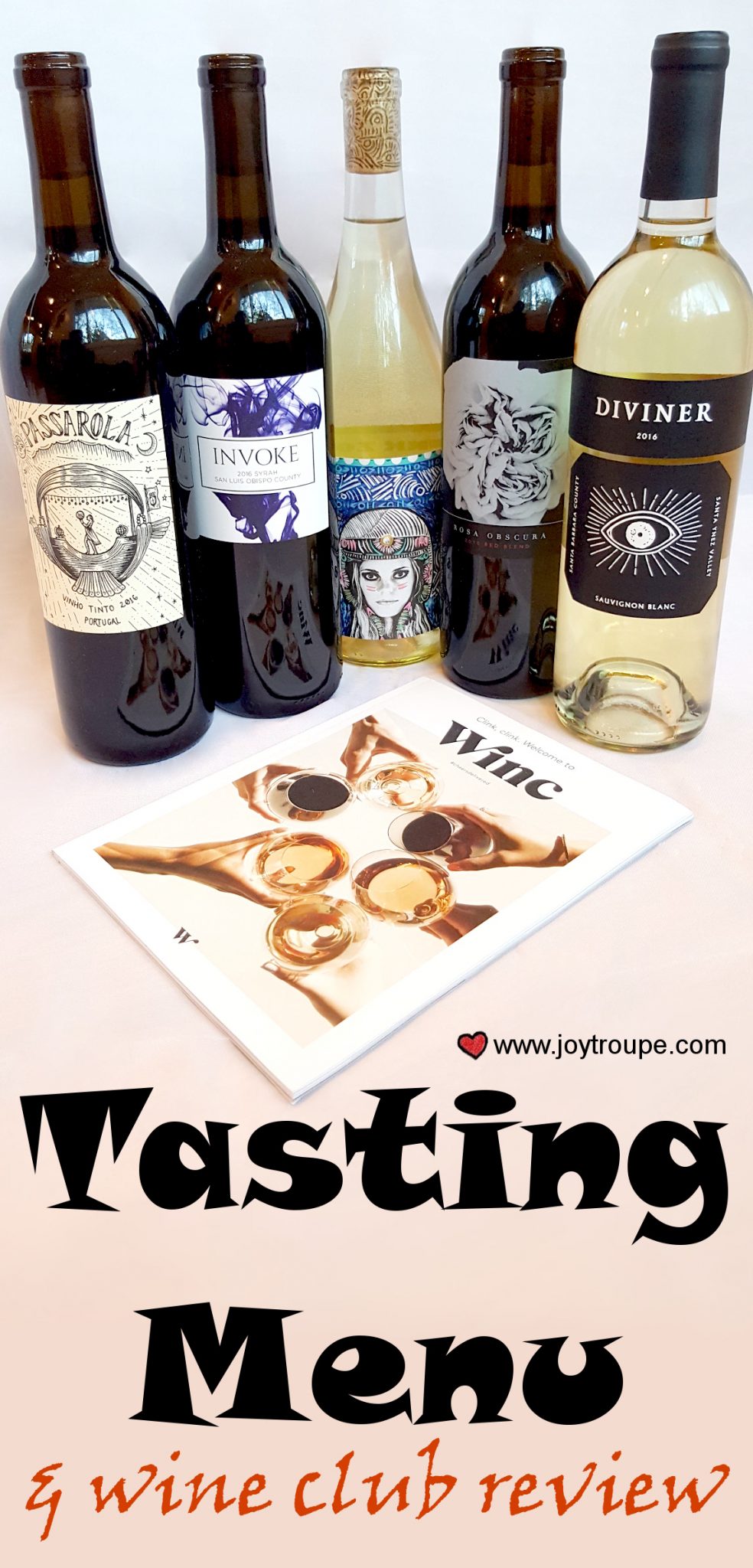 Winc Wine Club provided me with a shipment of wine in order to facilitate this review. My opinion that this reflects a good value for your money is 100% my own, and no attempt was made to influence the content of my review. This post also contains an affiliate link for the book Taste Buds and Molecules, which costs you nothing to use but will give me a small commission to help keep this site online. Thanks for being a Joy Makin' Mamas reader!