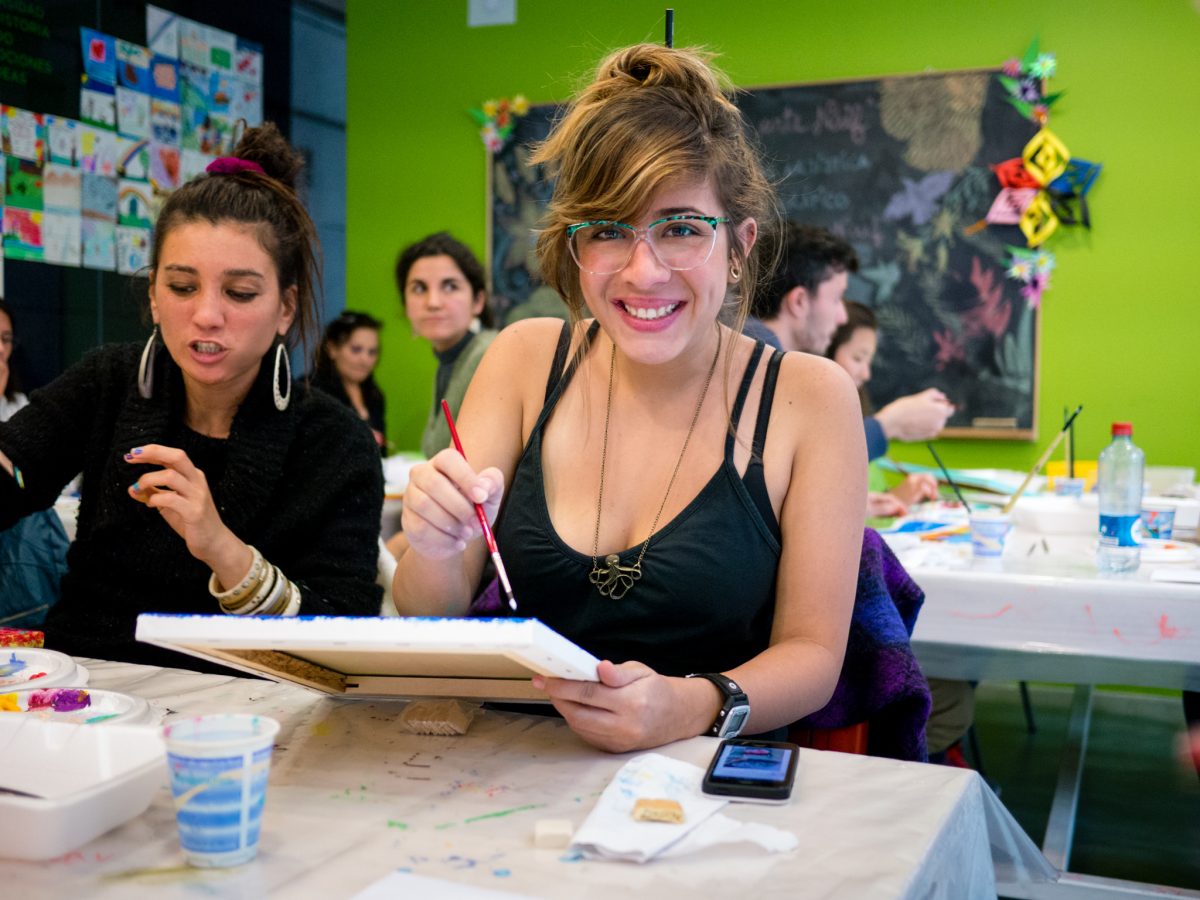 Why do a DIY Wine & Paint Night?
Going out to fancy places and doing novel things is a lot of fun. Who doesn't love an excuse to get dressed up and go out on the town, at least once in a while? "Wine & Paint" nights are advertised as sparkly, shiny, night on the town opportunities. The premise is that you can enjoy some wine and socializing while you learn to paint like the masters. Usually there is a nicely rendered sample painting that represents what you'll be taking home with you. Sometimes there is a classroom full of smiling people working on identical canvases offered as proof that you, too, can take home some attractive wall art at the end of a night of wine and appetizers. Why on earth would anyone decide to skip this shiny, packaged experience and do it themselves?
Cost is a factor.
Are you feeling a "but" coming here? Yeah, I'm about to say something that's a real downer. Some of these nights run $75 before you've paid for parking or transportation. And some of them do not include wine or refreshments in the ticket price, but require you instead purchase from the venue. (What fun is "wine and painting" without WINE?) Some of them do offer expert instruction, and some do not. If you can snag a good buy on a deal site, sometimes you can get in the door for $25. (Plus parking, drinks, and food.) One of my mom friends had the brilliant idea of doing a "DIY" wine and paint night, so I rooted around on the internet for a while to find out how they are run.
Please understand, I am NOT putting down these events in any way. I think they sound really lovely, but I realize that $50-$75 per person may not fit into every family's budget. What I have done for you here is compile a materials list that will allow you to throw together a wine & paint night of your own, which will come in well under $50/person even if each mama brings a bottle and an appetizer to share.
It's not difficult!
There are two types of workshop that are offered as "paint night" events. The most common one I was able to find is one where everyone produces largely identical paintings. If you're wondering how they can manage to promise you that untutored folk will all produce images that have the same proportions and outlines, if not the same skill in the brush strokes, I have discovered the answer. They use transfer paper. The outlines of each colored area are transferred to your canvas, either before you arrive or by you, at the workshop, and you then fill in each area and follow it with blending or layering. The other type is one where you learn techniques according to a particular style, but may or may not go home with a particular finished image at the end of the workshop.
If what you are looking for is the second kind of workshop, where you mainly learn technique, then finding a workshop is probably your best bet. If, on the other hand, what you are seeking is a companionable experience and a presentable artwork to hang on your wall at the end of the night, then either purchasing an adult paint-by-number kit or doing your own transfer at home is a great way to host one of these Wine & Paint nights! (You can also find some ideas for themes on this DIY Paint Night ideas board on Pinterest.)
What you'll need to host a DIY Paint Night
Option 1: All in One Kits
You can order a make your own painting kit for each guest, or ask each to bring her own. Most of these come disassembled. Be aware that some do not include the wooden stretcher bars. You'll need to order them separately or make your own if they do not come with your kit. You'll almost certainly need to assemble and stretch your canvas before your paint night. (Your least expensive option may actually be to stretch your kit over a canvas of the same size. Craft stores carry them and you can get good deals when they are on sale or offer coupons.) You can also buy stretchers on Amazon. Find a tutorial on how to stretch your canvas, here. Paint kits usually come with three brushes. If you want to do more detail or additional blending, you may want a set of brushes as well.
I have personally selected Loew Cornell 1021085 Simply Art White Nylon Brushes
 ($5.99, aff link) after reading all the reviews. I think six sizes/shapes is enough for a beginner, and the price is low enough that I won't be consumed by regret if I ruin them.
My total cost for supplies to create a 16×20″ impressionist painting:
$16 for a kit
$11 for stretchers
$6 for extra brushes
That comes to a total of $33. There are kits available that do not need stretcher bars for as little as $12 on Amazon, so choose one of those and skip the extra brushes, and you're at $12 right here. I've also sometimes spotted these kits for about $10 at Tuesday Morning, so if you have one of those near you, check there!
Option 2: Custom Transfer
Your other option is to create a custom image by printing a photo or a stock image from the internet and transferring it to your canvas. (For larger sizes, you can use Picasa to create a poster, like I did for our Lego party.) Follow this tutorial on how to transfer your image to your canvas, order your other supplies, and proceed as though you were creating a paint-by-number. Here is a sample materials list. You may be able to find better deals locally, but let's do the math:
Assuming each participant purchases one set of paints and one of brushes, splitting the multi-pack of transfer paper and art boards allows each person to create a canvas for $18.50/person.
Obviously these prices will go up or down depending on the options you choose, like the kit you pick out or the size of the painting you want to create, but you can have a Wine & Paint party for as little as $12/person for supplies. Whatever you choose for refreshments will come without a bar markup and you probably have at least one hostess who can have you all with no parking fees. You can choose any time of day you prefer, work on one painting over more than one session, and even pick up one of these easels as an optional extra, and still come in well under $75. You'll still have cash left over to get your masterpiece framed! I can't wait to hunt thrift stores for just the right frame for my piece.
A sampling of paint by number kits on Amazon.com:
Still want to create your own masterpiece from scratch, no transfers, but don't have affordable workshops near you? YouTube to the rescue. (your instructor in this video is actually wearing her baby as she works. Priceless!)
header image credit Francisco Osorio via  Flickr Creative commons