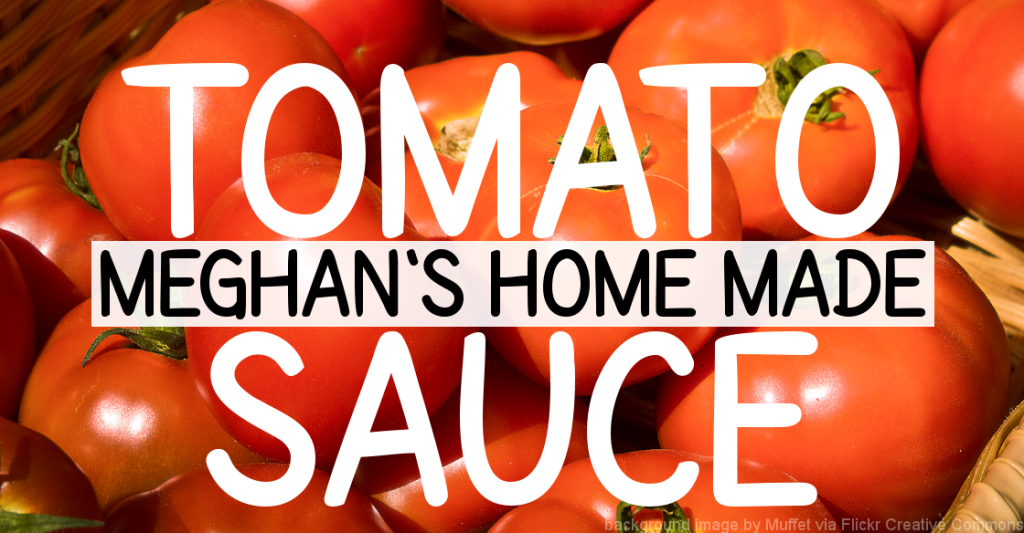 I have many, many fond memories of my mother cooking sauce on the stove when I was a kid. Stirring the sauce turned into something that felt intuitive, although it was obviously learned. If Mom had to go for a walk or step away for a while, "Stir the sauce" was the parting reminder. Making home made sauce turns into part of the rhythm of things, like your heartbeat or the bass line of a really good song. Plus, it's FREAKING DELICIOUS, PEOPLE. Seriously freaking delicious. You can also process and freeze your own garden tomatoes and they work great in this recipe, but here it is with store-bought ingredients.
Print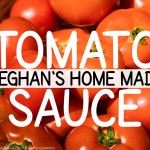 Meghan's Homemade Red Sauce
Ingredients
2

[28 oz] cans crushed tomatoes

I prefer Dei Fratelli

OR 2 quart jars home canned tomatoes

1 6

oz

can tomato paste

1 lb ground beef, optional

1

half head

not clove of garlic

1

tablespoon

olive oil

1/2

teaspoon

ground black or white pepper

1/2

teaspoon

thyme

1/2 onion, optional
Instructions
(Brown ground meat in a medium skillet. Drain.)

Heat olive oil in large enameled or non stick pan over medium heat. Metal pans affect taste, and aluminum is a definite NO NO. Puree garlic (and onion) in food processor or blender. Lightly brown garlic (and onion) puree in olive oil.

Add tomatoes and tomato paste. (To get tomato paste out of can: remove both top and bottom with can opener and let the paste slide out of the can. Much easier than trying to scoop it out.) Stir well.

Lower heat when sauce begins to simmer. Stir with a wooden spoon every 10 to 15 minutes to prevent burning. If using home canned tomatoes, crush tomatoes against side of pan while cooking. Cook for about 30 minutes. (Add ground meat.) Cook about 30 more minutes. Add pepper and thyme. Cook ten more minutes.
Recipe Notes
TIPS AND VARIATIONS: Add pepper and thyme during last 10 minutes of cooking. The timing is important here-- add the thyme earlier and you'll lose its flavor, add the pepper earlier and it drowns out all the other flavors. I also sometimes add oregano, which can be added at any time during cooking. To make pizza sauce, double tomato paste. To make vegetarian sauce, leave out the meat. I have tried making this sauce with ground turkey instead, and we thought it was terrible. I have, however, made delicious versions by cooking lamb neck slices or chicken breasts in the sauce instead of the ground meat. Just brown first and cook as usual.