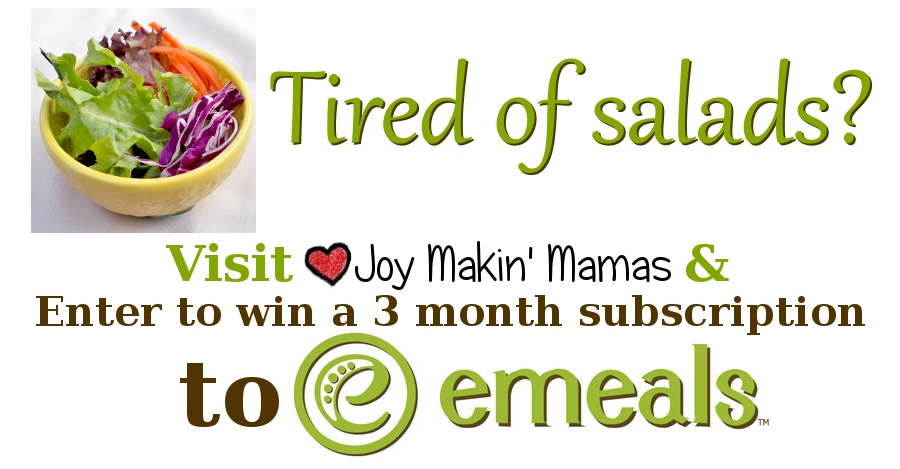 Would you like to win a three month subscription to eMeals? You'll get your dinner plan and grocery list delivered right to you, and all you have to do is pick up the ingredients and fix dinner. I told you what we liked about eMeals, but I am not sure I ever mentioned that my husband has made me sweet potatoes and fresh spinach exactly ONE time in his life- and it was because he was following an eMeals plan! How HOT is that? I was able to hand him the page and say, "here are the instructions for tonight's dinner." And he brought me a hot, delicious dinner perfectly prepared from fresh ingredients. That right there is true romance, people!
Enter to win a 3 month dinner plan. You'll find bonus entries in our newsletter, Facebook, and Twitter. Be sure to check the comments of this post for clues to help you find them!
eMeals lets you pick a menu plan that meets your family's needs. Vegetarian, clean eating, slow cooker… lots more! So you can see how simple eMeals makes dinner, I've posted two of their sample recipes. Notice that you get "two dinners for the work of one," as it were- this is very standard for them. You'll find one of the meals that comes early in the week instructs you to set aside a portion for a "no work" dinner on another night. I love that- once you've done the pork shoulder (which is often on sale, and is a very simple crock pot meal) you only need to add a few ingredients and you have got your tacos on the table. If you can't wait or if you want a plan that includes more than just dinner, you can get 20% off your purchase with coupon code SCHOOL.
Italian Pork Shoulder
Ingredients
4 lb boneless pork shoulder
1 teaspoon salt
1 teaspoon black pepper
1 tablespoon canola oil
2 tablespoons chopped fresh parsley
1½ teaspoons dried oregano
4 cloves garlic, chopped
2 cups chicken broth
½ cup apple cider vinegar
2 Anaheim peppers, seeded and sliced*
¼ teaspoon crushed red pepper flakes
Instructions
Season pork with salt and pepper.
Heat oil in a large skillet over high heat.
Add pork; cook 5 minutes per side or until browned.
Remove from heat and transfer to a 5- or 6-quart slow cooker.
Add parsley, oregano, garlic, broth, vinegar, peppers and crushed red pepper
flakes to slow cooker.
Cover and cook on Low 6 to 8 hours or until pork is tender. Serve half of pork,
and reserve remaining half for Pork Tacos.
*Note: Green bell peppers may be substituted for Anaheim peppers if desired.
Pork Tacos with Cilantro-Lime Slaw
Ingredients
12 (6-inch) corn tortillas
2 cups tricolor slaw mix
2 tablespoons fresh cilantro leaves
1½ tablespoons fresh lime juice
1 tablespoon olive oil
1 teaspoon ground cumin
½ teaspoon salt
Italian Pork Shoulder
Instructions
Heat tortillas according to package instructions.
Combine slaw mix, cilantro, lime juice, oil, cumin and salt in a medium bowl; toss to coat.
Gently warm pork in microwave or warm oven; shred with 2 forks.
Arrange pork in tortillas; top with slaw.