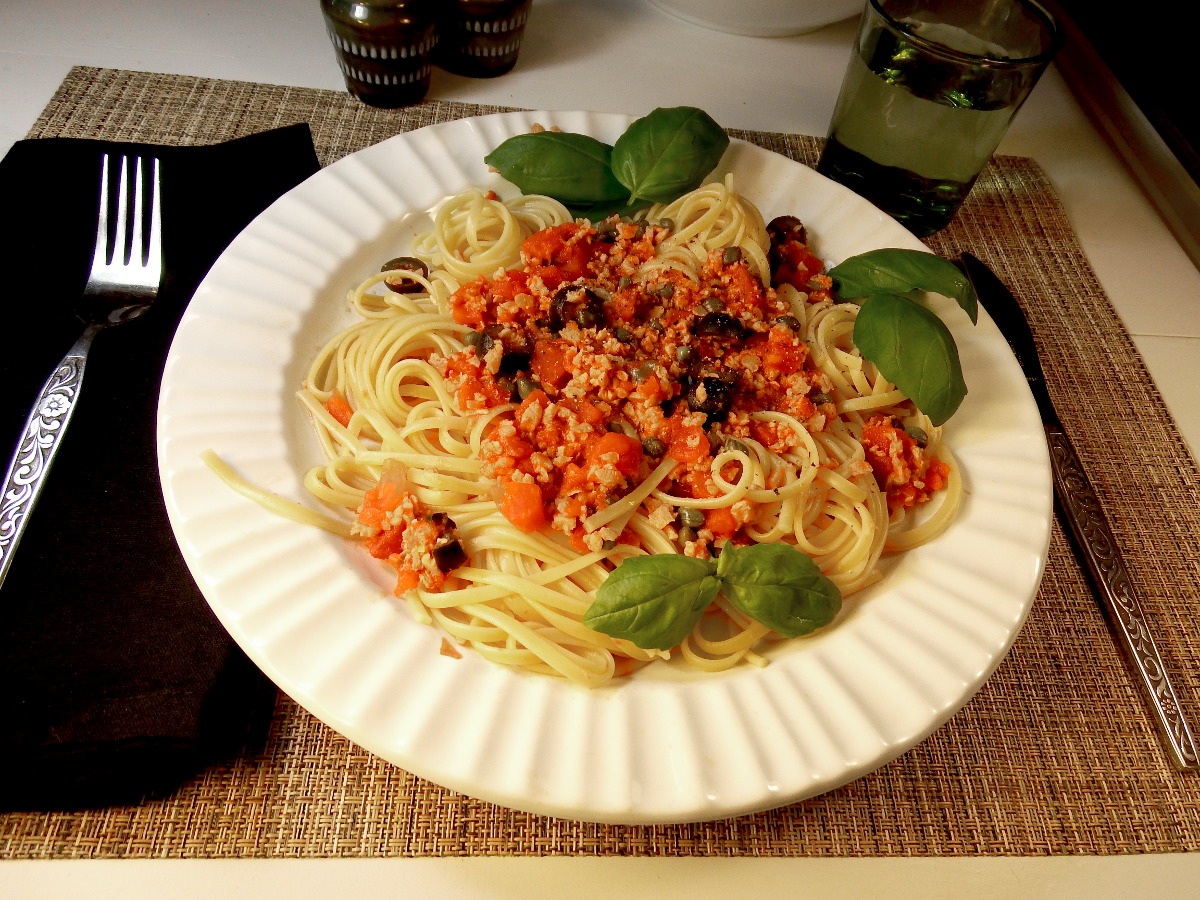 This Vegan Pasta Puttanesca recipe is a spin on a traditional dish. Pasta Puttanesca recipes often include seafood ingredients. Usually this is anchovies or anchovy paste. Sometimes it's shrimp. Whether you're allergic like me, or prefer a plant based diet, this recipe goes vegan beautifully.
The name means "in the style of a prostitute," and I can only conclude that this means that this dish will indeed please all comers. Quick to make, comforting, and filling, this recipe is a staple in my menu rotation. With a little advance planning, I can have this on the table in under 30 minutes from when I first walk into the kitchen, and so can you.
Cooking with TVP Granules
If you've never cooked with TVP before, please don't be intimidated. The granules are made from soy flour, and the name means "textured vegetable protein." They are easy to cook with and give some of the texture that meat eaters often miss, with no animal products involved. If you can't find them locally, it is very inexpensive to ordeer them shipped to you, because they are packaged dehydrated (meaning they are shelf stable and can be stored in your pantry!) and you soak them when you are ready to use them.
They come in a variety of sizes. The smallest sizes give a texture similar to ground meat, and the larger ones are more like chunks of sausage or cubed chicken in size and texture. Choose whichever one makes you happy.
How to reconstitute TVP Granules
Soaking your TVP granules takes 5 minutes! Start this when you put the water on to boil.  You just need 7/8 cup hot (boiling or nearly) liquid of your choice and 1 cup granules. Add the granules to the hot liquid and let them soak until all the liquid is absorbed. I do this in a 2 cup liquid measuring cup.
Print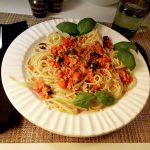 Vegan Pasta Puttanesca
This pasta dish will please all comers, and be on the table in 30 minutes or less.
Ingredients
1

cup

unflavored TVP granules

1

vegetable boullion cube

7/8

cup

boiling water

1

pound

fine linguine or thin spaghetti

5

each

garlic cloves

peeled & crushed (my favorite way to do this is to put them under a tea towel and whack them with the flat side of the meat mallet.)

1

teaspoon

ground cayenne pepper

3

Tablespoons

extra-virgin olive oil

1 14

oz

can crushed tomatoes

1 14

oz

can diced tomatoes

with liquid

1/2

cup

sliced black olives

1/4

cup

white wine

optional

1/4

cup

drained capers

fresh basil or parsley

if you've got it

salt & pepper

to taste
Instructions
Combine the TVP, boullion, and water and let stand. The TVP will absorb all the liquid.

Fill a large stock pot with water, and bring to a boil.

In a large saucepan, heat the olive oil over medium heat until it begins to shimmer. Add the garlic and sautee until translucent.

Add the cayenne pepper, TVP, both cans of tomatoes, the olives, and the capers to the saucepan and stir well. Also add the wine, if you're using it. Reduce heat to low, and cover the saucepan. Stir once or twice while the pasta is cooking.

Add the pasta to the stock pot of boiling water, and cook according to package directions until "al dente," meaning it's still just a bit firm when you bite into it. (In other words, not crunchy or mushy.)

When the pasta is done cooking, dain it and add the hot pasta to the sauce, and return the whole pan to a simmer.

Turn off stove and remove pasta from heat.

Add salt and pepper to taste, and garnish generously with fresh basil.
Recipe Notes
I like to serve this with a nice green salad with an Italian dressing. A loaf of crusty bread for mopping up the sauce also makes a nice touch!