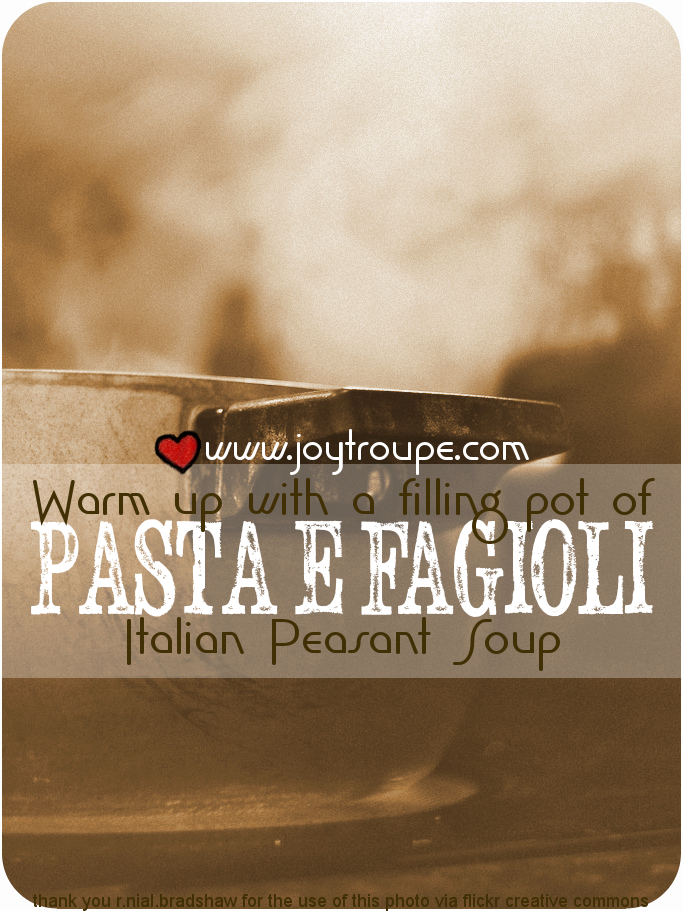 Winter weather always makes me want something hot, hearty, and filling. If I can spend all day savoring the wonderful smell of something delicious, that's even better. And if it's chock full of healthy, delicious ingredients? Well, that's just perfect. This hearty Italian peasant soup is good comfort food, or serve it in your good dishes for a first course at a nice dinner.
You can find a very well written article on cooking with dried beans here, or you can use my no-fuss crock pot method. At about lunch time, put your beans in your crock pot and cover with cold water. Put the lid on but don't turn it on. Around 9 pm, drain the beans in a wire strainer and rinse them with cold water from the tap. Return them to the crock pot and turn it on low. (Use the "warm" setting if you plan to sleep in.) In the morning, you should have perfectly tender beans. If you want to watch the first batch to make sure you know how fast they cook in your crockpot, reverse this. Put them in the cold water at bed time, and put them on low in the morning. Once they're cooked, rinse them with cold water again in your strainer, and use them in whatever recipe you like. A 15 oz can of beans can be replaced with about 1.5 cups of your own home-cooked beans. I like to do a large batch and freeze them in about 2 cup bags for later use.
Print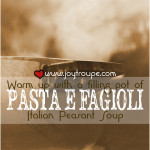 Pasta e Fagioli (aka "Pasta Fazool")
Pasta E Fagioli This recipe is delicious. I have reproduced it exactly as I received it, but I will make some recommendations at the end. Make this a day ahead. I was somewhat disappointed with it when we ate it the night I fixed it, but by lunch the next day it was SO good! Also, it's got that magic combination of olive oil, garlic, and tomatoes as well as being a good source of fiber. Serves 8 Cooking Light Magazine 3/98
Total Time
2
hours
30
minutes
Ingredients
1

lb.

dried navy beans

See instructions

1

Tbsp.

olive oil

1

cup

chopped onions

1/2

cup

sliced carrot

1/2

cup

chopped celery

2

garlic cloves

pressed

1

28-oz. can crushed tomatoes

9

cups

water

or chicken stock

1/4

teaspoon

ancho chile powder

1

bay leaf

1

teaspoon

dried oregano

1/2

teaspoon

dried thyme

1/4

teaspoon

dried rosemary

or substitute a full Tablespoon of fresh- MUCH nicer.

2

garlic cloves

crushed

4

oz

uncooked small pasta

elbow mac, mini penne, or small shells are perfect

1

cup

chopped fresh flat-leaf parsley

1/4

tsp.

black pepper

3

oz

fresh Parmesan cheese

grated (use the real stuff. You won't regret it!)
Instructions
Soak beans overnight and then cook them in a pot of water until they are almost soft. (About 1 hour.) Or substitute four 15 oz cans of beans.

Heat oil in pan over medium heat until hot. Add onion, carrot, and celery, and sauté 5 minutes or until tender.

Add garlic and cook another minute.

Add tomatoes. Once they start to bubble, cover the pot and reduce heat to low.

Simmer for 10 minutes, stirring occasionally.

Add beans, water or stock, Ancho powder, and bay leaf. Simmer for 50 minutes.

Add oregano, thyme, rosemary, and 2 garlic cloves; cover and simmer 25 minutes or until beans are tender. Discard bay leaf.

Puree about 2 cups of the soup and return it to the pot.

Add pasta. Cook about 7 minutes more or until pasta is done.

Stir in parsley and black pepper just before you take the pot off the stove, and garnish with the Parmesan cheese.
Recipe Notes
If you prefer to cook your soup in the slow cooker, cook it for approximately 4 hours on low. I like to use mixed beans for this recipe, although it's traditional to use only white beans. I occasionally throw in some browned Italian sausage, for variety, but I believe this is also not traditional.