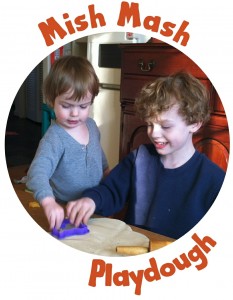 There seems to be something universally soothing about play dough. Or, perhaps I should say NEARLY universal. My littlest has yet to get over his bitter disappointment that play dough isn't something to eat, and I'm told there are children with sensory issues who do not enjoy it at all. For most, though, it seems that somewhere in the molding and shaping there must be some magic. If you want to see a group of small children stay calm and content for a remarkably long time, just set up a low table with some small rolling pins, plastic cookie cutters, a few textured toys, and a lump of play dough for each kid.
Your local thrift store probably has plenty of cookie cutters and rollers- I like to check the housewares section for pastry rollers, which are smaller than regular rolling pins and have handles that fit nicely into little hands. They are perfect for preschoolers. Toddlers seem to do better with mini-rollers meant for play kitchens or designed for play dough play.
Print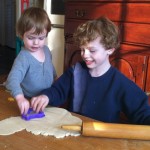 Mish Mash Playdough
A quick and easy, no cook, home made play dough with no weird ingredients or artificial dyes.
Ingredients
3

cups

flour

your choice, I use all purpose

1

cup

salt

1

cup

water

1/3

cup

oil
Instructions
Combine all ingredients and knead thoroughly. (I use the dough paddle on my stand mixer.) If is is too wet, add flour a tablespoon at a time until the dough is right.
Recipe Notes
This makes 12-15 balls of dough that are about the same size as commercially packaged individual size play dough.
Toy cars with patterned wheels are AWESOME to roll over the dough and make tracks, and if your little one is hot for trucks, try using some toy digger machines with the dough!
My guys also like the Melissa and Doug play tools set- they enjoy stamping different designs into the dough, and it comes with some of the small rollers that are so great for toddlers.