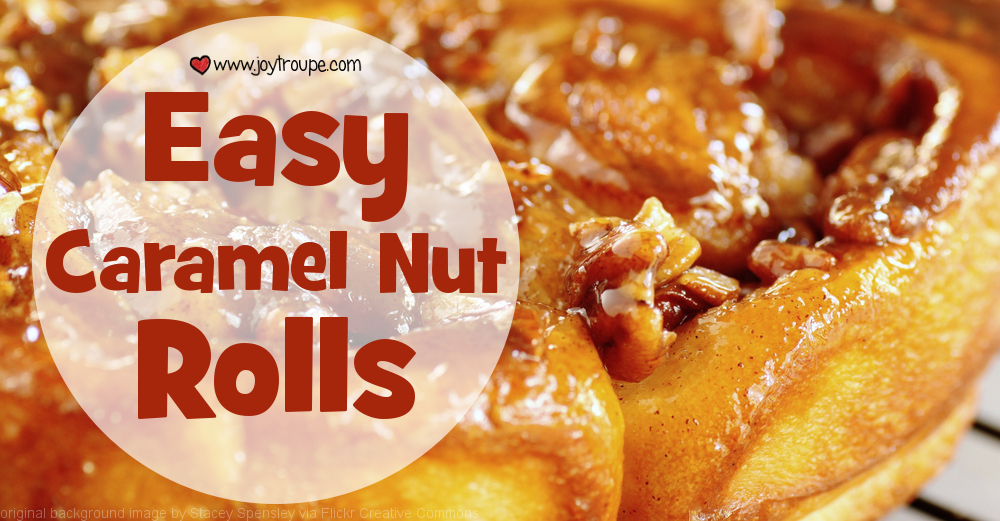 Thank you JMM Danette Z for this variation on her Basic Dinner Rolls recipe that turns it from yummy, hot, fresh bread to yummy, hot, fresh brunch! This delicious and sticky treat is sure to please for just a fraction more effort than cracking open a can.

Caramel Nut Rolls
My family loves a caramel topping for my home made cinnamon rolls instead of the normal sugar glaze. It's pretty easy to make once you have some dinner roll dough mixed up.
Ingredients
1 batch of Basic Dinner Rolls
¼ cup butter, softened
1-2 tsp cinnamon
⅓ to ½ c sugar or brown sugar
Caramel-Nut Topping:
½ cup brown sugar
3 tbsp corn syrup
¼ cup butter
½ c chopped pecans
Instructions
Mix up a batch of Basic Dinner Rolls dough (posted separately) knead it and leave to rise.
Meanwhile combine ingredients to Caramel topping in a small sauce pan and heat until butter melts.
Mix and pour into a greased 9x13 pan .
After dough rises once roll out on a floured surface to about a size of 12"x16".
Spread butter on dough aside from a 1 inch strip on both the long sides of rectangle.
Mix sugar and cinnamon and sprinkle over butter.
Starting with a long side roll the dough towards the other long edge making a long cylinder shape.
Seal the dough along the final unbuttered edge.
Cut into 1 inch slices (I like to cut in half, cut the halves into halves and so on..)
Place each slice and place in greased pan on top of caramel mixture.
Let rise for about 30-60 mins.
Bake at 375 for 20-25 mins (until cooked).
Let cool for a min or two and then flip onto a large platter or cool cookie sheet.
Notes
While the recipe calls for a rectangle pan I prefer to split it into two batches and bake it all in two silicone cake pans. It's a great way to prevent to much of the caramel topping from sticking to the pan and saves me from a huge cleanup.
Get more delicious recipes to make your family drool on our
Cake Pinterest Board
:
Follow Meghan Gray's board CAKE on Pinterest.