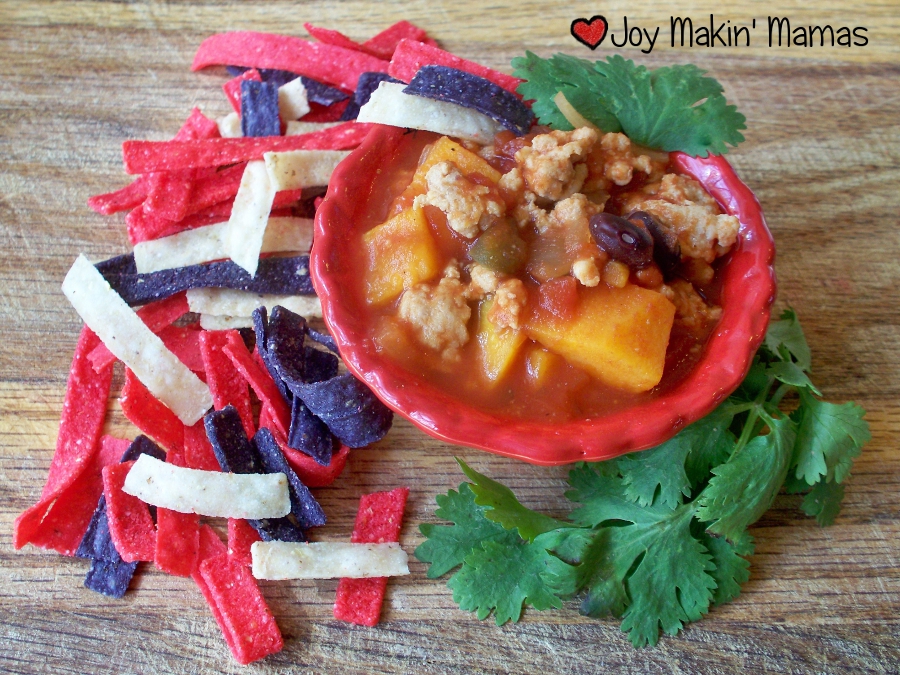 Fall weather has arrived. Around here, fall weather means you need the air conditioning during the day and it gets below 50 at night. In other words, it's fireplace weather. And fireplace weather, IMO, calls for hearty soups like chili. Dei Fratelli sent me some of their tomato products and asked me to tell you about their Dei Fratelli Ripened Recipe Contest, so today I created a sweet potato chicken chili using their tomatoes. (And yes, I entered it. That prize is nothing to sneeze at!) I know you probably think canned tomatoes are canned tomatoes, but they really aren't. I think most of us who cook with tomatoes often tend to find a brand we like, and stick with it. I have a few favorites that I come back to because I trust them, and Dei Fratelli is one. I've had canned tomatoes that were burned looking or watery or just had an "off" flavor of I don't know what, but Dei Fratelli has always come through- whether it's sauce night or something fancier. (No, they don't pay me to say that. It's just an FYI- this brand is on my short list.)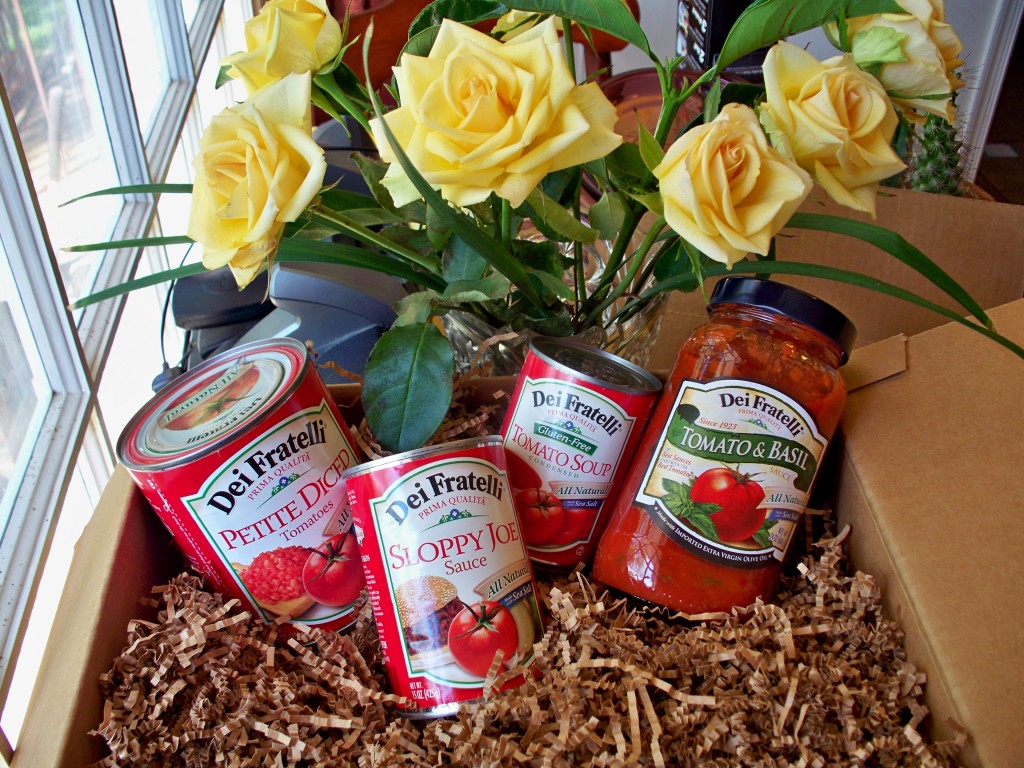 Sweet potatoes are great in chili because they do well with long, slow cooking times. They are also hearty, and make a nice counterpoint to the "hot" spices. I like my food a little spicy, but not very spicy, and I find I enjoy a higher level of spice with the potatoes than without. If you LOOOVE spicy food, you might want to substitute cayenne powder for the milder ancho chili powder I use in this recipe. It's got a much higher BTU or "hotness" and you won't have to dump in a whole bottle.
Ha- that reminds me of a story. My first husband loved his chili super, super hot. After watching him make chili a few times, I created a custom chili powder blend just for him, with lots of extra cumin… and the hottest powdered cayenne money could buy. This allowed him to make recipes using a "normal" quantity of chili powder and still like them. We labelled the jar "Meghan's Chili Powder- VERY HOT." And all was well in our world, until one of our housemates decided to make dinner. She adjusted the amount of chili powder to reflect her preference for spicy food, and after watching the rest of us spit it out and say, "OH EM GEE TOO HOT," she announced, "Oh good! I love spicy food!" and swallowed an enormous spoonful. I'm not really sure what happened next, but the next thing I knew, she had her head in the sink drinking out of the faucet.
I think the moral of that story is read labels, or possibly, "if I wrote it on the label I meant it, even though you know I'm a lightweight on the spice." Or something. In any case, trust me when I tell you that this recipe is what I consider "Pretty spicy," as in, "Serve with cornbread," but not "don't touch it with your skin because it's chemical weapons spicy." So grab an apron and let's get our cook on.

Sweet Potato Chicken Chili
Prep time:
Cook time:
Total time:
Chicken, black beans, and sweet potatoes come together in a "pretty spicy" chili you'll enjoy with cornbread.
Ingredients
2 large sweet potatoes, cubed
2 14.5 oz cans Dei Fratelli petit diced tomatoes with onion, celery, and peppers
1 15 oz can Dei Fratelli Sloppy Joe sauce
¾ cup diced onion (I use the frozen kind.)
4 cloves garlic, pressed
½ teaspoon paprika
½ teaspoon ancho chili powder
½ teaspoon ground cumin
¼ teaspoon white pepper
1 lb ground chicken
1 15 oz can black beans, drained and rinsed
¼ cup chopped fresh cilantro
Instructions
Place sweet potatoes, canned tomatoes, sloppy joe sauce, garlic, onion, and spices in a large stock pot. Simmer over medium heat for 2 hours, stirring frequently.
Brown ground chicken and drain.
Add ground meat and black beans to the pot. Reduce heat to low and simmer until sweet potatoes are tender, about 1 more hour.
Stir in cilantro and serve.
Notes
If you want a milder chili, add the spices toward the end of the cooking time, and omit the cilantro.