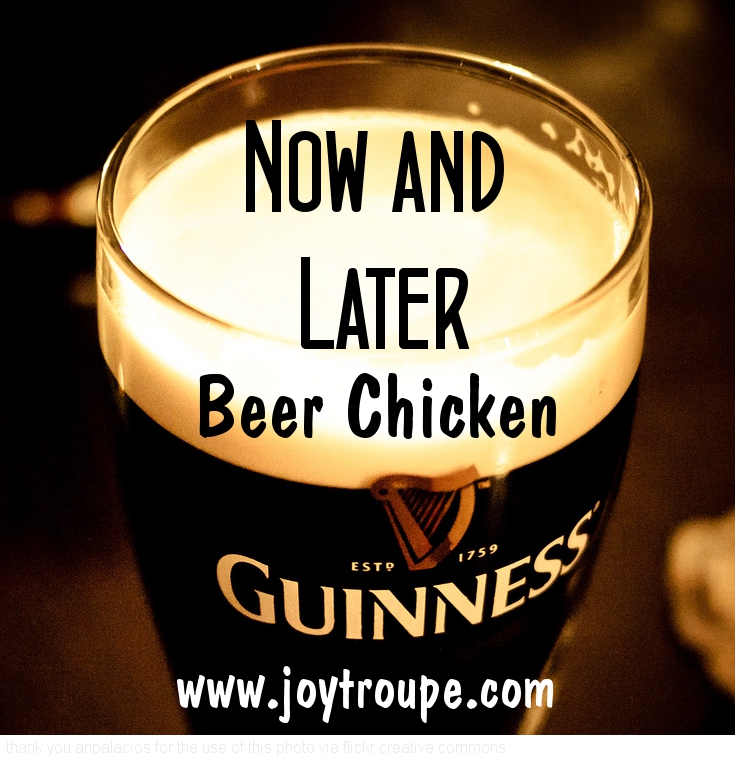 Now & Later Beer Chicken
Prep time:
Cook time:
Total time:
Ingredients
4 lbs skinless chicken thighs
salt, coarse (kosher or sea)
black pepper to taste
20 oz beer
1 medium onion, thinly sliced
6 garlic cloves, minced
1 Tablespoon fresh Rosemary
2 bay leaves
Instructions
Trim any visible fat from chicken pieces.
Sprinkle chicken lightly with salt and pepper.
Put half of the chicken in the crockpot and half in a ziploc bag.
Add half the onion to the crock and half to the bag.
Combine beer, garlic and rosemary. Divide between the crock pot and the bag.
Add one bay leaf to the crock and one to the bag.
Cook the crock pot on low 4-6 hours. Lay the bag flat in the freezer and freeze.
When ready to have Beer Chicken again, thaw the bag overnight in the fridge and then dump into the crock pot.
Notes
**You can use your favorite beer in this. We like it best made with Guiness.