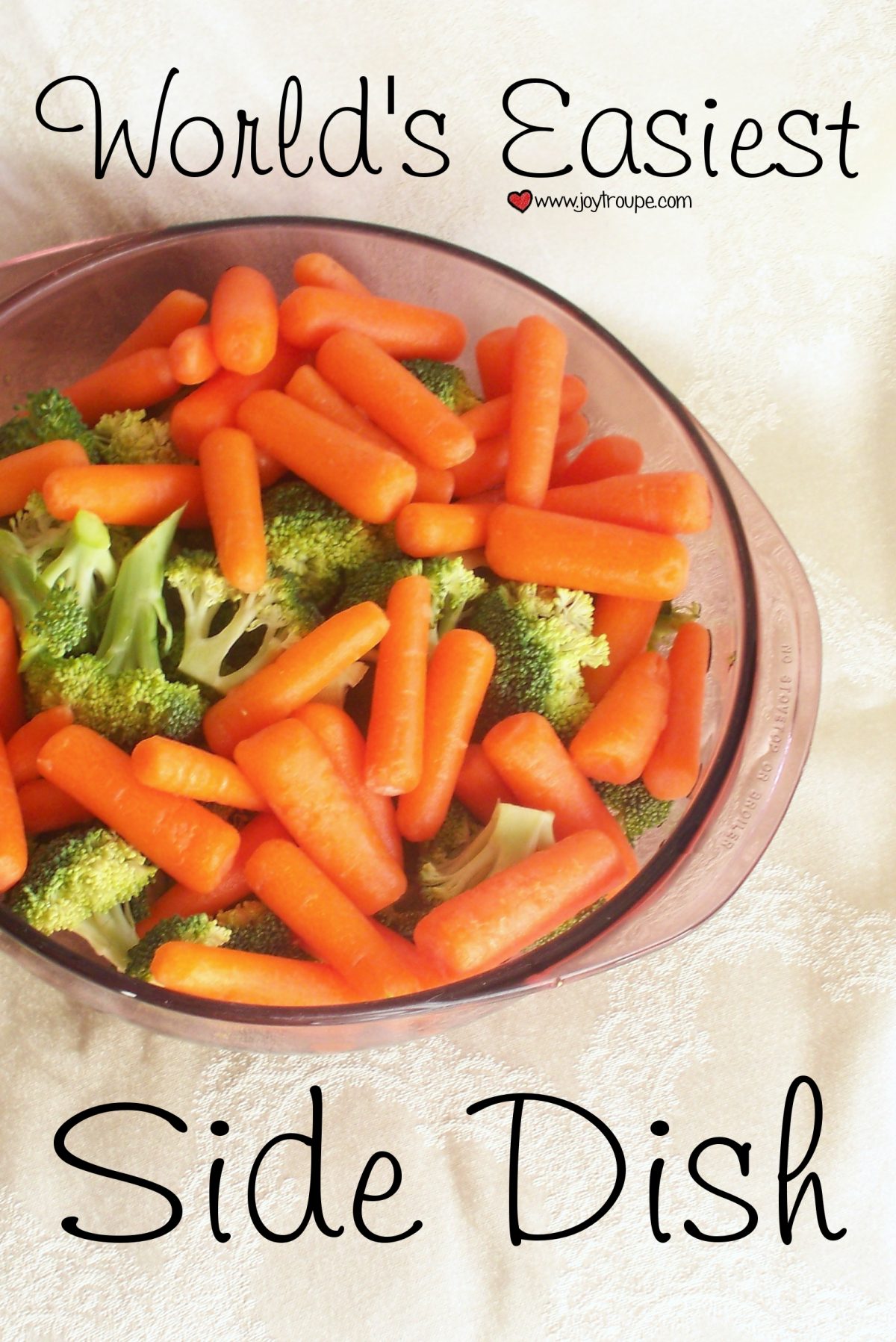 This is so easy and simple I almost feel guilty calling it a recipe. But although nothing compares to fresh vegetables, there's no denying that it sounds like work to cook fresh veggies from scratch. Particularly since dinner is the busiest time of all in some households. Typically, my eldest needs help with his homework while my little one wants to be held, my husband isn't home from work yet, and IF there is going to be a last minute thingie that needs to be dealt with, that's when it will happen. During dinner prep! But this fresh veggie side dish is so quick and simple to put together, and you can do the prep in the morning or even the night before, that it will fit right into your evening.
I love making this to go alongside any crock pot meal. My husband is a broccoli hater, but he has actually been known to have seconds of this! Without further ado, here is the world's easiest Fresh Broccoli and Carrot side dish with ginger and garlic.

Steamed Broccoli and Carrots with ginger and garlic
Prep time:
Cook time:
Total time:
nothing could be easier, tastier, or fresher than this side dish!
Ingredients
1 lb fresh broccoli crowns
16 oz bag of baby carrots
fresh ginger
1 clove fresh garlic
¼ cup of water
Instructions
wash the broccoli crowns and shake off any excess water.
Cut the florets off the stalks and place in a 2 quart glass casserole. Reserve the thick stalks for another use.
Empty bag of baby carrots over the top of the broccoli.
grate fresh ginger over the top of the dish. All told, I probably use a teaspoon but this is strictly to taste. (Sorry but dried ginger won't work here.)
Press one clove of garlic into the dish.
Add water, cover and cook in your microwave on high for approximately 8 minutes, until the broccoli is bright green and the carrots are just tender when pricked with a fork.
Serve using a slotted spoon.
Notes
You can prep this ahead of time and let it sit in the refrigerator. Just pop it in the microwave at "go" time. Be aware that you may need to adjust the cooking time for your microwave. Nobody likes overcooked veggies, so be cautious!
Don't forget you can find all our nummy recipes indexed by ingredient on our
recipe page
. Would you like to submit your recipe for inclusion on the site and in our newsletters? You can
do that here
! We can't wait to hear from you.