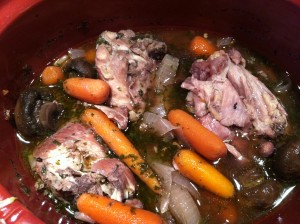 I depend on my slow cooker pretty heavily these days, because the fact that both of my kids start to get very tired very early in the evening means that trying to fix dinner at dinner time is usually a disaster that rivals the great tragedies of history. The Hindenburg. September 11. Highlander II. Anyway, as I was saying- it's really a good idea for dinner to take care of itself during the mid-late afternoon period of the day.
Today, I needed to use up the mushrooms I bought on my last grocery shopping trip so I settled on this coq-au-vin inspired slow cooker recipe that only needed basic staples aside from the mushrooms. I started with frozen chicken and it cooked up beautifully in four hours on the high setting. Every slow cooker is just a little different, so rely on your experience with your cooker to tell you whether you should reduce the cooking time or check it after three-four hours so you don't overcook it.
I will also confess that I did not have any chicken broth on hand. What I did have was an open bottle of white wine, so I threw in a cup of that as a substitute… and It. Was. Awesome.

Slow Cooker Wine Chicken
Prep time:
Cook time:
Total time:
Long lasting staples combine with a few star ingredients to make this slow cooker recipe simple and delicious.
Ingredients
1 onion, chopped
1 lb baby cut carrots
8 oz baby bella mushrooms
1½ cup red wine
1½ cup chicken broth
2 bay leaves
2 cloves garlic, minced
2 Tablespoons parsley
8 skinless chicken thighs
Instructions
Put the chicken thighs in the slow cooker.
Add remaining ingredients.
Cover and cook on low for 6 hours.