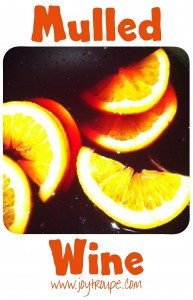 On a recent visit to Virginia's wine country (oh, yes, Virginia has wine. In fact, Virginia has some wine that is actually starting to make people take notice. But I digress.) I had occasion to try mulled wine for the first time. I've always loved mulled cider, but wine adds a richness and depth that blew me (and my palate) away. You can use any wine you like in this hot punch, and you will probably enjoy experimenting to find out which one you like most. The winery graciously gave me their recipe (handwritten, on a post-it note, for added charm) which I promptly lost, so I did some research and created this recipe based on what I could remember and on ideas from several other recipes for hot punches.
I enjoyed the little hint of tang added by the lemonade, but If you would prefer a less citrus-y punch, skip it.

Mulled Wine
Prep time:
Cook time:
Total time:
A hot wine punch to cheer your guests inside and out.
Ingredients
1 bottle red wine (I used "three buck chuck" Cab Sav.)
2 quarts apple juice
1 can apple juice concentrate
1 can orange juice concentrate
1 can lemonade concentrate
1 sliced orange
1 Tablespoon pumpkin pie spice OR a "bouquet garni" of 3 cinnamon sticks and half a Tablespoon whole cloves
Instructions
combine all ingredients
Simmer 2 hours or more.
Serve warm. Garnish with a cinnamon stick, if desired.
Notes
If you have a jumbo size crock pot, you can use it set on "low" for this recipe. Just set it up about 4 hours before your guests arrive. If you don't, use a large stock pot on the lowest setting on your stove. DO NOT LET THIS BOIL. This is very important, as it turns out that if you boil cinnamon it will make you pay. (Google it if you need more information, or you can just trust me.)