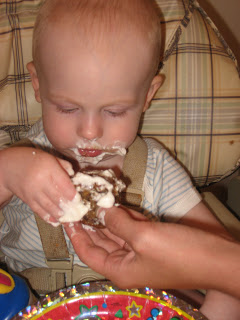 It's time to talk about something very near and dear to my heart. Yes, we are discussing Birthday Cake. I took making Ian's first cake very seriously… ok, not really. I was excited and went a little overboard, but "serious" isn't quite in it.
Some of your guests at your child's first birthday party may still not have turned one year old. This means some of them may not have started eggs and/or dairy yet. At subsequent birthdays, your child may have egg or dairy allergic friends who would still like to enjoy the cake (or be the dairy allergic kid him or her self!). Here's your solution!
For Ian's first birthday party, I made two versions of a dairy and egg-free cake from allrecipes.com. You can find the original, chocolate cake recipe here. It is excellent and reliable. No one would eat it and go, "dang! There's no eggs in that thing." Both were excellent plain or frosted with whipped cream. You can also find soy-milk based frosting recipes. Got a wheat-allergic kid at the party? Try a test batch in advance with oat or rice flour. I've made the chocolate version with oat flour and it came out a little crumbly but otherwise good.
I also substituted one cup of the regular flour with whole wheat, and they were good when fresh but on the second day they got gritty. So if you are going to gobble the cake up right away, go for it and add a little whole grain!
These should be refrigerated, as there is so much fruit in them that they will mold at room temperature after a couple days.

Dairy and Egg Free Banana or Peach Cake
Prep time:
Cook time:
Total time:
Ingredients
2 cups white sugar
3 cups all-purpose flour
2 teaspoons baking soda
½ teaspoon salt
4 ripe bananas, mashed OR 4 ripe peaches, peeled and diced
2 cups water
1 cup vegetable oil
2 tablespoons distilled white vinegar
1 teaspoon vanilla extract
Instructions
Preheat oven to 350 degrees F (175 degrees C).
In a large bowl, mix sugar, flour, baking soda, and salt.
Add bananas, water, vegetable oil, vinegar, and vanilla. Beat by hand until smooth.
Pour into a 9×13 inch pan. Bake at 350 degrees F (175 degrees C) for 40 minutes, or until toothpick inserted into center of cake comes out clean.
For cupcakes: Makes approximately 30 each. Bake for 20-30 minutes.
For half recipe: Bake in loaf pan for 45 minutes.