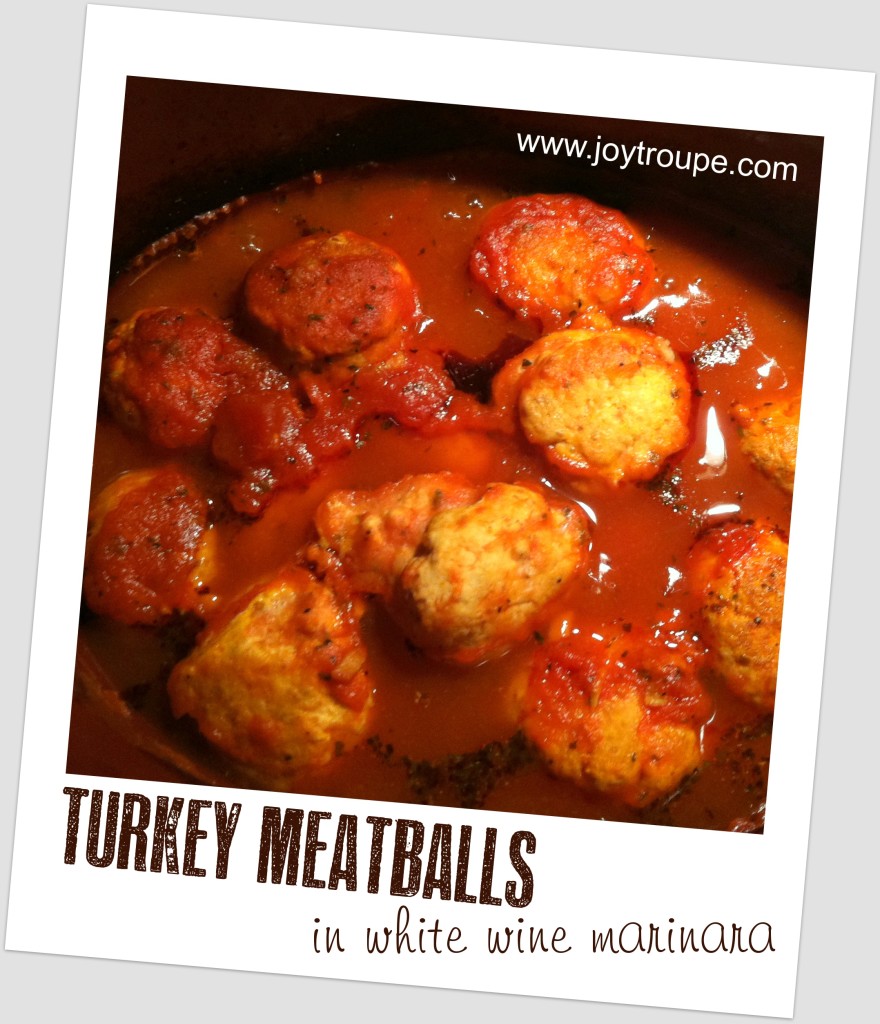 We are on a major winning streak around here. What are we winning? The war against kid food, that's what. Here's our latest victory. My five year old doesn't like sauce. But he consented to dunk his noodles in this, and actually liked the meatball, too. If you've never made meatballs, don't worry, it's easy. If you're short on time, try it with a package of those frozen, ready to cook meatballs. These are better, but a Mom's gotta do what a Mom's gotta do.
Crockpot Turkey Meatballs in White Wine Marinara
Prep time:
Cook time:
Total time:
Ingredients
20 ounces ground turkey
¼ cup wheat germ
¼ teaspoon ancho chili powder
¼ teaspoon cumin
¼ teaspoon salt
¼ teaspoon ground pepper
1 egg, beaten
No-stick spray
28 ounce jar of tomato sauce (or crushed tomatoes, if you'd rather. I like the tomato and basil.)
½ cup white wine
4 cloves garlic, minced (or more, to taste.)
Instructions
Combine turkey, spices, and egg as you would for meatloaf. (Around here, that's by kid powered potato masher.)
Spray a large skillet with no-stick spray (I use olive oil in a refillable pump) and heat over medium-high heat.
Use an ice cream scoop to portion the meatball mixture into meatballs. Form into a ball with wet hands. (Mom says this helps them brown better!)
Brown each meatball in the skillet, turning to brown on all sides. If the skillet is hot, this will go quickly.
Transfer to the crock pot. Add the sauce, wine, and garlic.
Cover and cook on low setting for 6-8 hours.
Notes
I know, I know. I hate crockpot recipes that say you need to brown things first. But if you skip it, your meatballs will stick together. Sorry, mamas. But you can do a big, double batch and freeze half the meatballs for next time! My mother says she doubles hers every time. Saves on cleanup!
Hey! Stay in touch. Subscribe to our weekly newsletter.  Also,would you please vote for us? Thanks! (Just click the image.)
Links to products in our posts are frequently affiliate links. These generate a small income that helps pay for our web hosting and things like prizes for giveaways. Thank you very much for supporting us by purchasing through these links.