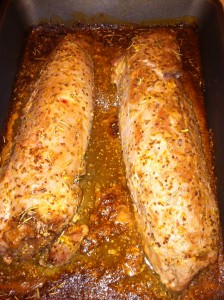 Pork Tenderloin is a very tender, lean cut and I frequently find it on sale, so I'm always on the lookout for a good pork tenderloin recipe! This one depends mainly on ingredients you probably already keep on hand.The big exception is the fresh rosemary. I love fresh rosemary so much that I plant it in my garden every year. There is just no comparison between fresh rosemary and dried. Rosemary and pork comes second only to rosemary and lamb, in my opinion.
If you're like me, you probably have been accustomed to think of pork as something that has to be cooked long and hard. New recommendations for the internal temperature of pork are lower and result in an incredibly tender and flavorful dish. AND- it gets dinner on the table faster. Which is awesome, because, by the time dinner rolls around, I am usually pretty darn hungry. I do not like to wait any longer than I have to!
For more great recipes and kitchen ideas, be sure to follow me on Pinterest!
Print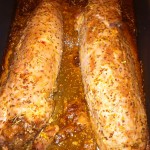 Maple Mustard Pork Loin
Total Time
1
hour
10
minutes
Ingredients
1/2

cup

Maple Syrup

1/4

cup

Dijon Mustard

2

tablespoons

Soy Sauce

2

tablespoons

Cider Vinegar

1/2

teaspoon

Sea Salt

(i used rosemary salt.)

1

teaspoon

Fresh Rosemary

3

pounds

Pork Tenderloin
Instructions
Preheat oven to 350 degrees. Combine all ingredients except pork in a non-reactive bowl and mix well.

Put roast in a roasting pan.

Brush meat with sauce mixture.

Cook roast, uncovered, in the middle of the hot oven for approximately 1 hour, or until a meat thermometer inserted into the center of the roast measures the temperature at 145 degrees.
Recipe Notes
I love this with green beans, tomatoes, and a small amount of sharp cheese on the side. My husband prefers his with mushrooms. Sometimes I add a clove of pressed garlic to the sauce, and sometimes not. Also, you CAN make this with dried rosemary, but it doesn't compare to the fresh stuff!