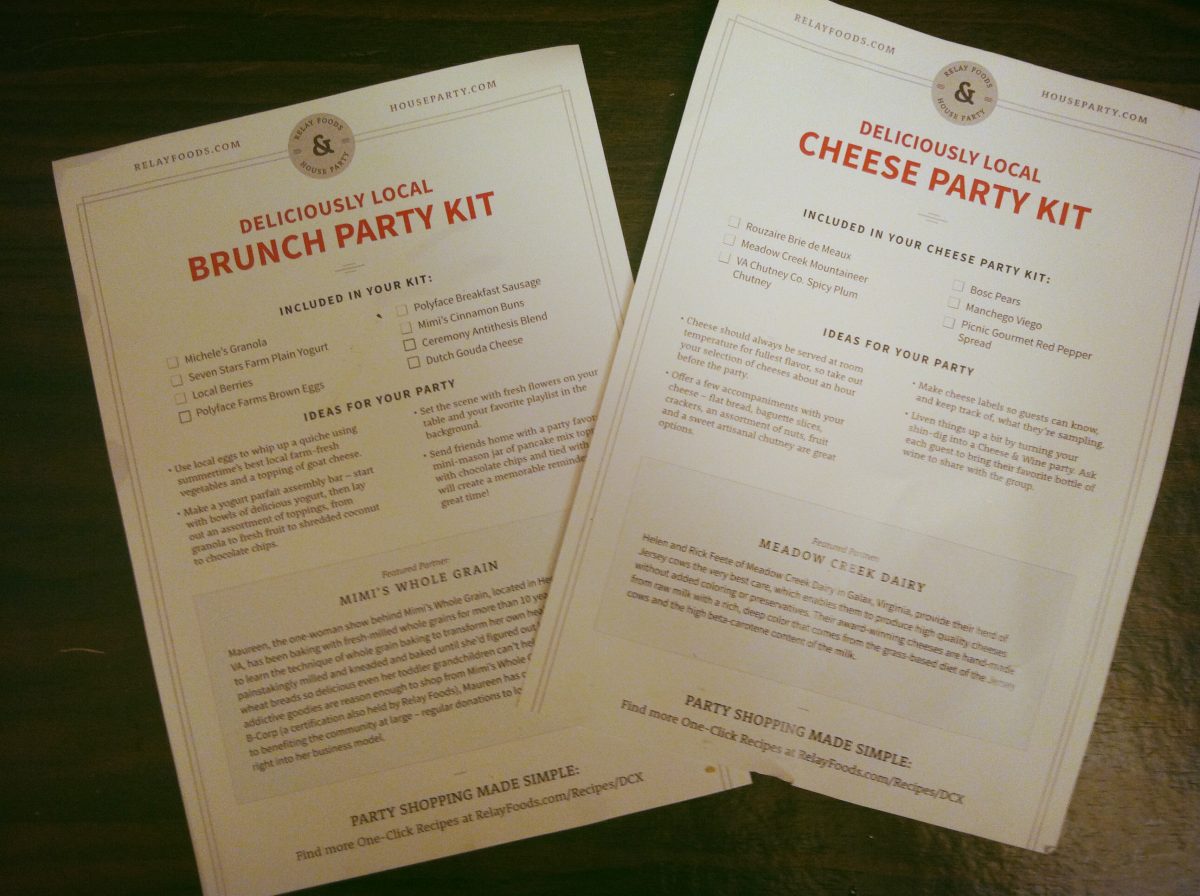 Would you like to pin this ridiculously delicious recipe for later reference? Click here. Be sure to also visit our recipe page so you can find the rest of our recipes- they're indexed by ingredient!
I was lucky enough to be selected as a Relay Foods House Party host, which meant they provided a grocery credit to the Relay Foods site so I could order some delicious refreshments for my guests, and they also sent a party pack full of reusable shopping bags and eco-friendly bamboo kitchen utensils for my guests. I sincerely wish each and every one of you could have attended the face-to-face party! I know that would be impossible, but I am pleased to share the deliciousness with you here- and you can get $30 off a delivery order from Relay Foods here.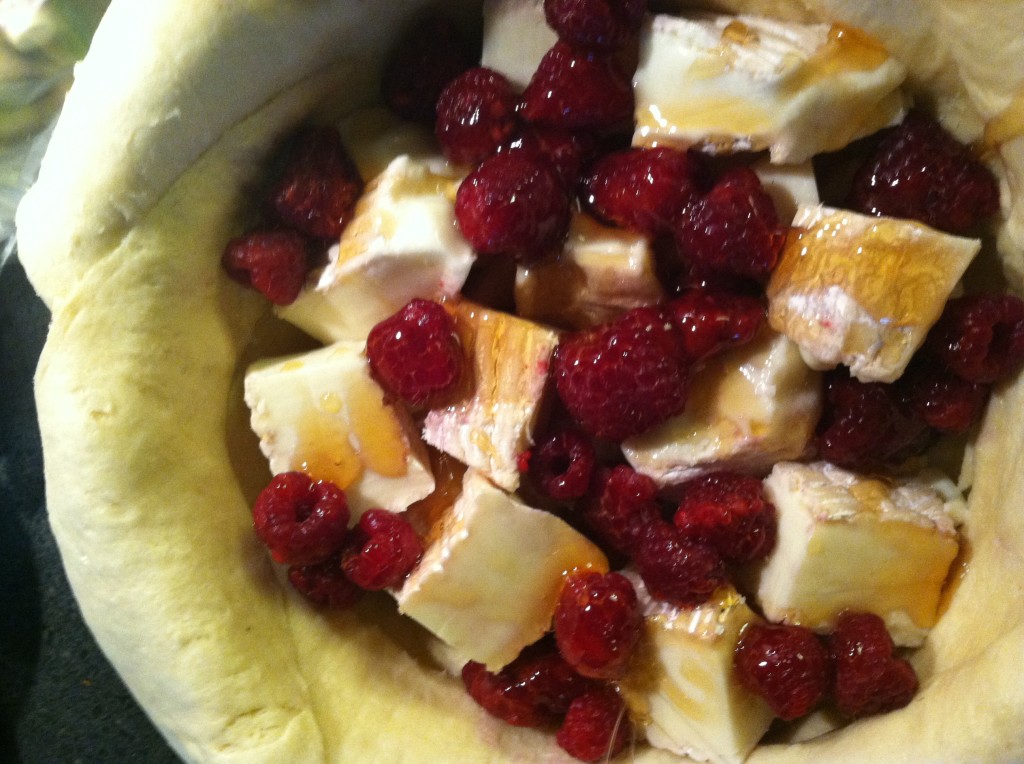 Raspberry Baked Brie
Prep time:
Cook time:
Total time:
Fresh berries and rich, creamy brie are the stars of the show here. This recipe is so easy, and you can prep it the night before and just stick it in the oven before show time. Your guests will think you toiled for them!
Ingredients
1 lb cream brie
½ cup fresh raspberries (actually I heaped them in the ½ cup... sorry I should have weighed them for you.)
2 Tablespoons local honey
1 egg, beaten
1.5 cans crescent roll dough (use the rest for chocolate filled crescents!)
Instructions
Preheat oven to 350 F.
Line your baking dish (I used a ⅕ quart round casserole. A pie dish is too shallow.) with the first can of crescent roll dough, pressing firmly on the seams to seal them. Some of your dough will be hanging over the sides.
Cut your wedge of brie into cubes and put into the casserole on top of the dough.
Add raspberries and drizzle evenly with honey.
Cover the top with the remaining dough and add cutouts from some of the leftover dough, if desired.
Brush with beaten egg.
Bake at 350 for 30-40 minutes until the top is browned and dry. (The egg was still runny on mine the first time I checked.)
Notes
I have NOT tried this recipe with frozen berries or with other fruit, but I have a suspicion that it is equally wonderful with other types of berries. Frozen berries tend to be "wetter" than their fresh counterparts, so proceed with caution.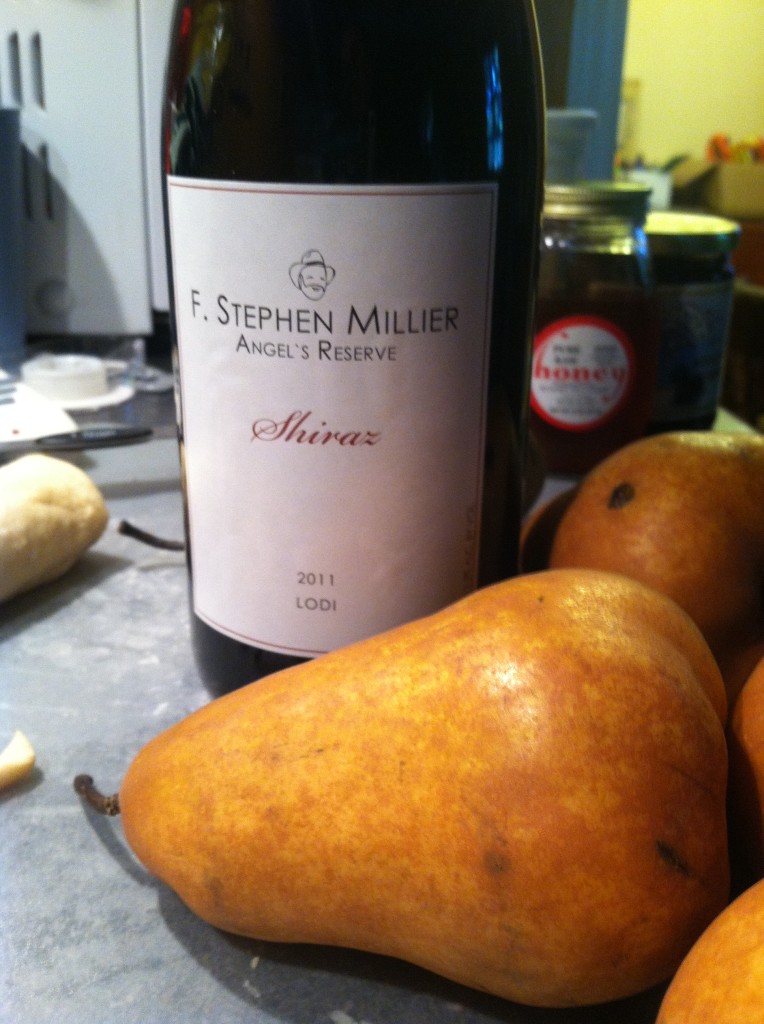 Wine Poached Pears
I used a Shiraz from Naked Wines in this recipe and served the rest alongside my fresh summer brunch. This recipe was easy, delicious, and would be a perfect summer dessert. Source: About.com
Ingredients
5 bosc pears, peeled, cored and sliced
1.5 cups Shiraz
¾ cup sugar
2 Tablespoons lemon juice
2 teaspoons vanilla
2 teaspoons cinnamon
Instructions
Peel, slice, and core your pears.
In a medium saucepan, bring all ingredients except pears to a boil.
Reduce heat to low and add pears.
Simmer pears for 20-30 minutes or until tender, stirring once halfway through cooking time.
Notes
I served this alongside a sweetened yogurt cheese. It would be lovely over cheesecake.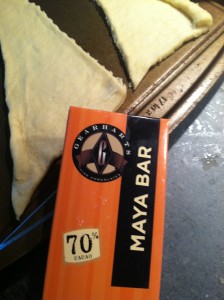 I also made:
Weekend Brunch Casserole (I used garlic butter crescent rolls, a nice breakfast sausage from Relay that I slipped out of the casing, and an artisan Asiago cheese.)
Chocolate Crescents (with that super delicious Maya bar chopped up as the filling)
Yogurt cheese (I stirred in 1/4 cup of raw, local honey and It Was Amazing.)
I would tell you what to do with the leftovers, but there were none…
Hey, if you enjoyed these recipes, join me over on my Party Food Pinterest board, where I pin recipes for entertaining: