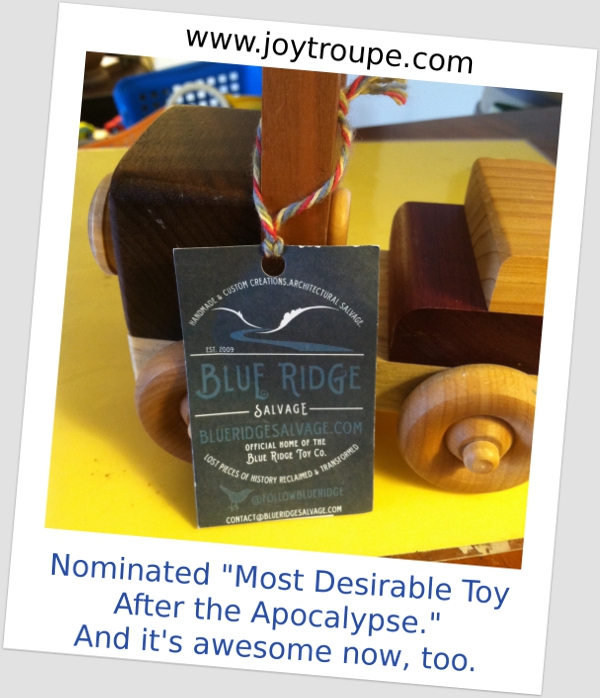 I frequently joke that I'm either raising my children to travel through time or to survive a post-technology apocalypse, because we pursue skills and amusements that would have been appropriate 200 years ago. Here's the latest addition to my post-tech aresenal: Blue Ridge Salvage toys.
A family friend gave my littlest this wooden truck as a gift. He threw his very favorite talking toy to the side to get both hands free to play with this truck. (I would like to kill that talking toy with fire, but it makes him happy, so every time I contemplate smuggling it out of the house my resolve fails me.)
I have what you might politely call a "thing" for wooden toys, so I leave no wooden toy untouched when I'm shopping- and that goes double for thrift stores, so we have a fair collection for comparison. I can sort of understand why my little guy is nuts about this thing, because I totally love it. I mean, it would be tough not to love anything that has my little cutie saying "beep! beep!" while he plays and plays and plays with it, but I have some objective reasons for liking it, also. This is a toy that stands out from all the other things I don't want to kill with fire.  (ha ha.)
For starters, here's a quote from the tag: "All products are handcrafted in WV from reclaimed and repurposed materials." Nice! Who wouldn't love that? Their website informs us that each toy is unique and that no two are precisely the same.
The truck is solidly crafted. All the wheels spin freely, and none of the pieces have the tell-tale wobble that says I'll be needing the wood glue soon. Some wooden "toys" seem to be made for looks, but this one was obviously intended to be played with- and I can assure you it will be.
Finally, it's just danged attractive. The natural beauty of the wood shines through (no paint to get chipped! Yes!) and you can see the beautiful grains in the different blocks. It feels good in your hand and you keep wanting to pick it up. But you don't get to keep it, because as soon as you do, a little voice says, "Want my truck? Pleeeeeease?"
Check out blueridgesalvage.com or find them on twitter. They had nothing to do with my decision to write this post- I just think you deserve to know about any toy that's likely to survive the end of the world as we know it. Have fun!