Subscribe now and get our weekly newsletter, jam packed with good stuff just for moms!
Who are the Joy Makin' Mamas?
Every time you turn around there's another expert to tell you what you're doing wrong, doing too much, or not doing at all. Not us! We are not the boss of you! We know there is no such thing as a perfect parent. The best we can all hope for is to be the best mom or dad for our particular child. They are all different, and we are all training on the job. My own mother would say, "we are all doing the very best that we can, and that's all we can do."
Our mission is to create a place where moms (and Dads!) can evaluate their parenting goals, discuss how to put a little more Joy into the "job," and pass along the good stuff that comes their way.
Consider the Joy Makin' Mamas Blog your personal "good stuff" file- a resource for finding ways to take "Joy Makin' " to the next level!
"I used to just sit Billy in the butler's pantry with a box of clothespins. He could amuse himself for hours."

-The Wise and Wonderful Betty Gray
The kind of lifestyle we want for our kids doesn't come in a box. Joy Makin' Mamas understand that making childhood special and instilling the values of thrift, creativity, and accomplishment takes mindfulness and planning. Parenthood may be a "Do It Yourself" project, but nobody ever said it had to be "Do It All By Yourself."
---
The Joy Troupe has been brought to you by many, many inspirational people. I have had the privilege to know a great many wise and wonderful people, and among them is my Grandmother, the Wise and Wonderful Betty Gray, who was a Joy Makin' Mama from Way Back.
Perhaps some of us have been blessed with the kind of grandmother who lived a decorous, proper life, but she was not one. She taught us to play poker. She was never, ever shy about stating her opinion. She wore her heart on her sleeve, and that heart was so very, very full of love for us. She could tell stories from one day's end to the next. She laughed loud and hard, and wanted everyone to laugh with her. She drew people in. She "adopted" them. Whether you were her tenant or the owner of her favorite antique store, she'd get your life story out of you, remember all of it, and love you for it.
She's gone now, but her ability to gather people up, to love them like family, and to make them a part of her "tribe" inspired the creation of this community of like-minded moms. So welcome to the fold, Joy Makin' Mama. We gather you up. We want to hear your story. We'll sit beside you. We'll cry with you. We'll most certainly laugh with you. Come be a part of our tribe.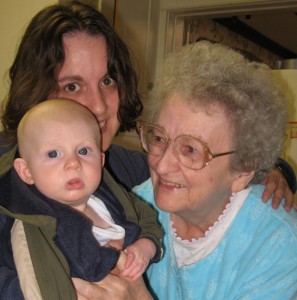 My grandmother, Betty Gray, celebrated her 90th birthday in February 2007. In June of 2007, her first great-grandchild was born. When the two of them met, it was clear that each fell in love with the other immediately. Few moments in my life have been happier. My grandmother's love and wisdom have been a source of constant inspiration to me, so I am pleased to dedicate this site and the Joy Troupe project in her honor.
Macular degeneration stole her eyesight but none of her spirit. She has had heart surgery and has lost her husband, a son, and a grandchild, yet I have never seen her feel sorry for herself. She is the original Joy Makin' Mama, with a laugh that is, without question, the loudest in the room. Just between us, I think she likes the naughty children best of all! Grandma, I salute you.
Her love of children knows no bounds, and her wisdom as a former teacher, a mother, a grandmother, and, at long last, Great Grandma, is worth applying to our modern world. Hooray for Grandmas and Great Grandmas, and, above all, hooray for Betty Gray!
The above dedication was written in 2007. The Wise and Wonderful Betty Gray passed away in February, 2010.
Are you that mom who enjoys her kids so much that even when they are being dirty rotten scamps, you have to hide a smile? Do you really know how to kick back and have a good time? Is your laugh the loudest in the room? Then you are a Joy Makin' Mama, and you're one of us!