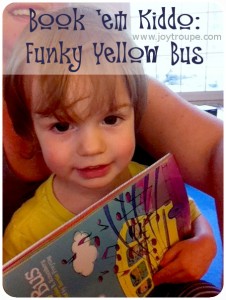 Robin Rosenberg was nice enough to send me a copy of her newest book, Funky Yellow Bus, to facilitate our review. As usual around here, there was no higher excitement than that brought on by a new book!
I opened it while Medium Size Mister was at school. The littlest mister took one look at it when it came out of the shipping materials and just knew it was his. We had to read it twice through without a break before he would get out of my lap, still clutching his new favorite thing.
Someone once told me that we all, as humans, spend our lives attracted to rhythm because we remember, on some subconscious level, the sound of our mothers' heartbeats during our 40 weeks waiting to be born. I have no idea whether that is scientifically true, or whether it's just one of those things that are true because they resonate with us. I just know that my own observations have shown me that there is no quicker way to soothe a group of crazed preschoolers than to tap out a rhythm. Similarly, any story written with a good, noticeable meter will hold kids in thrall. This book is written in verse. You'll be put in mind of the well-constructed meter familiar to most of us from Dr. Seuss, but without any tongue twisting nonsense words.
Even better than the writing style is the takeaway message in this book. Brookie Cookie is afraid of riding the bus on her first day of Kindergarten, which is coming up fast. But, once she starts doing it, she figures out that it's not so scary after all. In fact, even those tough looking big kids are not as scary as they seem. Brookie Cookie is comforted when she realizes one of her friends is riding the bus, too. That's not only homage to the fact that everything is friendlier with two, it gives you an opening to start a discussion about how we help ourselves feel better when we are scared.
The author recommends the book for children 3-7. I would say that this book is good for children up to second grade. My 2 year old might be a bit young for the subject, but he adored it. He loved the rhythm and the illustrations, and I think he might have a crush on Brookie Cookie. Rising first graders will be able to remember their first day of Kindergarten, and to build on that experience to help them discuss and manage their fears. For any child second grade or above, you'll have to use your best judgement.  My personal assessment is that the "young" feeling of the illustrations and the picture book format might not appeal to them quite as much at that age.
The theme, writing style, and friendly, warm illustrations make this book an excellent choice for anyone whose child will be starting a new school, going to kindergarten, or has another situation that might be making them anxious. As it is, in my opinion, a perfect book for story times, I would also recommend it to preschool classrooms, especially those with children who will be going to Kindergarten the following year.
*Disclaimer: I was provided a copy of this book in order to facilitate my review. No other compensation was offered or expected in exchange for my review, and, as always, I've given you my full and honest opinion. The Amazon link below is an affiliate link.
---
Change isn't easy, and sometimes it happens quickly - like when we ride the bus to school for the first time. In the Funky Yellow Bus, young Brookie Cookie might be wary of climbing aboard the first couple days - and her trip to school doesn't come without a couple bumps in the road - but she and her companions transform the experience into a journey of music, fun and, most importantly, friendship. So come along for a ride on the Funky Yellow Bus! It's full of cool characters, rockin' good times, and the chance to overcome those nervous moments we all experience.
Hey! Thanks for being here.
Join Us
and get recipes, play ideas, product reviews, books, and more in your inbox once a week.
Links to products in our posts are frequently affiliate links. These generate a small income that helps pay for our web hosting and things like prizes for giveaways. Thank you very much for supporting us by purchasing through these links.