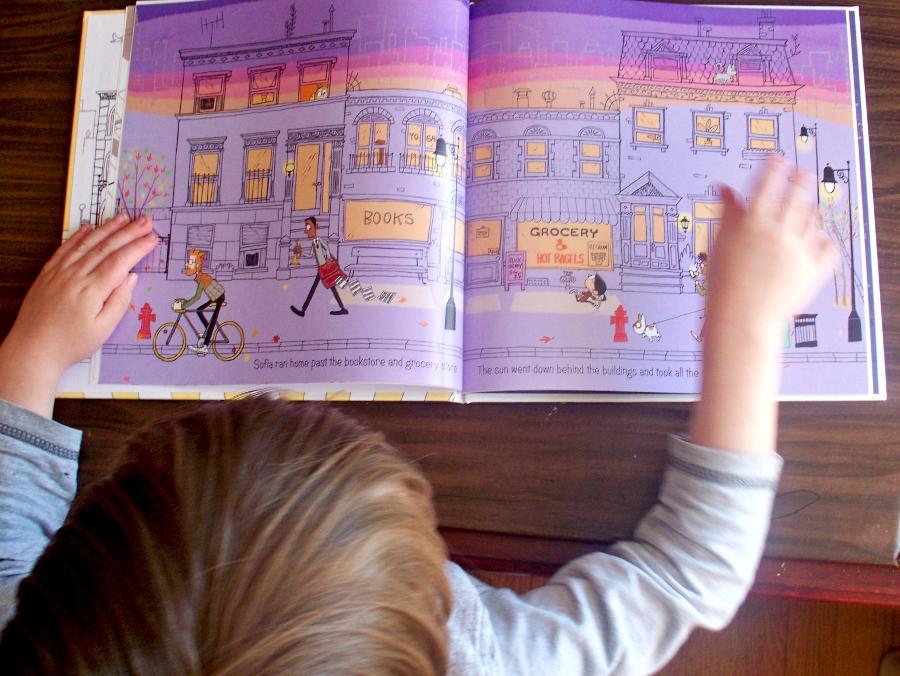 I suspect that I'm not alone in having always mentally shouted, "Well, WHY NOT?" when reminded that Life Is Not Fair. When I had finished drinking in every atom of my son after he was born, it suddenly occurred to me that I needed life to be fair. I had just met this tiny, perfect little person, and I knew life was going to treat him harshly, and that seemed like the worst thing I could possibly imagine in that moment. The thought that everyone's tiny, perfect, precious infants would grow up in a world filled with injustice was exactly what my post partum hormones needed to make me freak the heck out all over my little man, who napped through the whole thing. It was probably the best nap of his entire life…
As he got bigger and I regained the use of reason and common sense, I talked to him- and later his brother, as well- about the fact that we are very fortunate, but that there are people everywhere in the world who are not. One of the forms of injustice that disturbs me most deeply is child hunger in my own community. I don't mean to say I'm callous about far away children, because I'm not, at all. But in some places, children go hungry because there are famines. While a large scale famine is horrifying and tragic, allowing children to go hungry in the midst of plenty is appalling on other levels. Children who don't receive adequate nutrition face long term physical and cognitive deficits. If you grow up limited by the long term effects of malnutrition, the field is anything but level. These are my children's classmates, and it's not okay with me that I and my family have much more than we will ever need, while our friends do not even have milk. (I'm sometimes tempted to blurt out "Eat your peas because there are children starving in _____," but I don't think the dudes would see the humor. )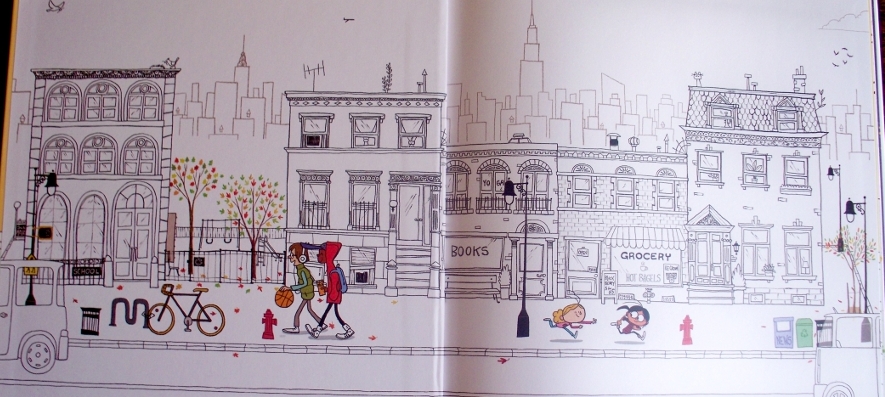 Sometimes the most important things can be very hard to explain, so I gratefully accepted a review copy of Maddi's Fridge
 by Lois Brandt and illustrated by Vin Vogel. How could it possibly make sense to a child who has no experience with real want that even the very most basic things we all need- like food- aren't something everyone has? How do you explain that there are people who need help right in front of us? These things don't make sense to me, either. And you cannot explain what you can't understand. If you have found yourself in my position- struggling to find words to explain what it means to be hungry to someone who hasn't been, or trying to find a way to break down something like poverty into something your child can understand, allow me to recommend this book.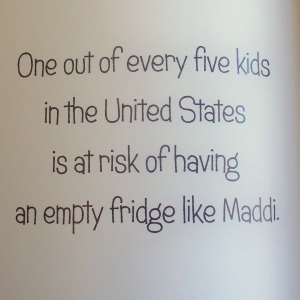 Sofia and Maddi play in the same park. They live in the same neighborhood. Maddi is better at climbing, but Sofia is the fastest runner. But then, Sofia realizes that there is no food at Maddi's house, and Maddi makes her promise not to tell. Sofia is surprised to find out her friend's family can't afford food, and isn't sure what to do. But she knows she must do SOMETHING, so she tries to help Maddi solve this problem by herself. This leads to many adventures for the two friends.
I won't keep you in suspense: Sofia eventually realizes that she has to tell Maddi's secret, and ask her mom for help. The message, of course, is that we can't fix large problems ourselves- we need to ask for help and work together, so we can make a difference. (I know, these surprise endings and crazy plot twists… it's amazing how they fit them all in a children's story book, right?) That's exactly the seed I'm trying to plant with my kids. I don't want to crush them under the weight of the world's problems, but I want to foster the idea that what we do matters. That even small people- and we are all small, when you look at the big picture- can make a big difference.
Lois Brandt has done an excellent job of making that message relatable for even very small children. The book includes tips for kids on how to be aware and how to help- with their family's support, of course. "The more we talk about empty refrigerators, the fewer there will be." That's the truth, right there. In a world where we treat everything as a race to the finish with a prize for the winner, even the winner has to live in a world where children go hungry. That's not much of a prize.
Vin Vogel's illustrations are enticing, detailed, and colorful. They give a sense of emotion and of movement that create a feeling of connection to the characters for readers and pre-readers alike, and the cityscape that forms the backdrop for the story is architecturally interesting, while also depicting a vibrant, walkable community. I feel like I recognize Maddi and Sofia's friendly, welcoming neighborhood, and want to call it my own. (Also? Gotta say I love, love, LOVE that there is an independent bookstore that appears multiple times throughout the book!)
It's hard for me to separate the way the story is written from the message, because I started with such a powerful emotional connection to the topic. But the words are well chosen and well composed- the story shows us the bond between the people in the book, without distracting us by pointing it out. The narrative injects humor and carries the theme of community and overcoming obstacles throughout the story in a way that is both elegant and subtle. Much like in the illustrations, we see a world we recognize, and one we love. The types of foods discussed in the book are used to evoke cultural heritage and also to talk about nutrition and the quality of our food. Brandt subtly introduces the idea that some foods are too perishable to be helpful to people who struggle with food instability, and does so in an age appropriate way. There is so much in this story that I could break it out for you for hours- and that's pretty masterful for a 32 page picture book. Still, my favorite sentence in the whole thing might be this one: "10% of profits donated to fight childhood hunger."