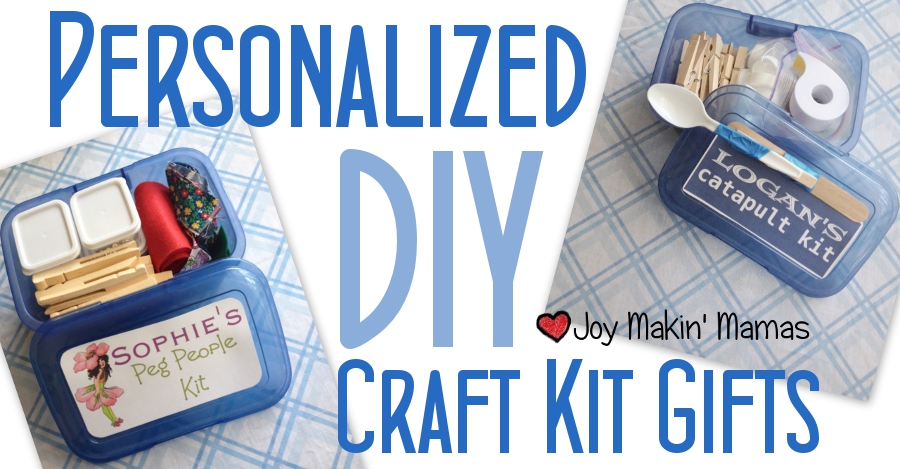 I love giving kids creative gifts. I even more love giving them open ended creative gifts. A kit that makes a particular item if you follow the instructions is great for introducing new skills or for skill building- but sometimes what they really need is encouragement to take materials and use them in a completely open ended way. And kids like things that are personalized with their own names, so, HUZZAH! I came up with these personalized, DIY craft kit gifts that are perfect for birthdays and holiday gifts- or "just because."
Each of these kits was packaged in a dollar store organizer. They're about half the size of a shoe box, but use whatever size you like. Apply the personalized labels with double sided tape or hot glue. (I also hot glued the catapult on top of the catapult kit.)
Peg people, if you're not familiar with them, are dolls made from clothes pegs. One familiar version of this is the reindeer ornament, but they can literally be anything or anyone, with a little open ended creativity and some glue. Candidates for this kit are: Fabric scraps, glitter, beads, sequins, pipe cleaners, heavy gauge craft wire, and, of course, clothes pegs. Also called Doll Pins. Embroidery floss or fine twine would be great, too! 
As for the catapult kit, I included almost everything I mentioned in my post about building engines of minimal destruction, and then I topped the kit with one of our favorite designs. I created my kit labels to match the size of my containers. Lightweight card stock holds up well to being hot glued, and you can hand letter your label, cut letters from magazines, or use stickers or scrapbooking supplies if creating images or digital scrapbooking isn't your thing.
More themes:
Gods eye/friendship bracelets can be created with craft sticks and yarn or embroidery floss and beads.
Gather old electronics and create a Robot kit for the serious tinkerer.
Build Your Own Rocket Kit (Some balloons, tape, string, rubber bands, cardboard toilet paper tubes, glue stick, foam craft sheets, glue, drinking straws, and Estes B4-4 Engine Pack (3-Each) will hook the recipient right up.)
Make a Rubbing kit- include newsprint paper and block crayons, colored pencils, chalk. Add a small thrift store frame to display the masterpieces- look for one with a plastic insert, or remove the glass.
Fairy House Kit: acorn caps, seed pods, tiny pinecones, florists moss, glitter, a Fairy Toob, small twigs, fine twine or natural fiber yarn, pinecone scales (clip them off with bypass pruners), a copy of Fairy Houses.