NOW through 9/14 ONLY, enter to win a family four pack of tickets to see this show here.
Marvel Universe Live is here! (Get show details for Verizon and the Patriot Center, here. FYI, our NOVA members got the chance to win tickets on our NOVA Facebook page. Stop by and give us a like so you can get in on that action next time. You'll find information on national tour dates scheduled through 2016 here.)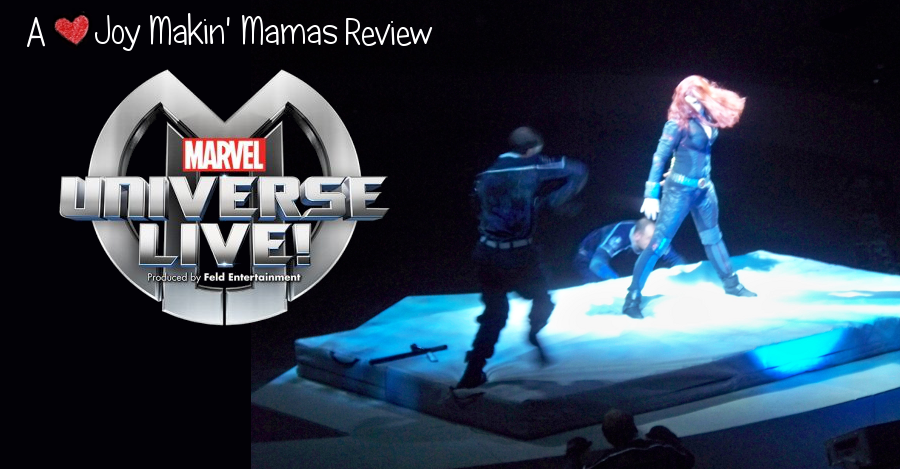 I almost don't know where to start writing this… because much like the show itself, my head is so full of the amazing things I saw last night, that I'm not sure where to look first. First, let me tell you what I think you'll want to know before you go.
Parking: Patriot Center parking is always ample and no charge, so if you're going, just remember that it may take you a while to get out of the parking lot. The Verizon Center parking fee was $27 for opening night. We saved a few bucks by parking at the Gallery Place garage. If you do this, just remember that you can only enter through the Verizon entrance that is inside Gallery Place if you've already picked up your tickets. If you haven't, you'll need to go out and around to get to the box office. (It wasn't a big deal, but you might want to allow a few extra minutes.)
Volume: My loud things are infamous for their noise production ability, so we are all pretty used to loud noises around here. Even so, we had our hands over our ears once in a while. If you have a really noise sensitive child, consider headphones or earplugs.
Strobe Lights: If you have trouble with flickering lights, this show is NOT FOR YOU. Almost ALL of the visual effects involved flashing lights or strobes. They were FANTASTIC, but suffering is bad, so proceed with caution if this is an issue for you. If you aren't seated ringside, they will seldom actually be pointing into your face, but seriously, it's all the time.
Length of the Show: We got back to our car 2 hours after the show started.
Ticket Policy: The sign posted at Verizon said everyone who has reached their 3rd birthday needs a ticket for this show. If you're seeing it elsewhere, you should call the box office if you have questions.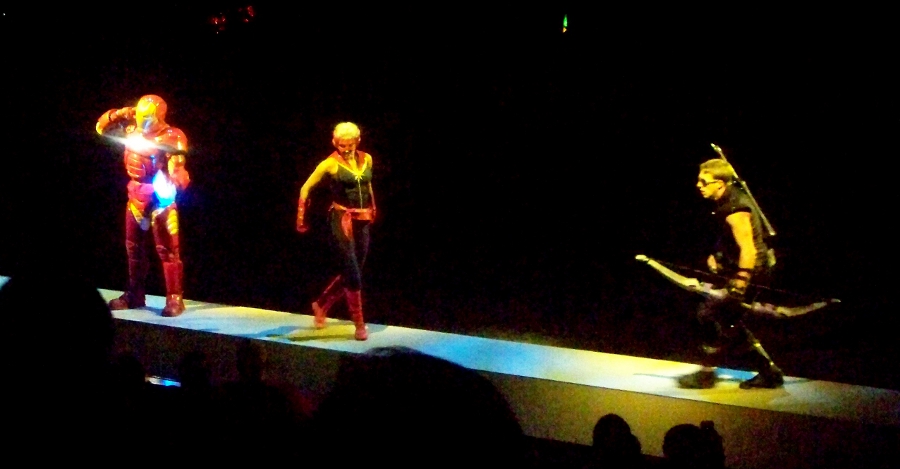 As for the show itself, I have to say (not because they provided me with tickets to facilitate my review, but because it's my real and actual opinion) that this is one of the best things I've ever, ever seen. My mind is boggled at the sheer number of highly developed skills needed to produce this show. The use of the backdrop as a projection screen was highly effective- at one point it created a very convincing illusion that the observer was in flight. At other times, the projection spilled over onto the show floor and created a completely different atmosphere than had been there seconds before.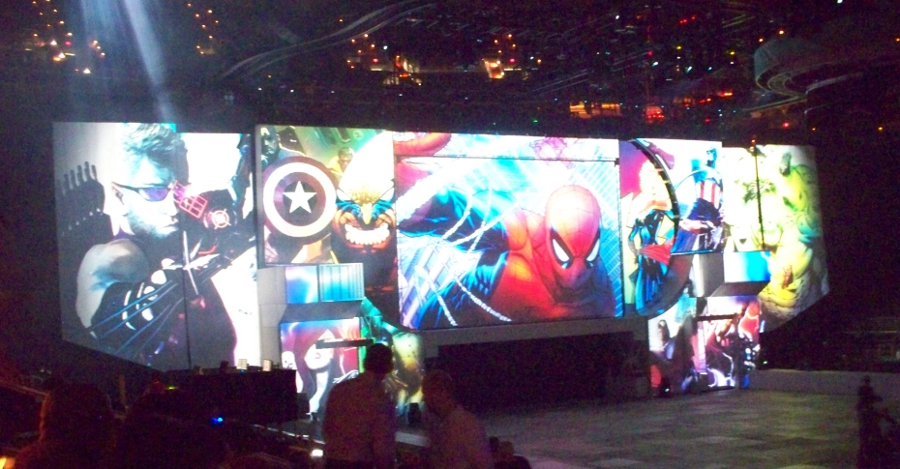 The costumes were clearly designed to evoke the animated versions of the characters, rather than film adaptations, and they did a great job, in my opinion, of walking a line between giving us the stylized, comic book version without crossing over to the farcical. There was enough realism to keep the comic atmosphere from intruding into the enjoyment of the show. (For comparison, when I first saw Dick Tracy, I thought their attempts at evoking the comic were too obvious and distracting. That was not a problem here.)
The show includes a lot of action scenes, which had to be highly choreographed and synched up with the sound track. If any of the performers missed a single beat, I didn't catch it. The amount of timing and athleticism required to pull this off flawlessly is staggering, and they achieved it. (Or, to quote my husband: "These are not college kids working a summer job- that is serious dedication.") Also? Let me just say it… any time you can see a live car chase indoors is a good day.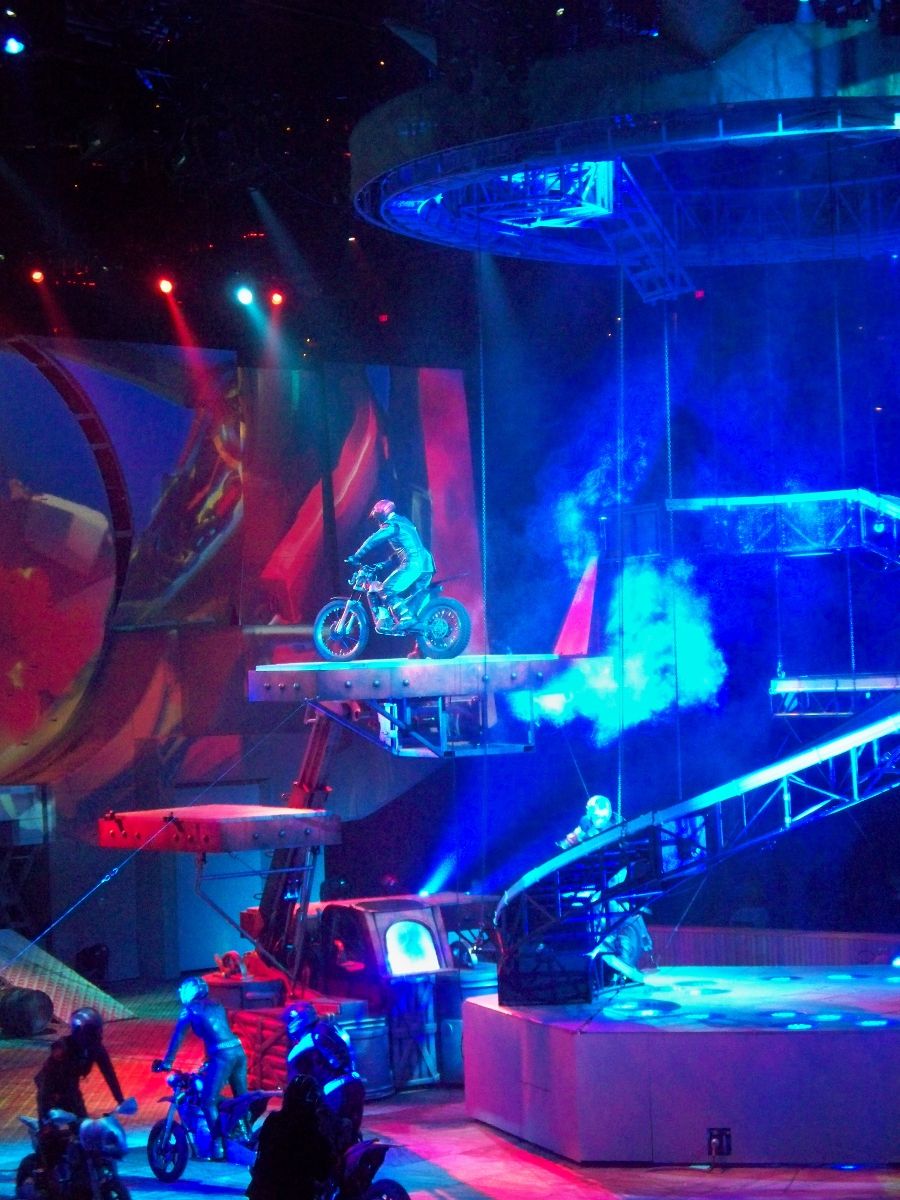 Another phenomenal aspect of the set design is that it allowed the action to take place in three dimensions. Anyone who's ever gotten a cat for the first time will remember the feeling of needing to adjust your ideas of 3 dimensional space. Heroes arrive from above. Villains make their escape straight up. Vehicles hover and circle the action scenes, and the performers free-fall. (Into appropriate, if unobtrusive, safety equipment, of course.)
My kids were not the only ones literally jumping out of their seats to cheer for the heroes. (My three year old shouting "VILE INSECT!" at Loki may be the very best thing I've ever heard… except for his Evil Plan laugh. I really hope that when he picks a side, he sticks with identifying with the heroes, because his Evil Laugh is dead on… I wonder if Loki's mother worried about things like this?)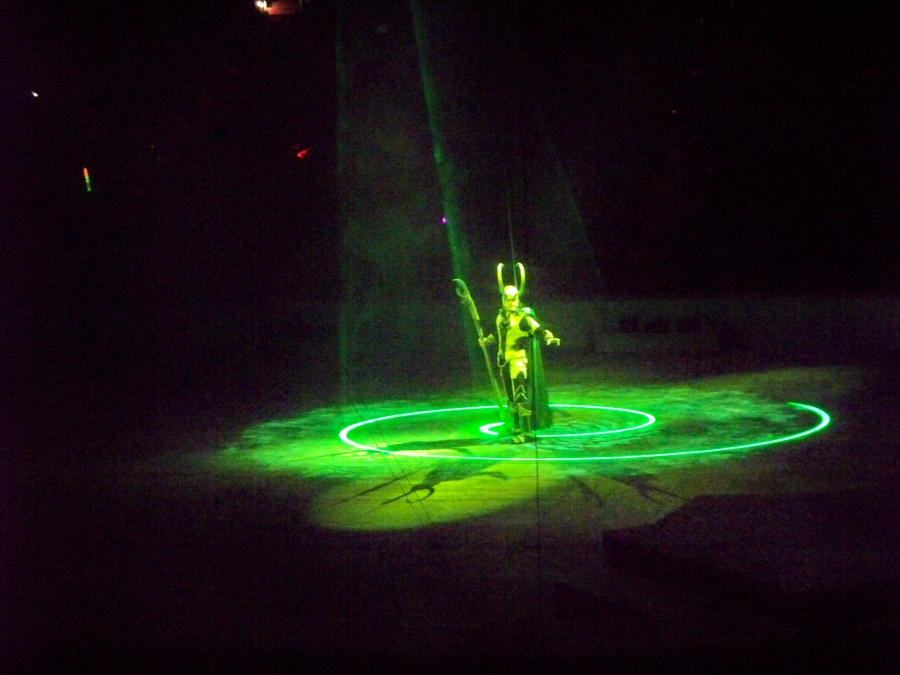 Now, I know what you're thinking. "What about plot? What about story line? What about dialogue?" In a completely uncharacteristic turn of events, I didn't care about any of those things. They were there, of course, and the show did an appropriate build up from the introduction of the story line through to a nice, dramatic wrap up. It didn't feel forced that they worked as many Marvel characters as they possibly could into a show that only lasted two hours, including the intermission. Spiderman made puns, Wolverine was abrasive, and Thor took himself too seriously, just as you'd expect. (And Black Widow and Captain Marvel kicked an impressive amount of bad guy behind, let me tell you.) It's not that any of these things were lacking in any way- it's that the truly impressive stunts and set design had already wowed me to the point where I would not have cared if they didn't deliver a story line at all. But they did- and that, my friends, is the cherry on that particular cake.
I can highly recommend this show to super hero fans of any and every age. (My kids are 3 and 7. There were kids older and younger in attendance, and there were adult-only groups as well.) I hope you get a chance to go. If you do? Have a MARVELOUS time.
If you'd like to look through more of my show photos, just click on the thumbnails in the gallery. The spotlights and the theatrical fog made it hard to get good shots all the time, but you should be able to get a general idea of what the show is like. If you're wondering if any of the costumes are too scary for your kiddos, hopefully you'll be able to figure that out from these, as well.