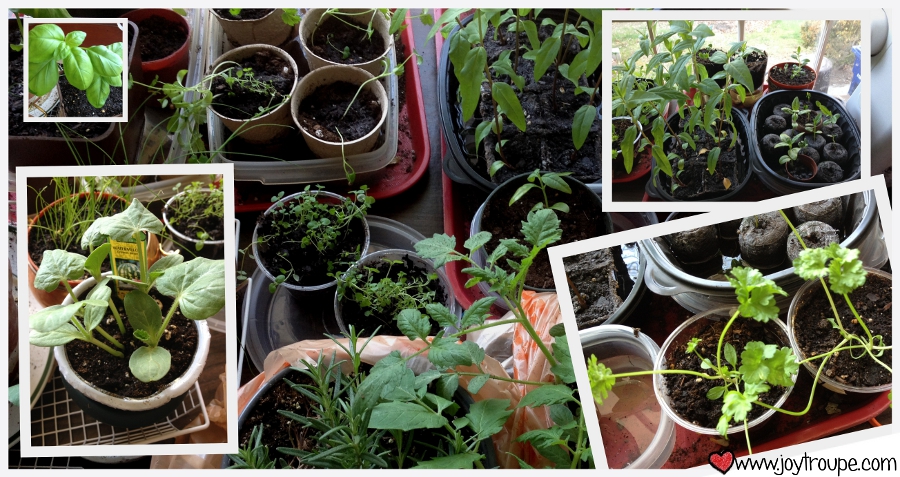 In a fit of optimism, I started a whole mess of seeds this year. Typically, this is a recipe for wallowing in my abysmal failure to keep things alive. For whatever reason, my record for seed starts is terrible. It's not unusual for the "hardening off" process to kill off whatever has made it that long. Sometimes, there is one sad survivor that lives to tell the tale and remind me that I'm responsible for the massacre. My ever-helpful screen saver has been showing me photos of my previous years' efforts all week. It's like the Ghost of Seedlings Past arriving to make sure I don't forget my shortcomings. Hopefully, the Ghost of Seedlings Future will arrive soon to explain how I can correct the error of my ways. Because I have a bumper crop of basil, parsley, milkweed, oregano, cilantro, and even (!) lavender started. (I've never, ever gotten lavender past the sprout stage. Usually I manage to kill them before they even get their first set of "real" leaves. So the fact that this one is about an inch and a half tall? Mind blowing.)
They are all growing really well, and I Have Officially Gotten Attached. This is bad. This means that, for instance, the oregano and cilantro I had to transplant today (after learning I should have done it two weeks ago… better late than never?) will wound me to my core if it fails to thrive in the new pots. They will reproach me any time I happen to be awake at 3:00 am for years to come. "EVEN THE OREGANO WOULDN'T LIVE WITH YOU. And remember that one time, in third grade, when you hurt that girl's feelings? YEAH THAT WAS YOU."
Tomorrow, during our morning ritual of checking the plants together, I hope to be able to answer "What are you doing Mommy?" with "taking care of our plants," as usual. If I have to switch to "figuring out if these are really dead or only mostly dead," I'll let you know. (The rest of the ritual is the little dude chanting "No, no, don't touch! Flowers! Don't touch!" …while touching.) Knock wood. Cross your fingers or say a lucky rhyme or something for me. I suppose I could also put "don't be so hard on myself at 3:00 am" on my to do list, right under "figure out how not to kill 100% of my seedlings." But so far, I've never managed either of those things, and I believe in reasonable expectations.
On a practical note, I tried the "turn a soda bottle into a self watering planter" trick this year. I'm surprised to say that I don't care for it. There's no easy way to get the water into the bottom without also subjecting the seedlings to the deluge. Professor Google says that deluge is partly responsible for my serial killer ways, so I actually found that small peat pots in an old takeout container work best. I can water them from the bottom that way. Also, it might be a coincidence, but I think the moisture control potting soil mix may be contributing to my success this year. It might be wise to take it away from me before I get overconfident… because I have some more seed packets, and it's entirely possible that I should be stopped.
Do you have a garden too? Even if it's just a pot on the windowsill, join me on my In The Garden Pinterest Board:
Follow Meghan's board In the garden on Pinterest.