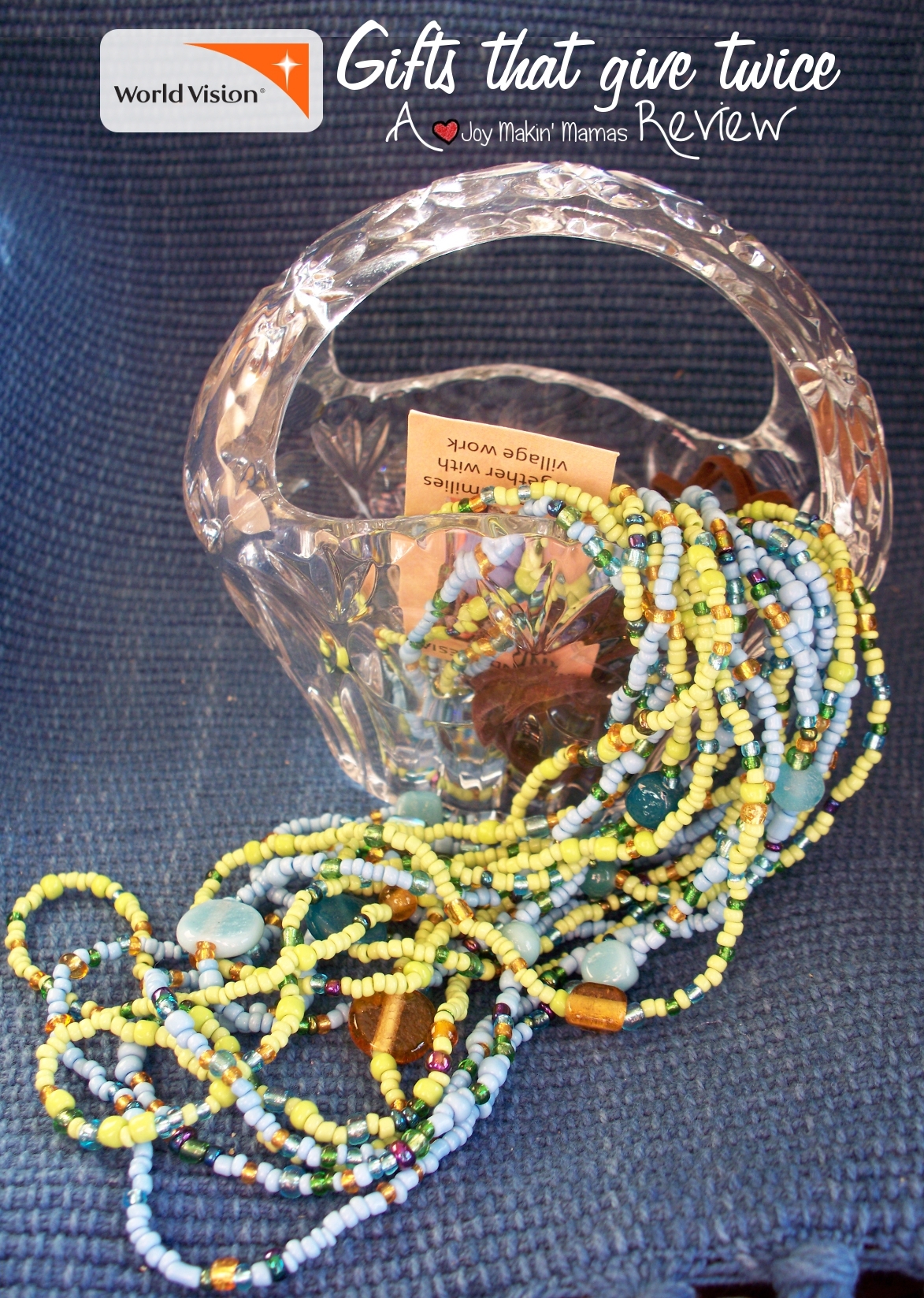 Have you heard of "alternative gifts?" That's the expression used to talk about giving gifts that make a difference in the world but aren't necessarily something tangible to the recipient. They're a great option if you have a friend or family member who has nothing they want, but enjoys being remembered, or if you can align the gift with a social justice issue that is near to the heart of the recipient. (Tip: You almost always can. You can give green energy credits, or fund the drilling of a well in a drought stricken area, or help women and girls who have been trafficked… anything you can think of, it's out there. Check out the WorldVision catalog and see what I mean.) You can contribute to gifts in all parts of the world- your own neck of the woods, or the other side of the planet.
WorldVvision sent their Balinese Necklace to me at no cost so that I could tell you about it. You can receive this necklace as a thank you when you donate $85 or more. Because these necklaces are traded fairly, your donation does good work AND the women of Bali are compensated fairly for their work. You receive a beautiful thank you gift for your donation, and everyone wins- twice. The website says the donations that get you these lovely items are used whereever the money is most needed. In other words, they prioritize the most urgent requests for help, and direct your money there.
All of the items are listed as Fair Trade goods. Fair Trade certification means that the item you are purchasing was produced and brought to market ethically. It's no surprise that people in every part of the world- including ours- have been expected to work for unfair wages in order that others can profit from their work unfairly. When items are certified Fair Trade, that means that the workers have been compensated fairly, and that ethical practices have been followed to bring the product to market.
This necklace reminds me of a waterfall, and it is not only lovely but well-made. The glass beads are well chosen and the construction of the jewelry is sturdy enough to hold up to daily wear. (If you'd prefer a different handcrafted item, there are others available. They are all more lovely than the last- hard choices, indeed.) This necklace is quite long, and has leather thongs at the back of the neck. They don't "adjust" per se, but you can tie them in a knot to make it shorter. The length makes it is the perfect accessory for a cowl neck sweater. My son calls it "the Merry Christmas," and tries to steal it and hang it about the house. It certainly is pretty enough to put on the Christmas tree!
Be sure to enter my giveaway and you can receive one of these lovely necklaces to give to someone you love, or to wear yourself and remember people in other parts of the world.