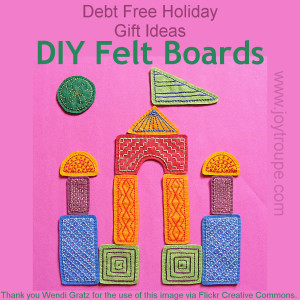 That's right, it's that time of year again, when we are thinking of how to have a lovely, thoughtful holiday without breaking the bank (or the planet!). Every year I look for "green" gift ideas that save cash and reduce, reuse, recycle while still being special and encouraging creativity. (I recently saw Polar Express for the first time, and I LOVE the scene where they explain that Santa is now in the refurbishing business, giving unloved toys new life. I've been saying that for years!)
Have you seen those felt boards you can use to tell a story? There are store bought ones with really elaborate, printed pieces you can use, or you can make them yourself for pennies. They are also sometimes called Flannel Boards
Are you feeling inspired now? I am! I have a hinged chalk/art board that I got at our most recent swap meet that has hooks so it can hang on the wall, and one side is basically blank. I'm going to cover the "empty" side with felt and fill it with felt pieces for my little man! I'd love to hear your ideas! Put them down there in the comments.
Hey! Thanks for being here.
Join Us
and get recipes, play ideas, product reviews, books, and more in your inbox once a week.
Links to products in our posts are frequently affiliate links. These generate a small income that helps pay for our web hosting and things like prizes for giveaways. Thank you very much for supporting us by purchasing through these links.