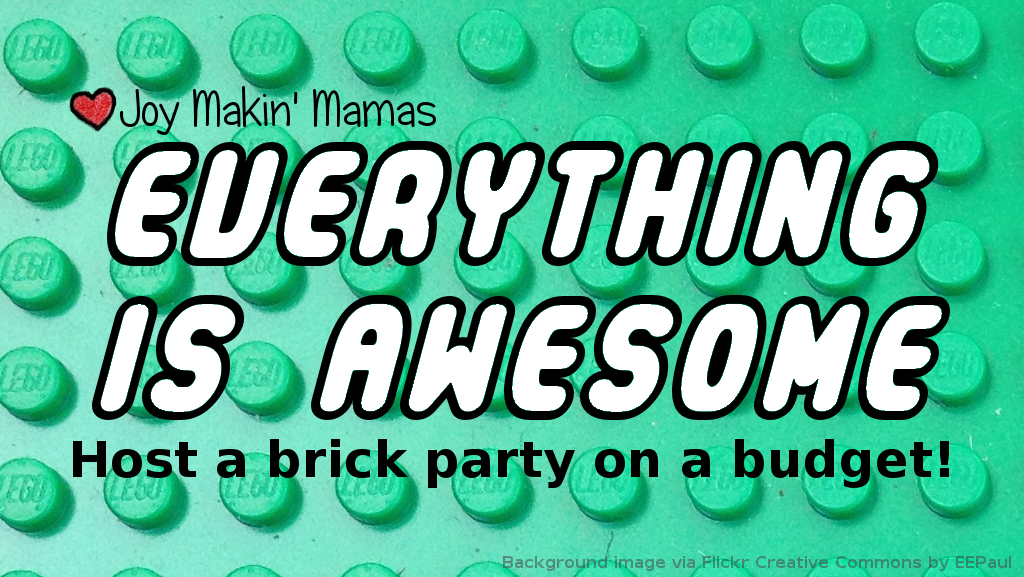 My kids are obsessed with Lego. If they could design a lego school curriculum, my eldest would be a straight A student. He's recently discovered Minecraft, and he likes it. There's ONE upgrade he's dying to have though… the one that makes it all look like Lego. I don't have any objection. I can tell that his abstract thinking skills are developing, and he's obviously having fun. If he gets bored of the structured buildings that come in kits, he just creates his own. He's got a really fun book of ideas that he pores over like a gourmet with a new cookbook- and then creates something entirely of his own making. I love how they encourage creativity and sneak important skills in under the radar.
So, naturally, when the topic of his most recent birthday party came up, he immediately demanded a Lego Brick Party. I was happy to oblige, since I know lots of his friends love Lego as much as he does. I started looking up party ideas and quickly realized that a lot of them are a little on the pricey side. (And we all know I'm a slacker, so I wanted it to be simple and stress free, too.) In the end, we held this party for 12 elementary school kiddos and a handful of little sibs for under $100, including decorations and food. Obviously, prices vary depending on where you live, but our actual strategies should be friendly for your wallet no matter where you are. So here's what worked for us!
Decorations
As always, reusable, recyclable, or things we already have are what's on my list for decorations. I googled for large movie poster images, saved them, and used Picasa (that's a free photo organizing software from google) to create a poster size, multi-page image of each one. Then I printed them full page, and my trusty Elmer's Glue Stick and I went to work. I found that if you choose the option that overlaps the images, and then overlap your seams in alternate directions, you get better results. I cut off the white edging only on the page that would be on top, and just fiddled them until they lined up. It didn't need to be perfect, so it wasn't too hard.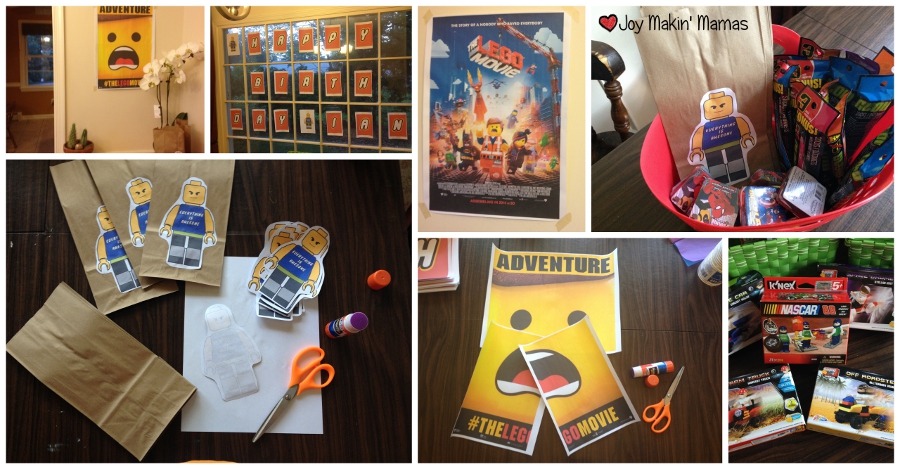 I also hit the dollar store for some bins to hold and organize the kits on the activity table. I chose some that were the right size to later hold some of my kid's ongoing brick projects, and they've been in continual use since the party.
For a birthday banner, I created this free printable Lego theme birthday banner. (I won't bore you with the details of how I made the letters, just click print. Use card stock and a hole punch to make a hole in each upper corner, and string them on twine or ribbon and it will be re-usable, so you can pass it on to a friend or sibling, or save it for next year.) Easy. Inexpensive. Completely recyclable.
Activities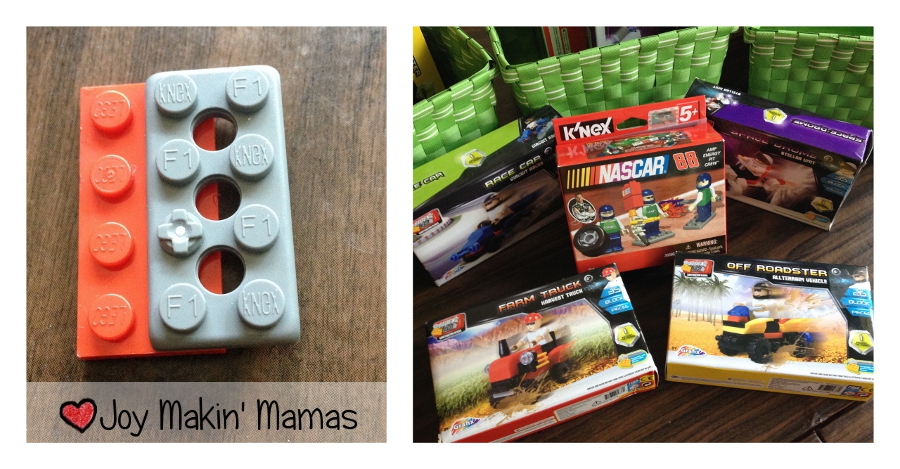 Here's where we really saved some cash- and we did it by using one of my favorite budget strategies. I bought generic. I know. Lego fans like the brand for a good reason. Their attention to detail and their licensed offerings are outstanding. And the generic set was not quite as nice as Lego in a few regards- the bricks didn't feel quite as nice in our hands, for instance, and the pieces didn't all come apart if there was a mistake, but the kids got more than my money's worth out of these kits. They were available at Tuesday Morning (and lucky me, they had EXACTLY 12 of them), as were the packages of mini figures, since the kits didn't include them. The offerings and prices may vary by store, but they were a great find. (And I'm pretty sure that the rest of this summer is going to see some DIY Lego Camp offerings that come right off the same shelf. So worth it for the prices!)
For the little siblings, I set up a bucket of Duplos and a low table in another room, so they could have fun building while the big kids assembled their kits.
Entertainment
My kiddo requested The Lego Movie (Everything is Awesome!), which is now available for rent via Amazon instant video. It's not your only option though. Here are some budget friendly rentals:
Included with your Netflix subscription: (just type these in the search box to stream them.)
Lego Chima
Lego Ninjago
Lego Marvel Superheroes
Lego Atlantis
Lego Party Favors
In addition to getting to take home their lego build and mini fig from the party, the kids got a few other goodies as well. We set up and filled each bag and labelled it with their names as they finished their projects, so there was no concern about anyone getting the wrong bag. You can print this smiling Lego Man PDF and make your own DIY favor bags. (This is a great kid project, too! If you help with the cutting, even really little kids can manage a glue stick.)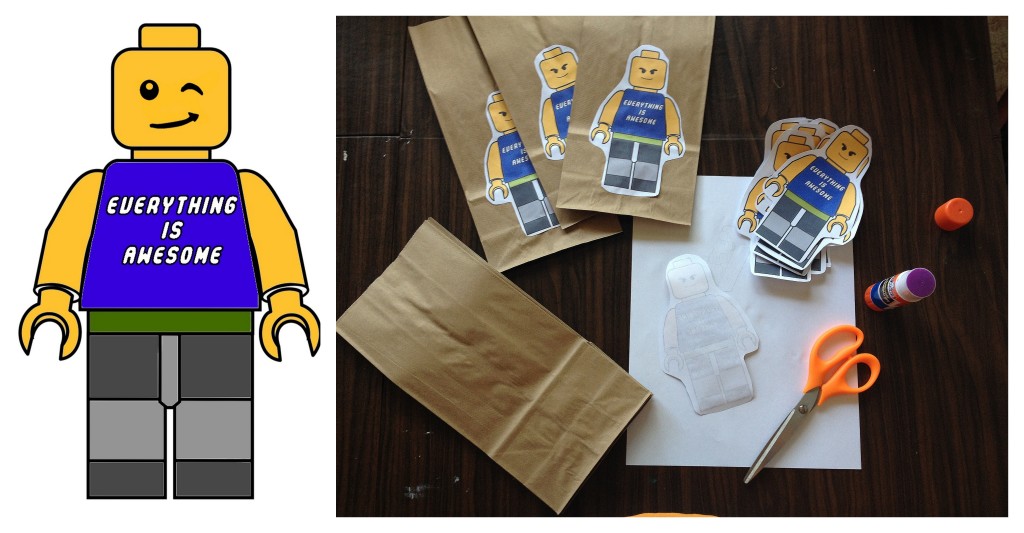 Food
We just did plain old pizza and cupcakes, because that's what my kid requested. (I did use Lego themed candles, but that's it.) If you want some creative, themed food ideas, check out my Brick Party Pinterest Board:
Follow Meghan's board Lego Theme Brick Party on Pinterest.
Have fun at your party… I am sure it will be AWESOME!