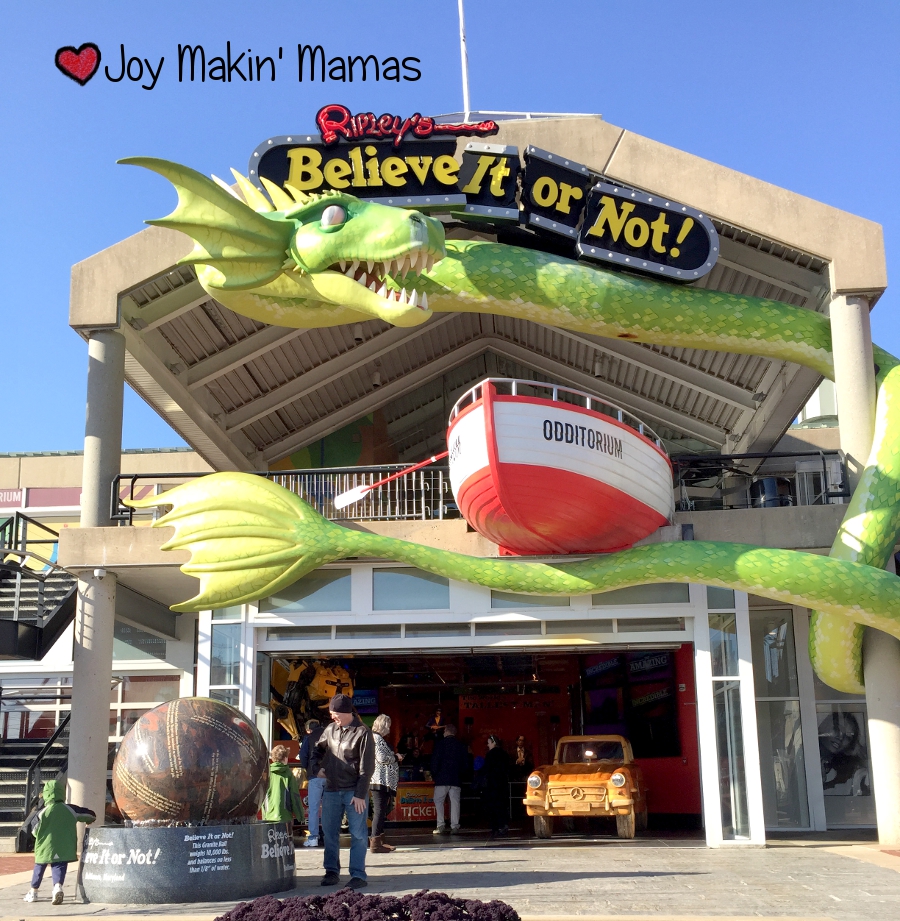 When I was offered passes to visit the Ripley's Believe It Or Not Odditorium in Baltimore (You can get your passes and plan your trip here) in order to facilitate a review, I was pleased, intrigued… and a bit skeptical. I wasn't skeptical of the quality of the museum. I was skeptical of our ability to pull it off. Many outings with my kids have proven that they are the ULTIMATE litmus test for how family friendly an activity is. If there is even a small flaw in the execution of the activity, my kids will be the ones to exploit it and take the whole thing down in (hopefully metaphorical) flames.
This is the part where some internet know- it-all usually chimes in to say I'm a terrible parent and that their children are perfectly lovely in every imaginable situation. I shall discard most of the possible responses… but I will point out that surely anything that has been tested (and approved!) by my rowdy outlaws will be perfectly safe and lovely for any nonexistent paragon of ideal childhood. (Not that YOU would ever tempt fate. Smugly pointing out that YOUR children of course are well brought up and would never embarrass you by misbehaving is usually followed by something REALLY embarrassing.)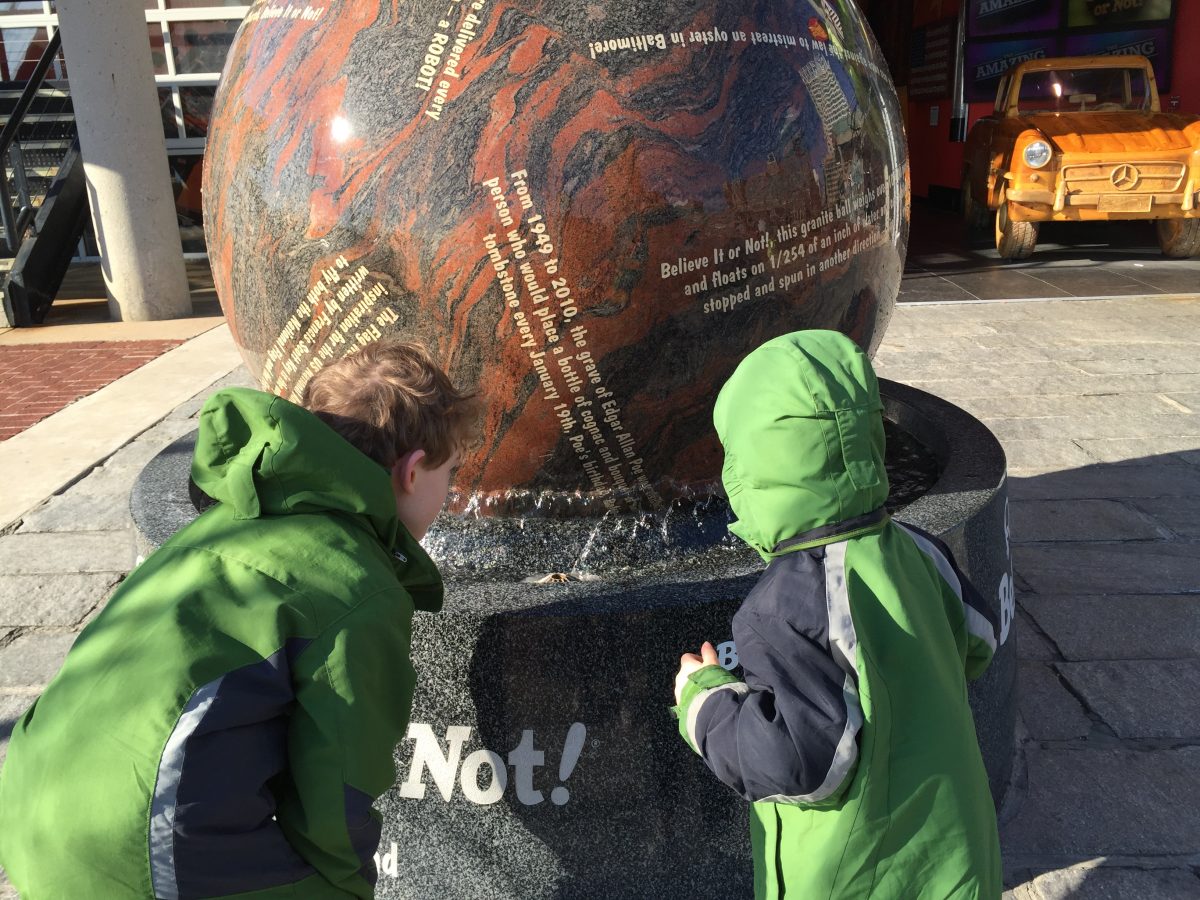 The Fun Starts Outside at Ripley's Believe It Or Not Odditorium
I'm going to have a hard time not telling you about EVERY single thing that there is to see and do in the Ripley's Believe It Or Not Odditorium. But part of the fun is turning a corner into the unexpected- and I despise spoilers. So I won't do that to you. But I HAVE to tell you some of the highlights.
The Oddities begin out in front of the museum. The front of the building is open to pull you into the experience. I loved the wooden automobile, but the dudes went for the giant transformer made of old car parts. (This was probably predictable.) Ripley's obviously had their number from the word "go." This museum engaged, entertained, and excited my dudes for hours. No flames, metaphorical or otherwise.
Our ticket option was the "triple combo." We spent two hours exploiting it to the fullest. At the end, we had several tired and hungry children on our hands, but they were also smiling and cheerful. Our favorite highlights of the visit were Hogwarts (that's all I'll say…), the psychedelic dance room, the secret passage, and the mirror maze. The mirror maze is available as an add on or a stand alone option. I recommend that you go for it. It was closer than I ever thought I'd be to feeling like I'd been set loose to wander around inside the TARDIS. That's only scraping the surface, so if none of those sound like your family's cup of tea, never fear.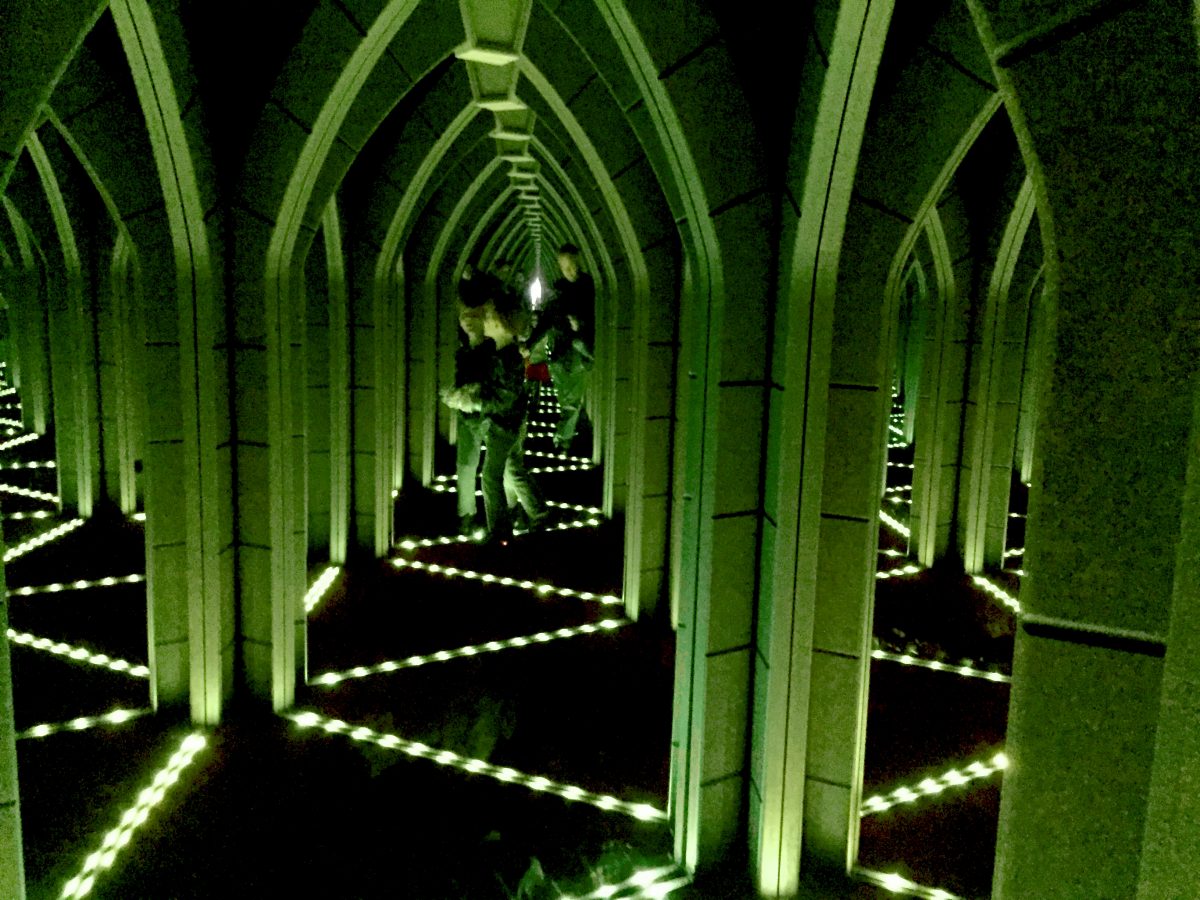 But it's not so stroller accessible
Because we have been a stroller-loving family for 7.5 years, I couldn't help checking for stroller-friendliness. I've had the opportunity to take a stroller to almost anyplace one is allowed to be. As a result, I can tell you that this is NOT a stroller friendly museum. I assume there must be an elevator somewhere, and I'm sure they conform to all the clearances specified by the ADA. I cannot find anything that says they are actually forbidden. But stroller free is the right call here for most people. (I am sorry it didn't occur to me to ask how they accommodate patrons who need mobility aids and assistive devices. I promise to do better in future.)
This was our first major expedition as a family of four with no stroller along. I was worried we would miss having it to serve as a bag minder and emergency nap location, but we rocked it! Potty training is traumatic, but there is no denying that it frees you up to travel light.
If you can carry or wear younger ones, do. That way, you won't miss out on things like the musical staircase. You won't worry that your parked buggy is blocking the traffic flow for other visitors. Part of the museum's charm is that, since there are many "touch me" activities, there is very little "dead" space on the exhibit floors. And since you are continually pulled forward to the next fun surprise, you won't want to backtrack to collect your empty stroller. And it WILL be empty, because even toddlers will want to be out and able to explore here.
It's a Multi-media Experience, and may overwhelm some people with sensory sensitivities
The movie experience was the perfect finish to this adventure. Two animated shorts take you on a simulated 3-D "ride" along with kid-friendly cartoon characters. Sensitive kids may find this too stimulating. If you're concerned but want to try it out, there is nothing to prevent you from leaving at any point. There is an intermission after the first (and shorter) segment to allow anyone who needs one a chance to exit.
Finally, I feel like I should mention is that this experience is loud. I don't mean rock concert or industrial manufacturing level of loud, I just mean that it's pretty much always noisy. This is not a hushed, reverent museum experience. It's very much a "loud thing" approved kind of place. Check out the slideshow for more highlights, and if you've been, let me know what your family thought!
But it's COMPLETELY WONDERFUL and WE LOVED IT: