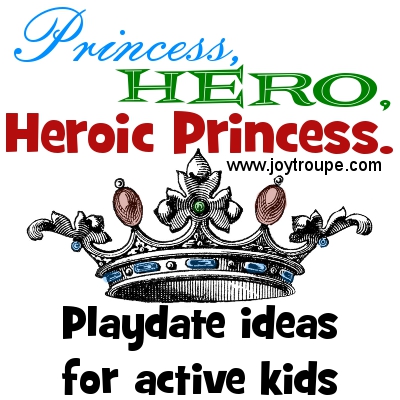 The princess and the hero can be the same character, and nobody knows it better than our amazing, strong, funny, smart, and adventurous girls. (Be sure to check out our Dragons playdate post for additional ideas to go with this theme!)
The word "princess" conjures up ideas of the magical, the special, and of infinite possibilities. Unfortunately, popular culture seems to trying to squeeze princesses into a tiny little narrow definition of what the word means. But our bold, brave, strong, intelligent little girls are having NONE of it- and good for them. These playdate and story time ideas are perfect for heroes of all kinds- including those who hold dual status as princesses.
Books
Printables
Dress Ups that won't cramp your style
Music
How about you? What are your bold, brave, adventurous princesses favorites? Let us know down there in the comments. We love hearing from you! Have you tried any of these activities? Give us your feedback! Thanks, you're the best!