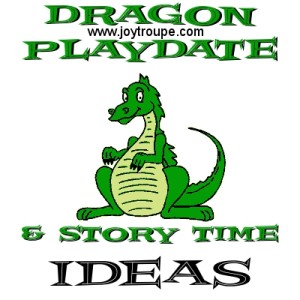 Daring princesses! Handsome knights! Fearsome (or just really misunderstood) dragons! Fodder for the imagination for sure. Who could resist mysterious animals, glamorous and fanciful outfits like armor, weaponry, feats of cunning and dazzling displays of smarts?
Well, probably someone, but not any kid I ever met. There are so many tales filled with dragons that you could easily integrate these activities into half a dozen other themes. They are also a great opportunity to shift the emphasis of fairy tale play away from "looking decorative." There is an emphasis on prettiness that is gaining momentum in popular interpretations of fairy tales. Effective play encourages engagement and problem solving- and what could be more engaging than a quest?
Music
Books
Apparently, we love this subject around here because I've reviewed some of the books on this list already! (Click the links to read them.)
Printables
Hands on Activities
Around the Web
How about you? Do you have some ideas and resources to share? Put them down there in the comment box! We love hearing from you. If you've tried any of the ideas on this list, we'd love to hear how it went!
Hey! Thanks for being here.
Join Us
and get recipes, play ideas, product reviews, books, and more in your inbox once a week.
Links to products in our posts are frequently affiliate links. These generate a small income that helps pay for our web hosting and things like prizes for giveaways. Thank you very much for supporting us by purchasing through these links.