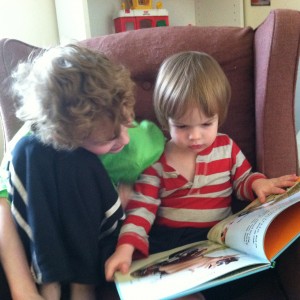 A bookcrossing neighbor was kind enough to give my son a copy of Old MacDonald Had a Dragon. Amazon describes the book this way:
Old MacDonald had a farm, E-I-E-I-O! And on that farm he had . . . a dragon? The animals aren't happy that there's a dragon on the farm. But Old MacDonald likes his dragon . . . until it starts swallowing up the animals! Can Old MacDonald save his farm before it's too late? Find out in this silly adaptation of the popular song. Christopher Santoro's brilliant artwork combines with Ken Baker's fun text for a story sure to tickle kids' funny bones.
Do dragons belong on farms? Any good scientist would want to explore this question thoroughly, and that is just what happens in this story. In the context of the familiar song, Ken Baker and Christopher Santoro explore what would happen if Old MacDonald had a dragon.  A large, fire breathing dragon of indiscriminate diet.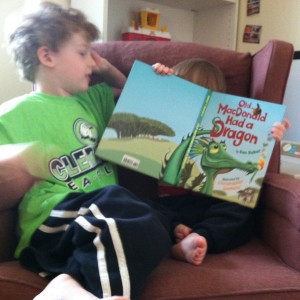 Linguistically, this book will challenge and delight your child with meter and alliteration. In a broader, social sense, the book explores how we are all connected by following Old MacDonald from his initial attitude of "It's my farm, I can have a dragon if I want one," to his realization that the dragon poses a danger to everyone. Finally, the farmer and the other denizens of his farm work together to save each other and make the farm a better place to live.
There is just enough danger and disgusting digestive functions to delight your elementary school age child. There isn't any violent conflict to upset a child. There also wasn't any vocabulary I found objectionable. I don't know about you, but as my kid gets older, books that include dialog like "that's stupid" or "shut up" mean that those phrases find their way into his vocabulary. That doesn't thrill me, so I look for books like this one that don't include them.
Artistically, the illustrations are stylized and definitely owe some of their characteristics to cartoons, but the facial expressions are detailed and delightful. This is "cartoon" that is more reminiscent of Pixar than Hanna-Barbera, for those of you who remember what I mean. Santoro has done a wonderful job communicating mood. I am particularly enchanted with the way he uses the eyes of the characters to let you know what is going on, and I bet your pre-reader will be too.