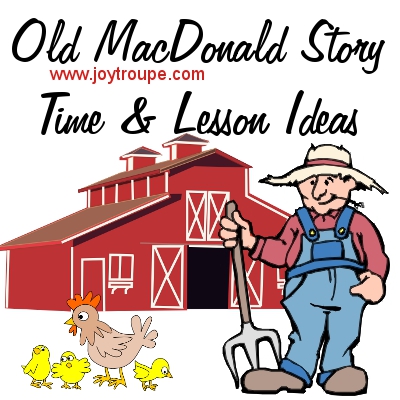 Once you and your kiddo have finished reading Old MacDonald Had a Dragon, he'll want to carry the theme mouse/cookie style. My kids can't get enough of little play animals and, of course- the beloved tractor. John Deere is a favorite around here. You'd think we lived somewhere rural, but nothing could be further from the truth.
Books
Printables
Hands on Play
Build a cardboard barn and a matching silo. (You can probably find a set of wooden or plastic animals at a thrift store, or cut some from cardboard. Add a toy tractor and some Lincoln Log paddocks and you're all set.)
Play "Old MacDonald Says." (Just substitute Old MacDonald for Simon and proceed as usual.)
Have a "wheelbarrow" race. (Oh, gosh, the giggles when I tell my kid he's about to be a wheelbarrow.)
Music
Field Trips
Visit a nearby Pick Your Own farm.
visit a local farmer's market or produce stand
Check for local farm parks and farm museums. (In Maryland, Oxon Hill Farm. In Virginia, Frying Pan Farm Park and Loudon Farm Museum.)
Visit your nearest John Deere dealer or the lawn and garden section of your local hardware store.
Around the Web
How about you? Have you done a farm lesson or playdate? What would you add to our list? Or have you tried any of these activities with your kiddo? Put your feedback down there in the comment box! That's what it's for. Or submit a post or an idea. We love to hear from you!