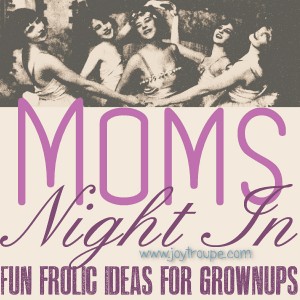 Everyone loves to go out with their friends, and Moms' Night is a treasured time to let loose and have fun without worrying about the kids for many. But everyone knows that you can't necessarily depend on your budget to match your emotional need to live it up and bond with your mama friends, which is why the idea of Moms' Night In was born. The difficulty comes when you are trying to find an activity to do for the evening.
The Mommy years are a time when many of your friends are pregnant and/or postpartum, which means no alcohol for some and watching the calories for others as we work on healthy pregnancies and healthy bodies after pregnancy. If you've got little kids, you can't always count on a little extra time at the gym (or, if we're honest, ANY time at the gym) to burn off your indulgences. So the challenge is to find MNI activities that don't revolve around alcohol and/or food. (Have you ever tried to find party activities for adults that don't involve alcohol or food? It can be a pretty short list.)
Without further ado, here is the first installment of our MNI idea list:
Jigsaw Puzzle Night: One of the things that is typically in short supply for moms is the ability to concentrate. So providing a 1000 piece puzzle and some appetizers could be all you need to do to make their night. Someone else is in charge of their kids, and all they have to do is find matching pieces and watch everything fall into place. Want a keepsake? Mount the puzzle and ask each mom to sign it.
DIY Spa Night: Who wouldn't enjoy a night of pampering herself in front of the fire with her best mamas? Send out an invite telling everyone to bring their mani/pedi supplies and their favorite moisturizer and come on over. Hit up the dollar store or the thrift store for enough white hand towels for each guest, some emery boards, and a pack or two of facial cleansing puffs from the cosmetics aisle, and you are good to go. Each mom can exfoliate, moisturize, and manicure herself without anyone screaming that they've set fire to the dog or overflowed the toilet. Serve soothing herbal teas, spa waters, and a salad, and play soft music in the background.
Make your own shampoo: Did you know you can get unscented shampoo base by the gallon? You can, and have each guest bring an essential oil to create her own, personalized shampoo. Buy enough 3 oz bottles for your guests to take home their creations and create or buy labels, and all you'll need is a fine point sharpie to write the names of each custom shampoo blend on the label. For more fun, combine this one with DIY Spa Night, so each mom can take the pampering home with her.