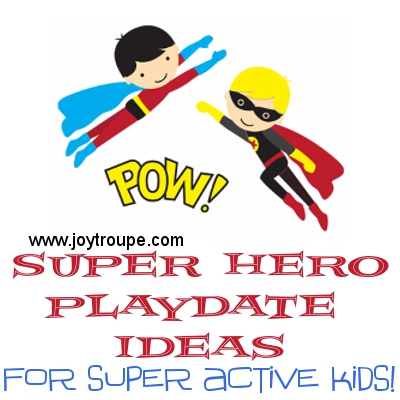 A superhero playdate is an excellent way to foster good problem solving skills and healthy coping mechanisms for children. Super hero play not only allows kids to use their imaginations and develop problem solving skills, it gives them an avenue for working through the things that scare them.
To an adult, facts and statistics might be comforting, but to little kids who are just starting to understand that there aren't always happy endings, the idea of someone endowed with more than the normal ability to make things okay is pretty comforting. Letting them pretend to be the super hero allows them to identify themselves as the character in the story who can solve problems- and there is no better way for them to see themselves. In celebration of our little people who can do big things, here are some play resources with a superhero theme!
If you like this collection of Superhero playdate ideas, don't miss the companion post- Heroic Princess Playdate ideas!
Superhero printables
Superhero dress up play
Superhero crafts
Superhero books: