Slow c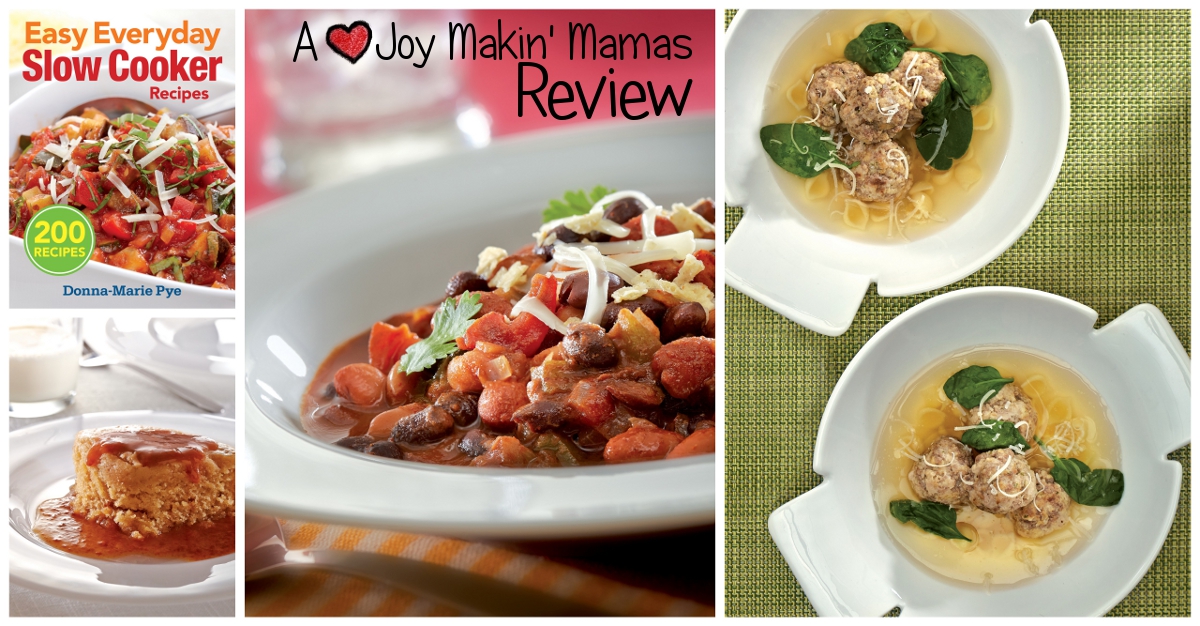 Slow cooker recipes are disappointing. Okay, not all slow cooker recipes. But it is definitely common enough that if you think "crock pot" equals "boring" then you are not alone. Slow cookers are "back" as a staple of convenience cooking, and Easy Everyday Slow Cooker Recipes is here to help you take your slow cooking to the next level.
I have featured my bottom of the line, workhorse 4 quart slow cooker in my photos so often that I have occasionally thought maybe I should get a new one just so you guys would have something new to look at. I kept using it even after the original handle broke off- I just picked up an orphaned lid from the thrift store and turned it into the Frankenstein's Monster of slow cookers. (A nice perk is that the new handle is much easier to grab, so I don't worry as much about dropping the lid. It also doesn't get as hot. I'm dangerously close to advising you to void your warranty by modifying your cooker with off-list parts… I'll stop before I get us all into trouble.) If I need any further credentials regarding my expertise in the world of slow cooking, well… I don't have much to offer you except that I've been a dogged fanatic for almost 16 years now.
The news says they are making a "come back." The theory is that the recession has led to fewer restaurant meals, and so the ease and convenience of the slow cooker is leading us all right back to it. Combine that with new demographics discovering the joy of entertaining, and slow cooker sales are booming. I am not surprised they are popular, but I confess I WAS surprised to hear they are "back." I hadn't realized they were ever gone. It would be impossible, in my opinion, to overstate the convenience they offer. Whether your household is DINK, WAHM, SAHM, SAHD, or one crazy cat lady, that slow cooker is a simple, inexpensive, hands off way to make sure dinner is ready when you are hungry. (And I have used mine in every situation but SAHD. YES, my crazy cat lady credential arrived early in life. DEAL WITH IT.)
That's why I am so excited to have in my hot little hands a review copy of Easy Everyday Slow Cooker Recipes: 200 Recipes
 by Donna-Marie Pye. I think most of us look for similar things in a cookbook- ease of use, which means good organization, eye candy/food porn (PICTURES, okay?), and whether our family will eat the food. That last one is kind of a deal breaker… if it's just got pretty pictures of food no one here will eat? I'll browse it in the book store but it's not going to live on my shelf. (Ok, maybe my virtual shelf? I could see having an e-cookbook just for the pretty pictures, but actual shelf space is at a premium around here.)
If you would like to do more than the "add a can of this" type of slow cooking, you'll appreciate this book. Moving beyond soups and stews, this book not only offers recipes for a wide variety of dishes, it includes helpful ingredient hints, like how to cook with a tomatillo. I've never touched a tomatillo, but I may just make it a point to go there now that someone has brought it up. (Why have I never done that, you ask? Because you cook with what you can get your hands on, and I can honestly say I don't remember ever seeing one in the small town I lived in before moving to the metro area I now call home. After 11 years, you get into habits, ok?) As you can see from the sample images I've included (with permission from the publisher, of course), it does indeed include attractive, full color, full page photos to make you drool while you plan your menu.
Easy Everyday Slow Cooker Recipes is organized by main ingredient or type of dish. The second to last chapter (right before desserts- my personal favorite) is called "Double Duty Dinners." This section is devoted to meals you crock cook the first night, and then transform into something totally different the second night. Cook once (-ish, or and-a-half) and eat twice. I like it. This is a great idea for busy families, particularly since this type of forward planning tends to help you with your time budget and your money budget, both. Also, the size of slow cooker needed for each recipe is noted at the top of the recipe, so there will be no ugly surprises after you start cooking.
Much as I would like to have made (and eaten!) every one of these 200 recipes before writing about this book- and I did work up an appetite while I was reading them all- it would take weeks or months for me to do that. I did have a hard time picking just a couple to try, because a great many of these pass the "will my children eat this" test, and even more of them pass the "will I put the children to bed early so my husband and I can eat this in peace" test. In the end, I decided to test drive one of the Double Duty dinners, and I got permission from the publisher to share three of the recipes with you, so you can try them yourself.
I enlisted some help and JMM Danette Z and I tested some of the recipes from this book. We are pleased to report that the directions are easy to follow, the cooking times are accurate, and the recipes come out as they are supposed to. Like always, we got mixed reviews from our families depending on what we chose… but trying something new is always fun, and adding even three or four new slow cooker favorites to the family rotation means three more nights a month when I can set dinner up when I have time, and eat it when it's ready! I'm in!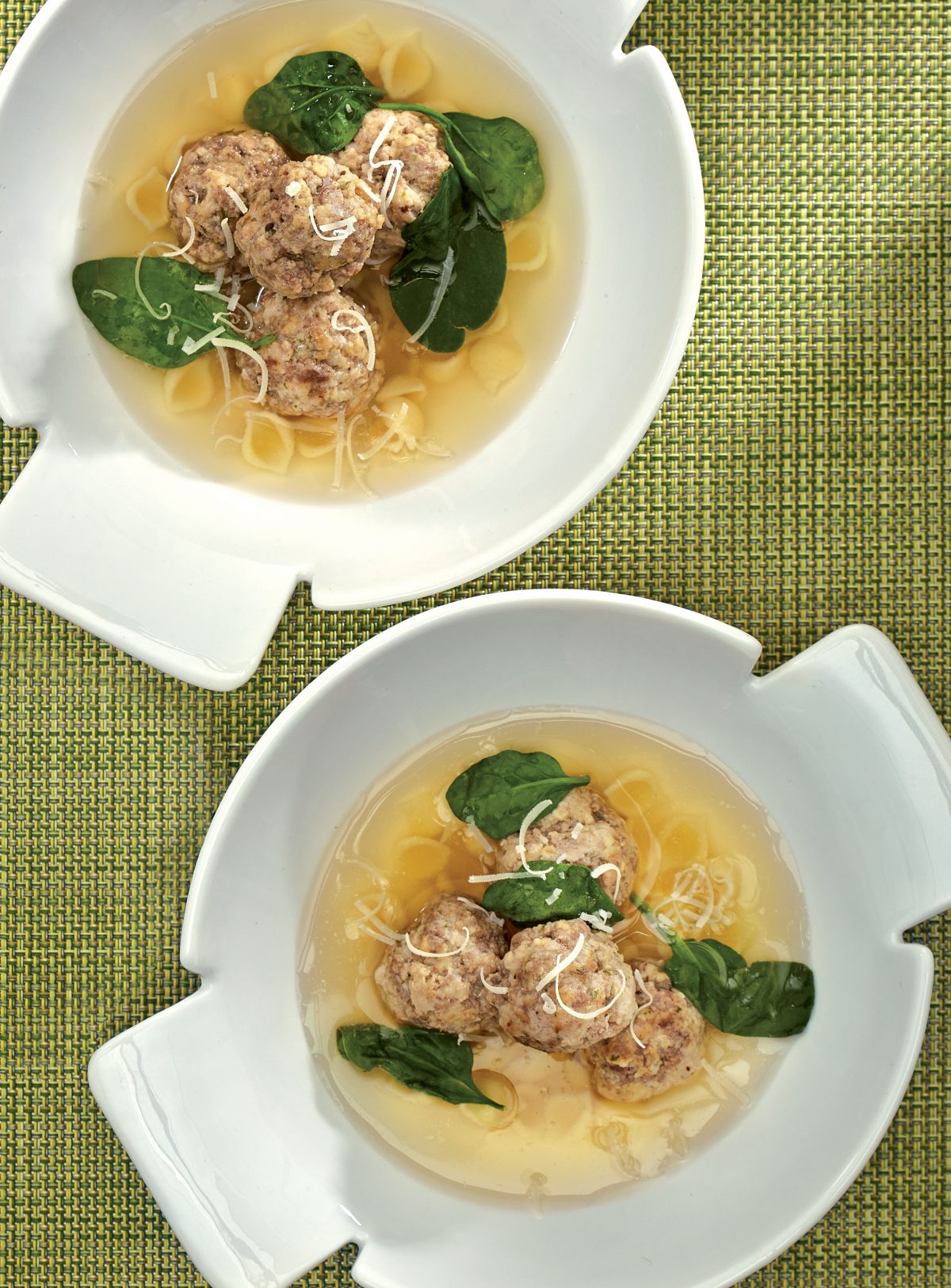 Print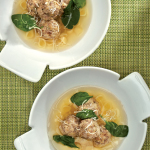 Nonna's Mini-Meatball Soup, page 49, kid-fav
• Minimum 5-quart slow cooker Makes 6 to 8 servings This soup reminds of the one I'm served when I visit my friend Maria's house. Her mother always has a pot of soup on the stove, or if she doesn't, she will quickly make one for you with whatever.
Ingredients
1

lb

lean ground beef 500 g

1

lb

lean ground pork 500 g

1

cup

finely grated Parmesan cheese 250 mL

1

cup

fine dry Italian bread crumbs 250 mL

2

eggs

lightly beaten

1

bunch flat-leaf

Italian parsley, finely chopped (about 1 cup/250 mL)

1/2

tsp

salt 2 mL

1/2

tsp

freshly ground black pepper 2 mL

6

cups

chicken broth 1.5 L

2

cups

packed baby spinach

coarsely chopped, 500 mL (or chopped escarole)

2

cups

cooked small pasta

such as elbows, tubetti, shells or stars 500 mL

Freshly grated Parmesan cheese

optional
Instructions
In a large bowl, combine beef, pork, Parmesan, bread crumbs, eggs, parsley, salt and pepper. Using your hands, roll into 3/4-inch (2 cm) meatballs. Place meatballs in slow cooker stoneware. Gently pour in broth.

Cover and cook on Low for 8 to 9 hours or on High for 41?2 to 5 hours, until soup is bubbling and meatballs are cooked through.

Stir in spinach. Cover and cook on High for 10 to 15 minutes or until greens are wilted, bright green and tender. Stir in cooked pasta.

Ladle into bowls and sprinkle with additional Parmesan, if desired.
Recipe Notes
Tip: If you don't have homemade chicken stock, use ready-to-use chicken broth. I like to keep 32-oz (1 L) Tetra Paks of broth on hand, especially the sodium-reduced variety. They come in handy when you're making soups and stews. Another option is to use three 10-oz (284 mL) cans of broth and add enough water to make 6 cups (1.5 L). Avoid broth cubes and powders, which tend to be salty.

Courtesy of Easy Everyday Slow Cooker Recipes by Donna-Marie Pye, 2014 © www.robertrose.ca

Reprinted with publisher permission.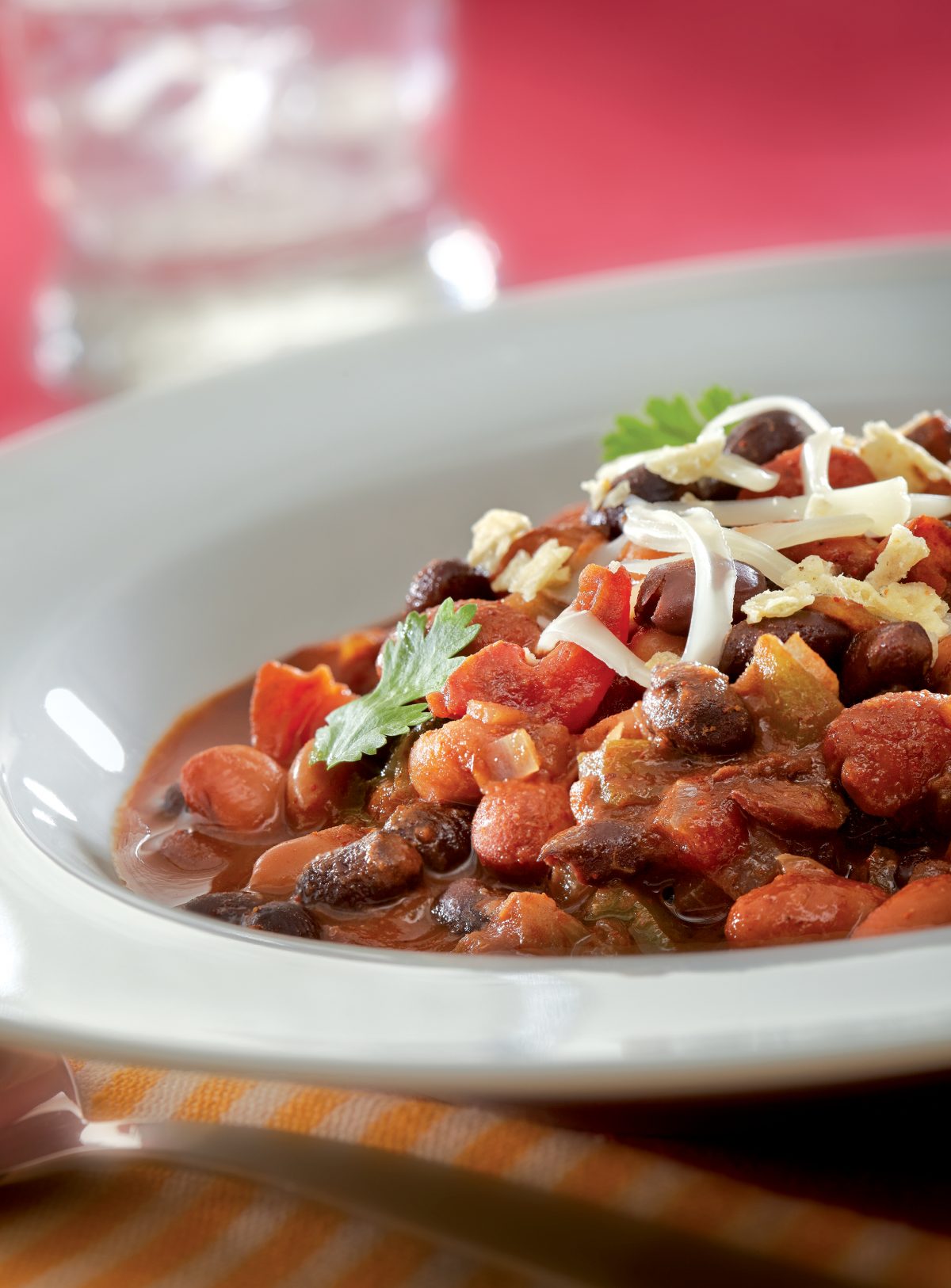 Print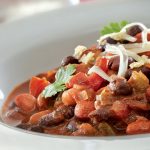 Holy Mole Chili, page 86, vegetarian
Makes 4 to 6 servings With its notes of cumin, cinnamon and chocolate playing off the gentle spices, this meatless chili combines the best of a mole sauce and a Cincinnati-style chili. Its rich body makes it a seriously satisfying dinner any night of the week. • Minimum 4-quart slow cooker
Ingredients
4

cloves

garlic

minced

1

large green bell pepper

diced

1

onion

finely chopped

1

can

19 oz/540 mL diced tomatoes, with juice

1

can

14 oz/398 mL baked beans in tomato sauce

2

cups

cooked or canned romano or pinto beans

see page 84, drained and rinsed 500 mL

2

cups

cooked or canned black beans

see page 84, drained and rinsed 500 mL

1

tbsp

chili powder 15 mL

2

tsp

ground cumin 10 mL

2

tsp

ground coriander 10 mL

1/4

cup

mole paste

see tip, at left 60 mL

1/2

cup

vegetable or chicken broth 125 mL

Crushed tortilla chips

chopped fresh cilantro, shredded Cheddar cheese (optional)
Instructions
In slow cooker stoneware, combine garlic, green pepper, onion, tomatoes with juice, beans in tomato sauce, romano beans, black beans, chili powder, cumin and coriander.

In a bowl, combine mole paste and broth. Using a fork, gently stir together into a thin sauce. Stir into bean mixture.

Cover and cook on Low for 5 to 6 hours or on High for 21?2 to 3 hours, until vegetables are tender and chili is bubbling. Serve topped with tortilla chips, cilantro and cheese (if using).
Recipe Notes
Make Ahead: This dish can be assembled up to 12 hours in advance. Prepare through step 2, cover and refrigerate overnight. The next day, place stoneware in slow cooker and proceed with step 3.

Tip: If you can't find mole paste, substitute 1 tbsp (15 mL) unsweetened cocoa powder and 1?2 tsp (2 mL) ground cinnamon. Mole paste is a rich, dark, reddish brown sauce used in many Mexican poultry dishes. It is a smooth cooked blend of onions, garlic, several varieties of chiles, ground seeds (such as pumpkin or sesame) and a small amount of Mexican chocolate, which adds richness without being overly sweet. You can find mole paste in the Mexican foods section of the supermarket or in specialty stores.

Courtesy of Easy Everyday Slow Cooker Recipes by Donna-Marie Pye, 2014 © www.robertrose.ca

Reprinted with publisher permission.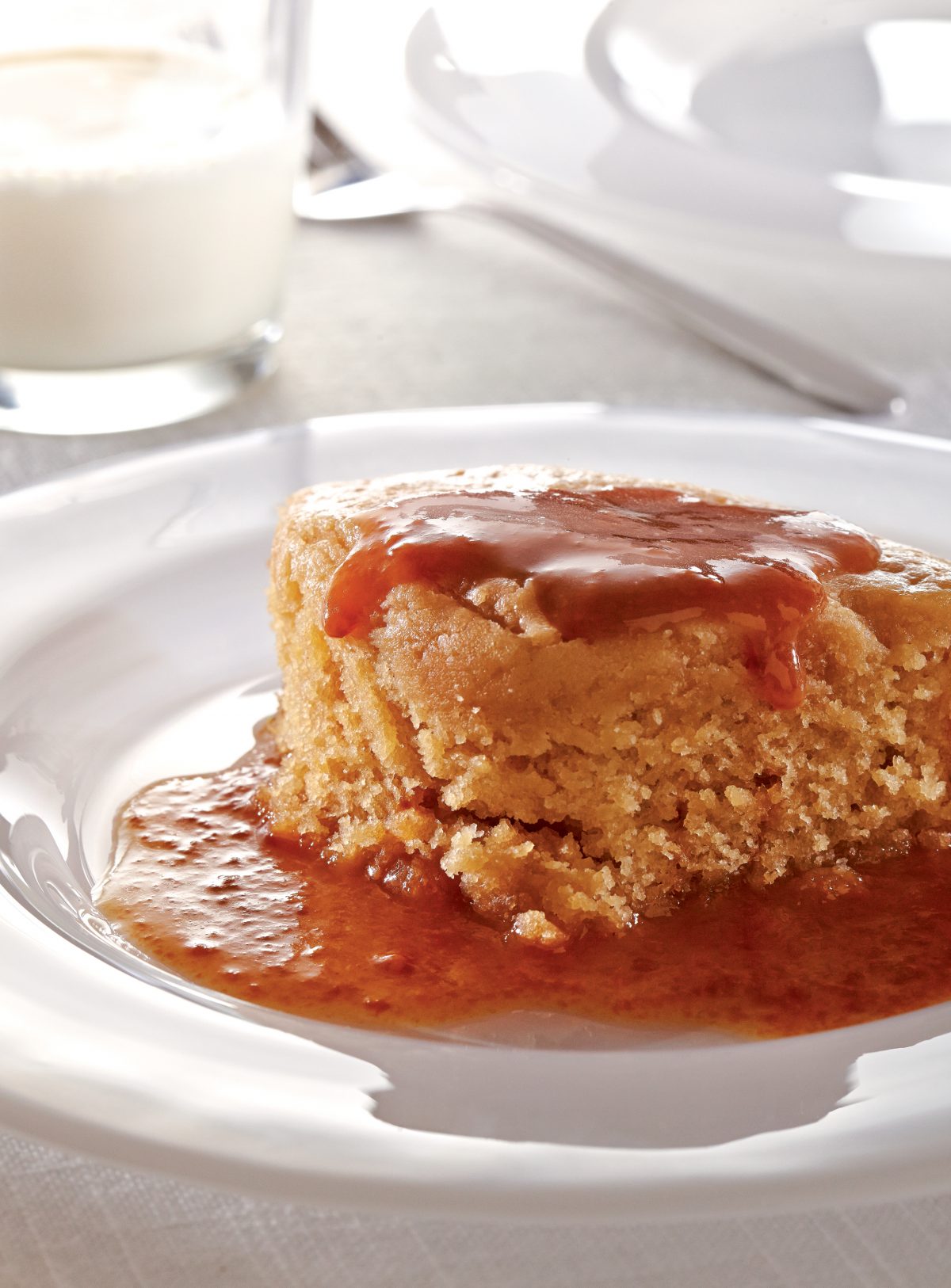 Print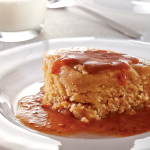 Creamy Caramel Blondies, page 346, desserts, kid-fav
Makes 4 to 6 servings My son, Jack, and I are caramel and butterscotch fanatics! Blondies are often described as brownies without chocolate, which I find silly: blondies have their own unique, delicious personality. While brownies depend on chocolate for their flavor, with blondies it's all about the brown sugar. This tasty dessert combines a cake top over a creamy caramel sauce. Be sure to serve with a big scoop of vanilla ice cream. • 4- to 5-quart slow cooker
Ingredients
1

cup

all-purpose flour 250 mL

1

tsp

baking powder 5 mL

1/2

tsp

salt 2 mL

1

cup

packed brown sugar

divided 250 mL

1/4

cup

butter

softened 60 mL

1

tsp

vanilla extract 5 mL

1/2

cup

milk 125 mL

1/2

cup

soft caramels

wrappers removed 125 mL

1

cup

boiling water 250 mL
Instructions
In a bowl, combine flour, baking powder and salt.

In another bowl, using an electric mixer, beat half the brown sugar and butter until creamy.

Stir in vanilla. Add flour mixture alternately with milk, making three additions of each and beating well after each addition. Stir in caramels. Spread batter evenly in slow cooker stoneware.

In a glass measuring cup, combine the remaining brown sugar and boiling water, stirring until sugar is dissolved. Pour evenly over batter.

Cover and cook on High for 21?2 to 3 hours or until a toothpick inserted in the center comes

out clean.
Recipe Notes
Tip: It is best to use individually wrapped soft caramels, but you can substitute 1/2 cup (125 mL) butterscotch chips.

Courtesy of Easy Everyday Slow Cooker Recipes by Donna-Marie Pye, 2014 © www.robertrose.ca

Reprinted with publisher permission.
I'd love to hear how they go for you! This book is definitely going into my meal planning rotation, and I'm sure I'll be singing the praises of the tomatillo for you soon.
Looking for more ways to live it up on a budget? Check out my Good Life Pinterest Board:
Follow Meghan Gray's board Living the Good Life on Pinterest.