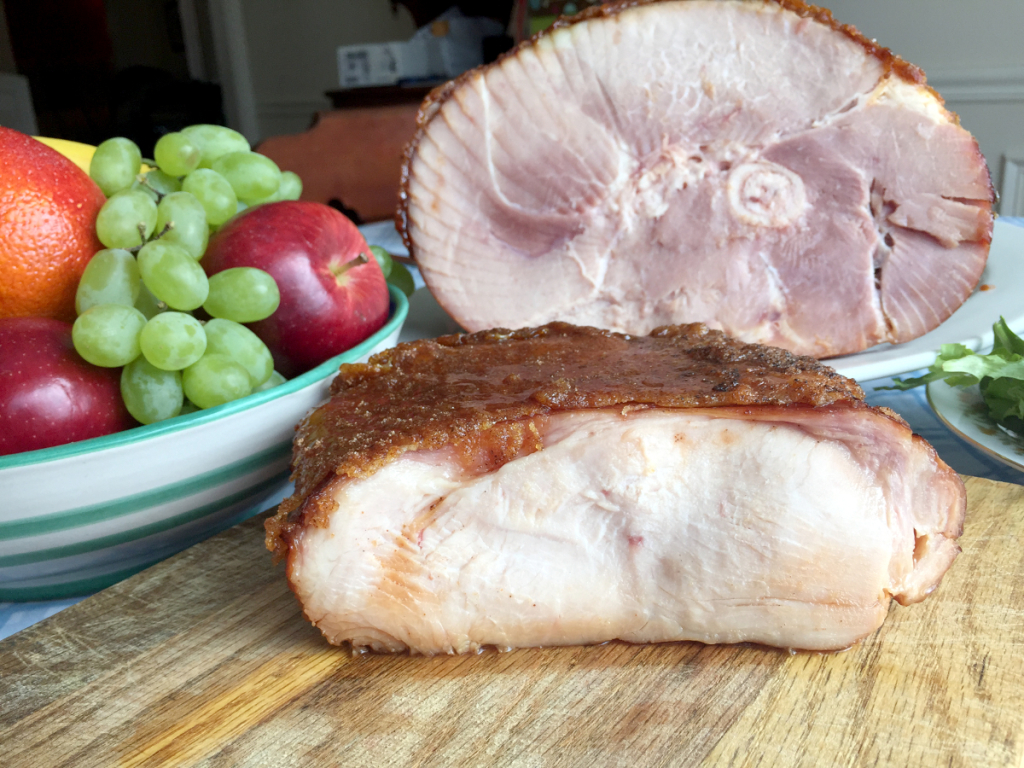 When I was growing up, we joined my extended family out of state every year for a holiday celebration that included a leisurely, over the top feast that seemed impressive even when I didn't understand the amount of work required to pull it off. I've already told you that one of my favorite ways to make this type of dinner a little easier is to stop into the HoneyBaked store and grab my main course. Whether you opt for the traditional Easter ham or go for some delicious smoked or roasted turkey breast instead, your main course is easy, delicious, and you can pick it up ahead of time. (They have a selection of sides that complement your main course, too!) You'll be serving a high quality, delicious meal that tastes like you slaved over it, and the variety of ready to go options in the store means you don't even have to decide what to serve far in advance.
One of my favorite parts of those family feasts was always the dessert course. Before you start thinking "holy cow, who has time to make more than one dessert," stop right there. The dessert course turned one centerpiece dessert into an event that encouraged everyone to stay at the table, talking, long into the evening. I love the dessert course because this is precisely what so few of us have time for in our lives today- the chance to linger over coffee and sweets and tell stories and enjoy each other. Restaurants want to turn over your table before you even have dessert, school nights have bedtime looming, and a million other demands on our time are pulling us away from the table when we sit down together for a regular meal. But at a family dinner, that dessert course, which isn't served until all the other dishes are cleared away and most of the kitchen cleanup is finished, that is the opportunity to really relax and spend time together.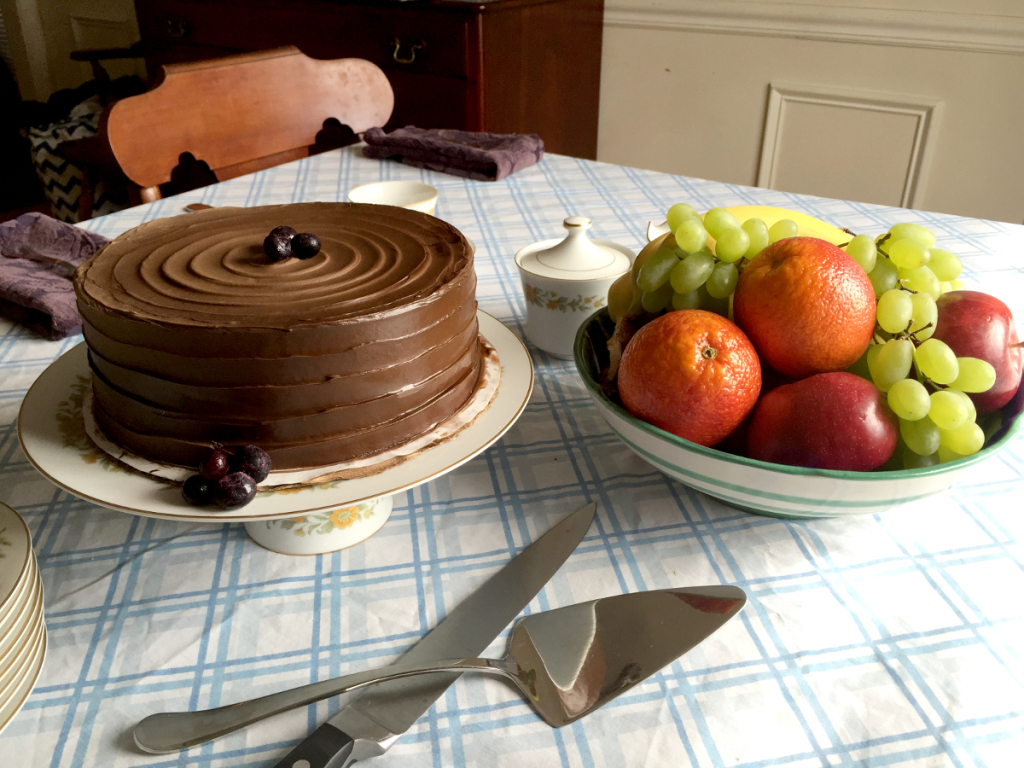 As I said, one significant dessert is usually the centerpiece of the dessert course. (My choice: chocolate sweet potato cake from HoneyBaked ham. Available desserts vary by market. Just pick one, add fruit and possibly whipped cream, and there you are.) Co-starring with that one incredible confection was always the fruit bowl, the nut bowl, and, for some reason I've never understood, After 8 mints. I haven't seen them anywhere in years, but they were a staple of our family desserts. My grandmother had a special dish that always held them at the table. Maybe she always served them because they fit well in the dish? I never thought to ask while she was alive, so maybe I'll never know now. Of course, espresso was always served, with anisette and syrup and twists of lemon peel that I wanted to play with even though I didn't drink the coffee.
I never realized how big an influence those "also" served items had on the pace of the evening. Once everyone has finished a piece of cake and is sipping their coffee, the need to remove the nuts from their shells and the fruit from their peels encouraged everyone to stay together at the table, talking and nibbling. The fact that these two items require little effort on the part of the hostess is a bonus, and I have vowed to make them a staple of my dessert table ever since the night I hosted a pot luck dinner and discovered that one of my guests was a vegan. I brought out- you guessed it- fruit and nuts, and he was able to enjoy the dessert course with us even though the person who had brought the dessert chose cheesecake.
So there you are. That is my big, life altering "kitchen hack" for an easy dessert course. I bought a delicious and attractive (and we all know that presentation is NOT my strong suit, so they gave me a real hand up there) cake to take center stage, and I arranged some delicious fruit- bananas, blood oranges, gala apples, and green grapes were looking good at my market, but choose whatever looks good and can be eaten out of hand. Pomegranates, grapefruit, peaches, nectarines, and plums are all excellent choices. Add a cutting board and a knife like you would for a fancy cheese plate, and you can branch out to starfruit, kiwi, and others that need slicing before eating. For delicate fruits like berries, serve them in their own bowls or in covered candy dishes- with small ice tongs to serve them- for an elegant touch. Throw in a bowl of mixed nuts with nutcrackers for everyone. Best of all, that bowl of fruit is doing a fantastic job standing in for the fresh flowers that are NOT blooming in my garden yet, thanks to our very late snows this year.
Before you go to HoneyBaked, print this coupon for $5 off any purchase of $50 or more.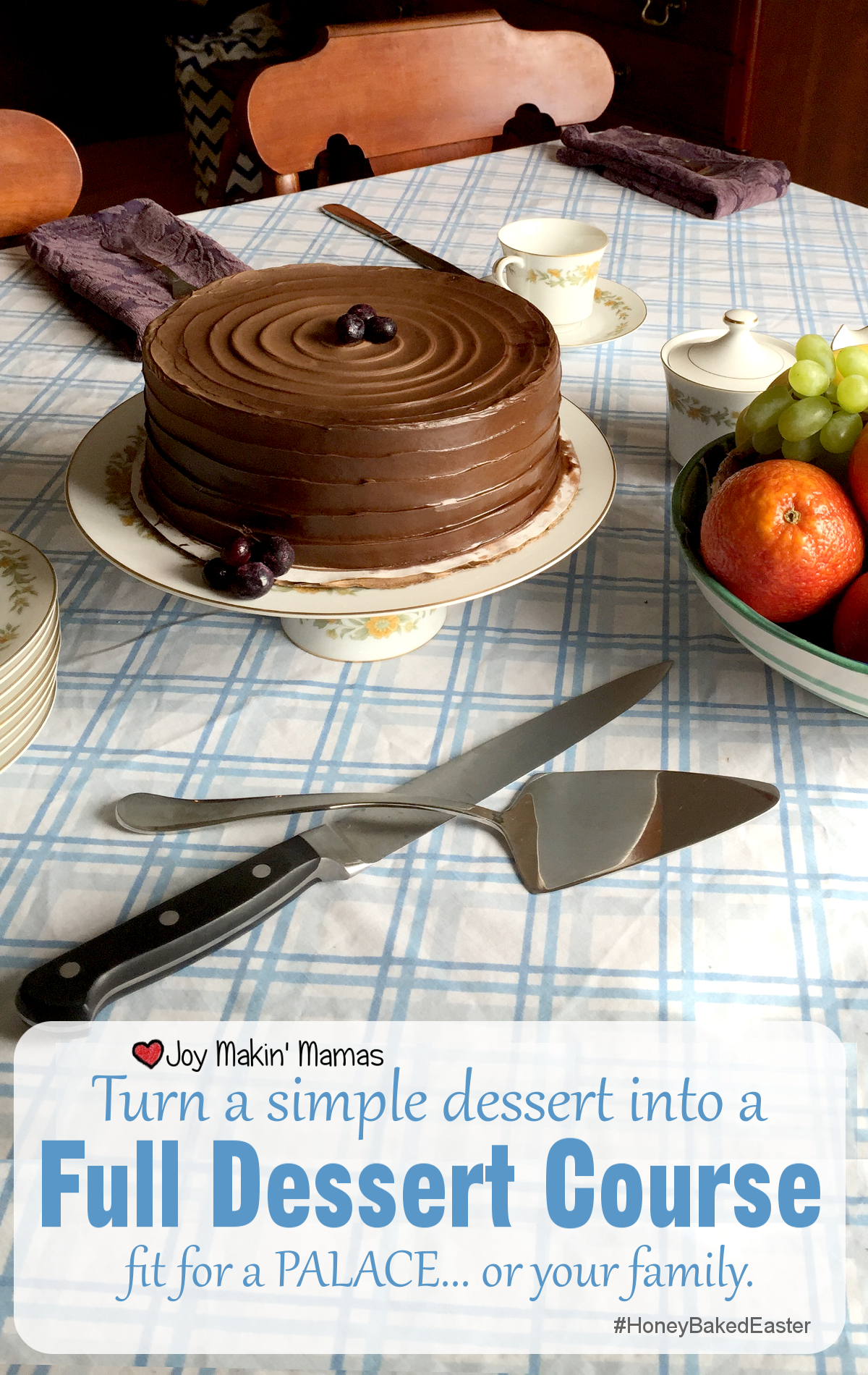 I have been compensated for visiting the Alexandria, VA Honeybaked Ham store and for the creation of this post. My sincere and honest opinions are obviously not for sale and may differ from yours… please enjoy your family celebrations in good health!