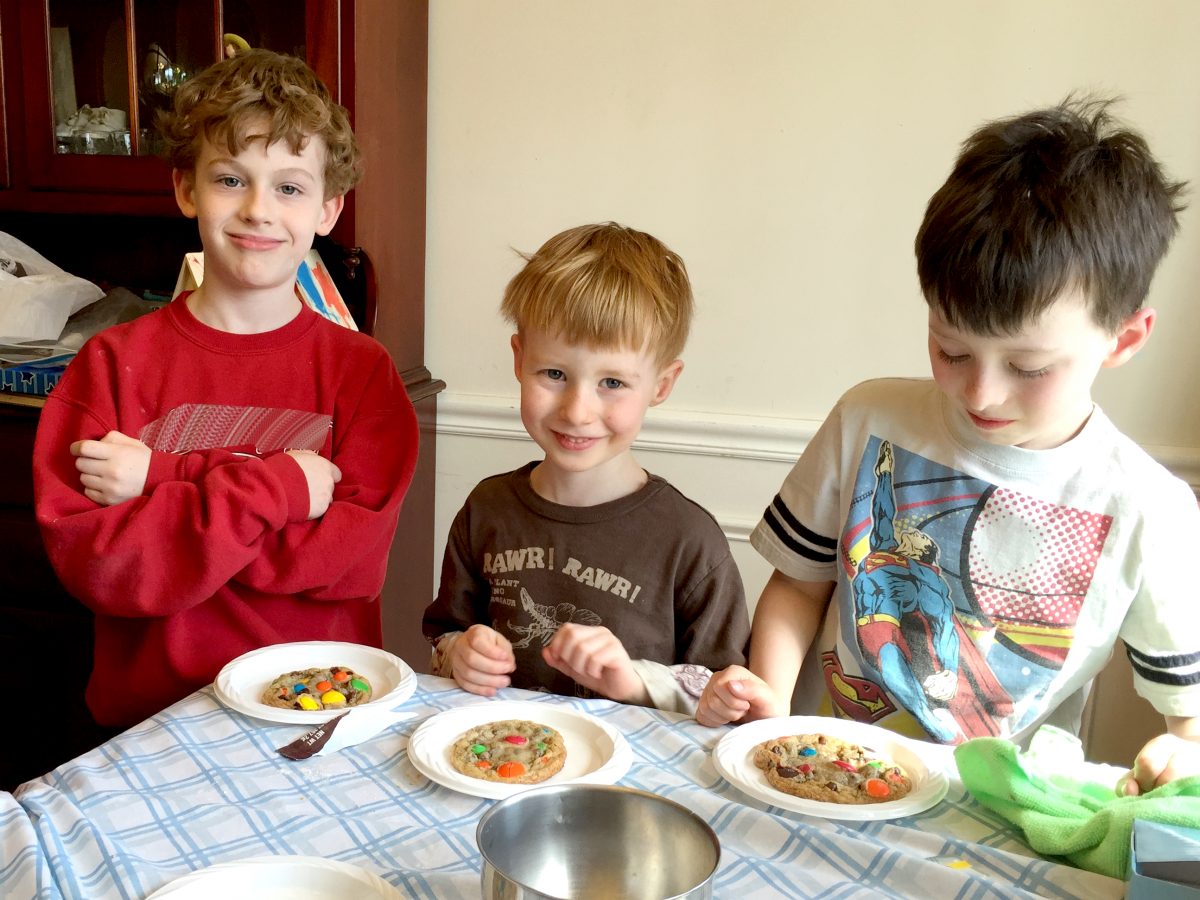 Thanks to the review copy I received from Mimi's Adventures in Baking Chocolate Chip Cookies, we embarked on a Cookie adventure with our friends! Baking is a fantastic way to introduce kids to the kitchen, because they are really interested in the results. (I mean… chocolate chip cookies! Who doesn't want those?) Mimi's Adventures in Baking Chocolate Chip Cookies presents kitchen processes and food safety in a warm, engaging storybook format. These aspects of learning to cook are extremely important, but also pretty boring, so a picture book is a great way to get kids to take in the information before they start playing with sharp things and working near a hot oven.
As we all know, my kiddos are prone to orthodoxies, where they want things one way and only one way, and nothing else will do. So no amount of encouragement would get consent to experiment on an ENTIRE batch of chocolate chip cookies… so we made a big batch of the straight-up cookie recipe, and created a "cookie bar" where each child could add their own mix-ins to their cookie. The rest of the dough was baked up into "just plain" chocolate chip cookies, and with a safety net of standard cookies on board, off they went on their own adventures.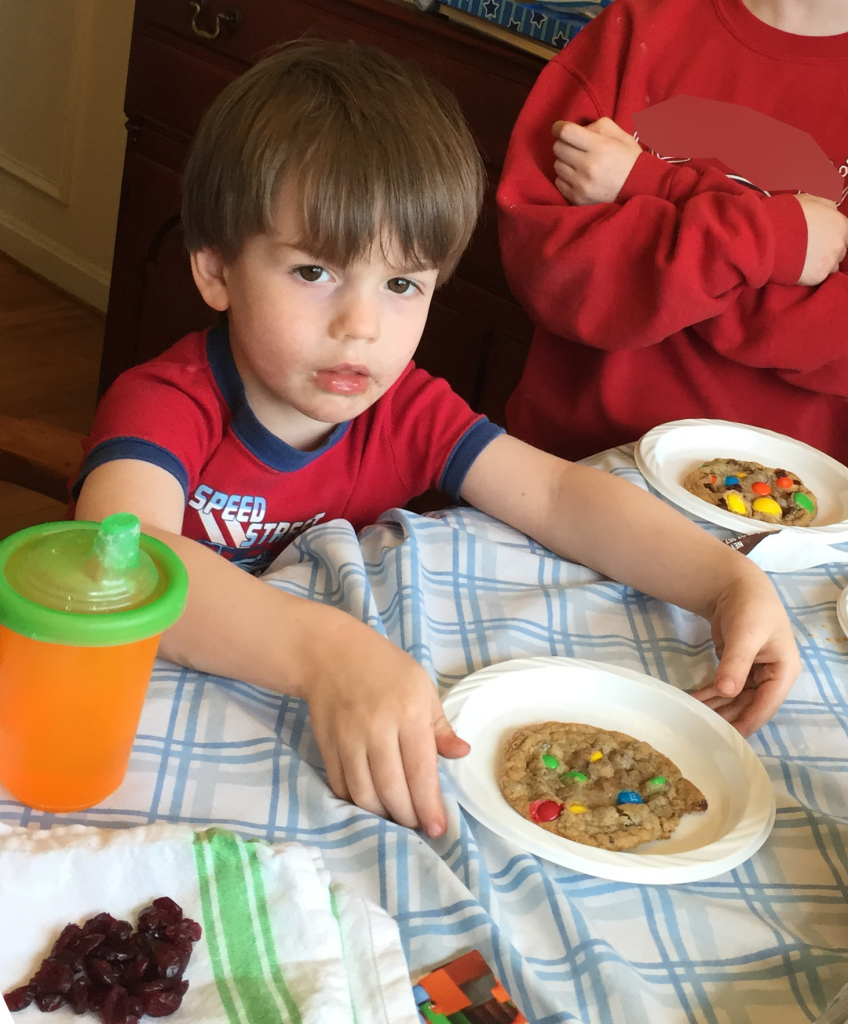 I will admit that I increased the chocolate chips in our "base" recipe to two full cups. I'M NOT ASHAMED. Then I created a cookie decorating station (ok, so it was also an "M&M eating station") where each of my little chefs could add candy, craisins, MORE chocolate chips, and chopped pecans to their cookies. They were sufficiently proud of their creations to pose graciously (mostly) for photos with their masterpieces before eating them. Possibly they were already half full on the cookie decorating supplies they munched while they waited for the timer. I can't say for sure.
For food safety reasons, remember to wash hands before and after the decorating. Also, um, you probably shouldn't let them eat from the bowls they've been dipping their hands in while they are decorating. Nobody died after doing it at my place, but let's just say I don't recommend it.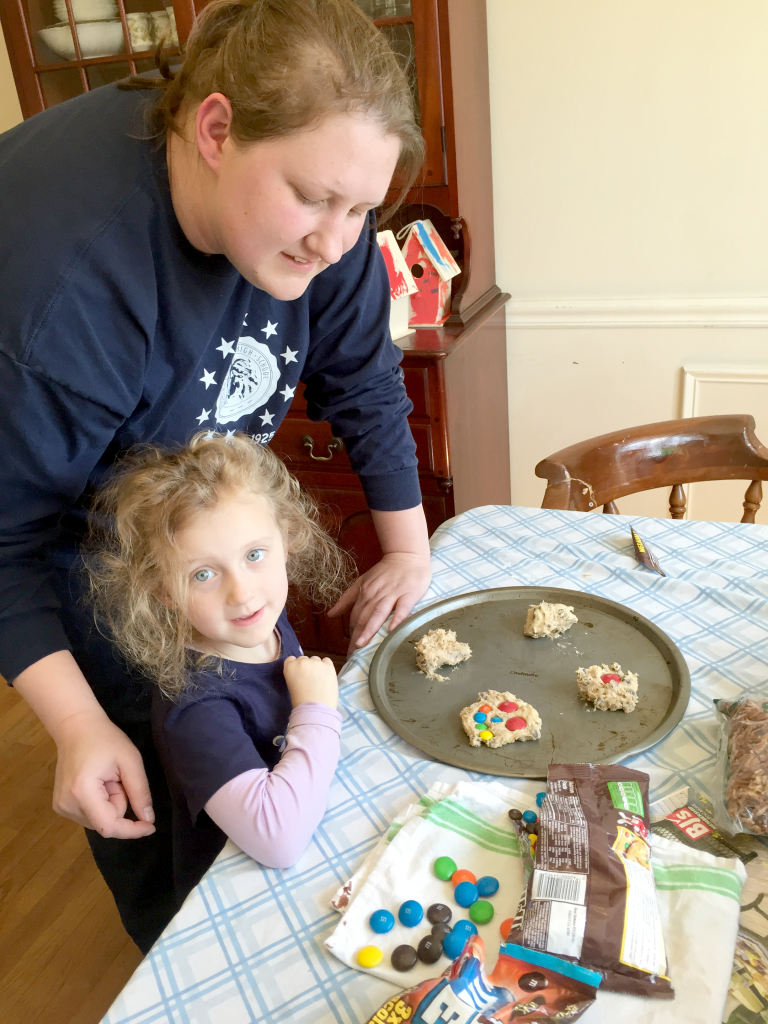 Print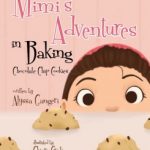 "Base" Cookie Recipe
Ingredients
2 1/4

cups

all-purpose flour

1

teaspoon

baking soda

1/4

teaspoon

salt

1

cup

2 sticks butter, softened

3/4

cup

granulated sugar

3/4

cup

packed brown sugar

1

teaspoon

vanilla extract

2

large eggs

2

cups

Semi-Sweet Chocolate Morsels
Instructions
Preheat oven to 325 degrees F.

Mix flour, baking soda, and salt with a fork in a small bowl.

In your stand mixer (or using a hand mixer and a large bowl) cream together the butter, sugars, and vanilla extract until they are, for want of a better word, creamy.

Add eggs and beat on medium low until fluffy.

Continue mixing while you add flour mixture SLOWLY. (this is a good part to let the kids help with.)

Carefully fold in chocolate chips. Don't let the kids dump them in while the mixer is running fast enough to pound them into chocolate crumbs. I don't know why I'm mentioning this, because it's not like they ask first, so just go with it.

Create one biggish cookie for each child to decorate. (This took about 1 scant quarter cup of dough each.) Drop the rest onto your cookie sheets in rounded teaspoonfulls, and bake 8-10 minutes or until the edges are crispy and the centers are lightly browned. I recommend you start the first pan while your chefs are decorating, that way maybe you can get them to eat cookies instead of your supplies... good luck
Recipe Notes
I have no idea how many cookies you'll get out of this recipe... I guess it depends on how many big ones you do, and how small the rest are? Regardless, everyone ate mine before I could count, so... Also, mine took longer to bake than specified- but I also put the bowl in the fridge for a bit while we were organizing, so your mileage may vary.
Discover a whole new way of learning how to bake!
Embark on a baking adventure with Mimi where she will measure, mix and bake her way to the perfect batch of chocolate chip cookies!
This fun storybook cookbook enables adults and children alike to not only learn the fundamentals of baking, but to have fun at the same time. If Mimi can do it, so can you!
Buy Mimi's Adventures in Baking on
Mimi's Adventures in Baking has received the Mom's Choice Award in the Picture Book category!
ABOUT THE AUTHOR:
Alyssa Gangeri is a Pastry Chef in New York City. She's loved baking even from a young age. After graduating from The Culinary Institute of America she traveled north and south working for companies such as The Ritz Carlton to gain knowledge and experience of the ever-growing hospitality industry. She has also competed on The Food Network's Sweet Genius.
She developed Mimi's Adventures in Baking as a new way of learning for the younger generation of bakers. Her love for baking shines through in this storybook cookbook. In her eyes baking should be a fun experience adults and children can share together. What better way to do that then with an interactive story that makes learning your way around the kitchen exciting and easy!
When she is not making specialty cakes and pastries for her business AllyCakesNYC, you can find her in Central Park with her lively Jack Russell Terrier, Rudy and the love of her life, Jonathan.
Reviewed by www.mikishope.com This is a perfect 1st cookbook for children to start learning the art of baking. There is only one recipe but it comes with a storyline. Mimi wants to bake cookies and Grandma is going to teach her the correct way!! What fun–you have to be real careful with the measurements and ingredients and you also have to know when to let a grown up take over! This little book has it all covered. Actually I might even be able to bake cookies after having read this!! This is only one in a series of books with recipes-one to a book that this chef author has written. I suggest you read about the author below-it is intriguing. Then go and pre order this book for your little chef/baker!

Reviewed by Kirstin Pulioff at www.kirstinpulioff.com My Review – 5 Stars Since my daughter wants to be a chef when she grows up, I have read several cooking books and cookbooks with her, but nothing comparable to Mimi's Adventure in Baking Chocolate Cookies. What a fabulous book! Not only does this book describe the technique and recipe for baking cookies, but it also focuses on a story. There are many ways to read this story. You can simple read it as a wonderful book. You can focus on the bright illustrations. The ingredients and steps make for the perfect math focus… and it also reads as an activity book that you can read while you bake. In every way, this book earns my 5 star review… And now, I'm going to bake some cookies.
***I received an advance reader copy of this book to facilitate my review. I was not compensated in any way for the creation of this post, and all opinions expressed by me are my own. Your mileage may vary. If you're an author and you would like me to consider reviewing your book, please visit my Media & PR page. Thanks!