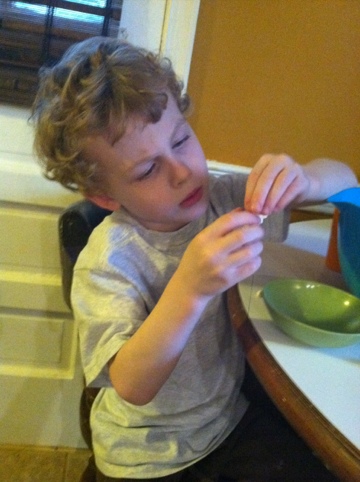 This is a hands on indoor play idea that is perfect any time. Tradtionally used as holiday decorations, these strings also make great bird feeders. If popcorn gets boring, alternate with cheerios or cranberries or anything else you can think of that sounds fun. And don't forget- even if the stringing isn't going that well, there's plenty of popcorn to eat.
This activity is highly self-explanatory, but if you've never done it before, there are some "troubleshooting" areas. Here are our top tips, after trying this activity with a not particularly crafty four year old.
How to String Popcorn with Kids Successfully

Look for plastic darning needles at the craft store, or order these from Amazon. You want one that's pretty pointy, but plastic is safer.
Pop in small batches. Once the kernels cool off they start to get a little tougher. If it gets too difficult, try a fresh batch. (check out our DIY microwave popcorn post for a tip on how to do that on the cheap with NO MESS.)
Use a single strand of thread to prevent snarls. Button thread works well, and is thicker than regular sewing thread. Little hands will manage it better.
Start each strand with a button, a pony bead, or a popcorn kernel tied to the end of the thread. If you just knot the thread it's likely to pull through.
Keep the strands short, to match young attention spans. This will also help reduce snarling… in the thread and in frustrated kiddos.
Remember this may not be Pin-worthy. Don't set your heart on finished strings of photo worthy popcorn. My kid immediately ate his off the thread. This is very much a "process not the product" activity!
(He's a chip off the old block… I can distinctly remember eating the popcorn strings off the preschool Christmas tree. I can't remember if I got caught though.)
Looking for more great ideas? Join us over on Pinterest.